With summer just around the corner, the time for fun in the sun and water is about to get more popular as activities that were forgotten during the winter and spring are now becoming popular again. Activities such as hiking and mountain biking are going to make a big comeback as the weather gets warmer. For those who prefer being out on the open water, there are many ways to prepare your boat for the summer, and these are some of the ways that you can get the most out of your money. So, what are the upgrades you might want to get?
New Motor
A new motor is going to be one of the more expensive upgrades you can get for your boat, it's also going to become the foundation for many other upgrades because your boat is going to get a lot of additional power to use. Better motors aren't just more powerful, but they are also more efficient, which makes them more cost-effective in the long run.
Wakeboard Tower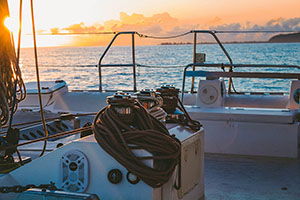 A wakeboard tower is one of the best upgrades to pair with a more powerful motor because it essentially turns your boat into a party central. As a new motor, a wakeboard tower is also one of the pricier items on this list depending on where you buy yours from. A good place to start would be sites like Aerial Wakeboarding. Wakeboarding is a great water sport to try if you want something a bit more adventurous.
Solar Panels
We depend heavily on electricity. Contrary to popular belief, solar panels aren't as expensive and difficult to acquire as they used to be. Thanks to modern technology, solar panels are also more efficient as they can hold a longer charge and also recharge at much quicker rates than previous iterations. Solar power is going to provide you with much-needed power, especially during long trips, the power to charge essential devices like smartphones, flashlights, and other things.
Bimini Top
The summer sun is among the things we all look forward to, but in excess, the sun not only becomes an inconvenience, but it also becomes a danger to those who are exposed to it. A bimini top grants you protection against the harsh summer sun and the occasional rainstorm. They come in all shapes, sizes, and textures that would suit your preference.
Water Filtration System
Water is going to be a very important commodity during the summer. While you can indeed simply bring bottled water on your trips, this is only a temporary solution as the amount of water you can bring is limited. Cases and cases of water bottles also take up valuable space that you could use for other essentials. A much better solution is to install a water filtration system that you can use to make water safe. This is much more useful when going on really long trips. The best part about dedicated water filtration systems is that they aren't as expensive as most people would think.
Boats provide their owners with a unique summer experience. The water is a great way to escape from the summer heat, and boats enable us to do just that. These upgrades are not only accessible, but they also make your boat much more functional and comfortable.