If you think you can buy one high-end scope for all shooting conditions, you are dead wrong. There is always the perfect scope for every gun and every purpose it serves.
Whether you're a casual shooter or hardcore hunter you must know that rifle scope is very important. The scope is the eye of your rifle. Choosing the right rifle scope can boost your confidence, increase your shooting range and surely shooting accuracy
However, we know that choosing the best rifle scope is not that easy. The market is full of rifle scopes for you to choose from. From cheap plastic to high-end rifle scope with ultra magnification.
It is important to get the right piece that can fulfill your needs. If you're still not sure what rifle scope to buy, you're in the right place. We've compared rifle scope on every aspect to give you a shortcut for choosing your rifle scope.
We give you recommendations of different scope for various needs from budget-oriented scope to long-range, low light, and hunting scope. From $200 – $500 we give you the best bang for the buck of rifle scope for you.
10 Best Rifle Scopes in 2021
Terminology in this guide can be very confusing. If you're a newbie to a rifle scope, I suggest you read this glossary term.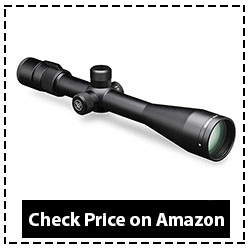 Vortex doesn't compromise with quality despite its affordable price. Many previous users stated that for the performance of this scope, the price is a steal. That is why this scope is famous as it is now. You won't get any better scope below $500.
The body is made of aircraft-grade aluminum, and the glass is premium grade glass that used in high price scope. The turret also easy to adjust as well. The Vortex Viper PA 30mm is a riflescope that you can surely rely on because of its ability to shrug off moisture and recoil. It is considered to be a premium riflescope that won't be easy to break.
Adding to the durability of this scope is the warranty. Vortex Viper has a lifetime warranty. Vortex has to get popularity through its excellent customer service and after-sales. And Vortex VIP warranty will replace all damage of this scope with no question asked. Even if it damaged by your own fault.
FEATURES
Zero leveling with this scope is ultimately easy, all you have to do is flick the reset turret. Let them return back and voila, you got your scope zeroed. This feature is very useful, and also hold zero very well. Every adjustment of elevation and windage also perform perfectly accurate
The optic for this scope is super bright and clear, it is surely can compete with high-end scope worth thousand of dollars. The reticle is very crisp and the 50mm lens is excellent for low light shooting.
There are three reticle styles you can use, each has its own pros. BDC reticle is good when you concern about hold-over at a different range. the V-Plex wide reticle is best used for hunting. Mil-dot reticle is the best choice for long-range target shooting.
The only downside is that this a second focal plane, meaning you must have the power to 14 if you want to reenter bullet drop information.
Pros
Excellent light transition.
Lifetime VIP warranty.
Three reticle choices for every condition.
Easy to zero leveling.
Cons
Not really usable for close range.
Conclusion
It's easy to adjust, a lot of features, premium grade material, and an excellent warranty period. What else could you expect more for scope below $500? If you are planning to buy any rifle scope, then Vortex Viper PA 33mm is an ideal choice. This product is great for newbie and veteran. Long-Distance shooters and hunters can opt for this as it has a decent ability for long-distance shooting. Not to mention the VIP warranty make this scope should've triple the price. In this Price Range, this is the best rifle scope for the money.
---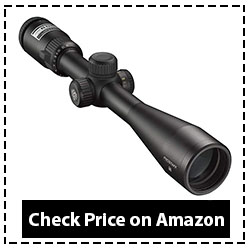 The Nikon PROSTAFF 5 BDC 3.5 riflescope comes up with some of the extraordinary features at such a low price. This scope is one of the favored riflescopes among hunters. When considering this latest tech by Nikon it is obvious that Nikon has dedicated incredible effort with this scope.
Nikon Prostaff has smooth and precise finger touch for easy control. Field adjustment is easy as dialing your range, thanks to the integrated spring making it instant loaded zero-reset turret.
Riflescope is fully multi-coated and offers anti-reflective optics that helps in capturing the vivid picture and maximum light transmission. The riflescope containing nitrogen and availability of the O-ring seal is very efficient for fog proof and act as a waterproof and shockproof.
With the great eye relief, you can get a comfortable extended viewing, and this helps to protect any severe shooting angles, heavy recoil and uses lightweight rifles.
FEATURES
While exploring this product you will find that it contains Nikon Nikoplex optic, an ultra-bright lens system that can help to gather a glimmer of any fading light for around 95% light transmission.
The BDC feature (Bulled Drop Compensator) works really well for the hunting environment. PROSTAFF 5 is highly compatible along with Nikon's SPOT ON Ballistic Match technology. Spot On technology allow you to find all exact point for every target and range.
If you are looking for consistent eye relief, then it is the right solution for you. Through quick focus eyepiece, there is an improved chance of getting reticle into sharp focus.
One of the flaws of this scope is the BDC crosshair in this scope is not squared off, either horizontal or vertical will be leveled, the other will be off a little bit. making it unable to purely level this scope.
Pros
Optics found on scope appears to be incredibly clear.
Comparable quality with other high-end scopes.
Reasonable price.
Parallax adjustment setting.
Cons
The parallax knob made of plastic.
Conclusion
Nikon has made its name with this product. It is a great riflescope for any professional hunter or a beginner. Nikon PROSTAFF riflescope has become quite a favorite product because of its great features. A great alternative for Leupold or any other expensive scope. This is a new standard for any riflescope with cheap price. It is the same if not better quality with other scopes within a $500-$800 range. If you tight on budget and wanted a quality scope then this is your best buy.
---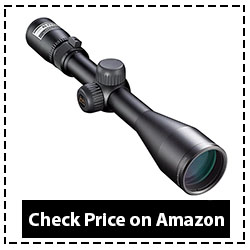 There are many riflescopes for long-range in the market, but Nikon Buck Master II is probably your best choice for starting. The 4-12 x 40mm magnification range seems to be quite an incredible feature at such a low price.
The Riflescope 4-12x 40mm allows in getting any shot in the comfort zone. The design and style can be an attractive aspect. The hunters will love the idea of getting a BDC reticle which gives precise and best ranges.
Buckmaster II is an upgrade for the original Buckmaster. it is lighter and now the lens is fully multi-coated. This coating protects the lens from scratch and giving quality light transmission and clarity. It can transmit up to 98% light.
Resetting the turret is very easy, the turret is spring-loaded and fingertips adjustable. Anyone would love the easy and simple turret reset.
FEATURES
Hunters will be cheering for patented BDC reticle that helps to hold dead at any ranges that may exceed. The unique see-through feature is supported with ballistic circles that ensure an incredible vision for long-range shooting. To enable field adjustments, riflescope also helps in proper integration along with the zero-reset turret.
Eye-relief is said to be of high quality and also provides safety against fog, water, and shock. Once you get through this product, you will experience that field adjustment is quite simple as that of any subsequent ranges. It helps even a typical picture for any shorter-range shot to capture.
One thing that really disappointing is the parallax adjustment. Buckmaster II doesn't provide parallax adjustment this will be a problem if you are a long-range shooting enthusiast.
Pros
Featuring a Bullet Drop Compensator.
98% light transmission.
Protective casing.
Easy Zero Reset.
Cons
No parallax adjustments.
It is said to be a perfect option for all kinds of rifles, but it still a $100 scope.
Conclusion
Are you badly in need of a shooting range, that would support mid and long-range hunting? The Nikon Buckmaster II is your best choice. This Scope is a real value for your money and can compete with scope double even triple the price. You can buy 3-9x40mm type for short to mid-range shooting activity and 4-12x40mm​ for long-range shooting.
---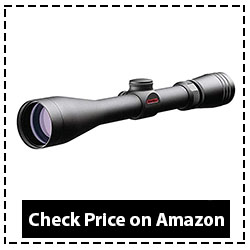 While looking for a riflescope, you will come across with Redfield Revolution 3-9x40m riflescope. Redfield is a brand that is well established in the scope industry. This is an old school scope that has been used during the Vietnam war. However that is the original version of this scope, the newer version is an excellent tactical scope itself.
It is a product that also featured with waterproof, shockproof and fog proof that ensures that the product has a longer lifespan. The Rapid Target Acquisition eyepiece can offer with quite a generous eye relief and also allows in eliminating any need while searching for any perfect aiming.
FEATURES
Through the illuminator lens system, it is convenient for users to get a clearer image for the cleanest shot.
The availability of a 3-9x40mm lens makes a good combination between any low power and high power that supports a variety of terrain.
Rapid target acquisition eyepiece is introduced that allows in a quick finding of a visual sweet spot at crucial times.
Premium multi-coated optics and through vapor deposition coatings it is convenient for riflescope to offer optimal quality image and better light transmission.
Nitrogen in main tubes helps in getting 100% waterproof and fog-proof protection.
An Accu-track adjustment that is visible in this product is quite precise and made of stainless steel. Through elevation adjustments, you can also get quick and easy zero rifles on the range. .25 MOA elevation and windage adjustments help in tactical as well as audible clicks so that precision can be assured.
The tube attached to scope can appear to be a bit short for some of the rifles and so you might be in need of rings (Weaver rings) that can enable in getting an integrated extension.
Pros
Easy set-up.
Clear and crisp lenses with undistorted images.
No problem with glare.
Highly durable.
Cons
Zeroing require additional tools.
The turret dial is not supported with any screws.
Conclusion
In short, it can be said that this scope can be an excellent option for any hunting enthusiast and if you are looking for a riflescope that is in mid-price, then it is a perfect item. Redfield Revolution also offers long-range accuracy that comes along with magnification functionality. If you are a hunter, then you will probably make use of this scope which is a lot better option compared to any other scope available in the market.
---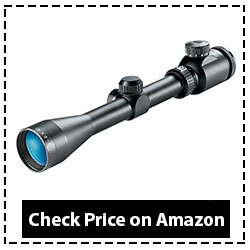 Tasco have been well known for low price product. When it comes to Tasco Riflescope, it is said to be a whole combination of excellence and quality. You can truly get outstanding value for money. It is impossible to find out the difference between any target shot while making use of Tasco Scopes and one-shot that is offered by any brand which may cost excessively. You can surely afford it and also glorify your hunting experience!
It is designed mainly for any serious hunter that can deliver a higher performance which is integrated along with advanced features. The feature that is available in this product is usually found in highly-priced branded products. There is no need to compromise the quality which is easily accessible at a reasonable price.
FEATURES
Aluminum main tube – The 1.0'' Aluminum tube proves that the riflescope is made of high-quality aluminum so that you can get an assurance related to durability and reliability.
Water and shockproof – It is a riflescope that is protective of water, fog, and shock. Due to the presence of nitrogen, it prevents internal fogging. The O-ring seal can also restrict scope from entering any moisture, dust, and debris. The rugged construction can also withstand any substantial impact.
Vital Zone 500 reticle – It helps the user to make an easy focus on the object and also get a quick and easy target acquisition.
Multi-coating – It comes along with Supercon multi-layer coating that can easily enhance light transmission in case you are experiencing a limited amount of light and looking for brighter and high contrast images.
Adjustments – It is a riflescope that comes along with windage and elevation adjustments that can easily enable us to hold a zero. Adjustments are very easy to use and can easily target objects.
Because of the low price, there has to be some feature removed. This Scope is not nitrogen filled, Therefore It will fog up if there are rapid temperature change. However, this scope still considered fog resistant.
Pros
It comes with a lifetime warranty.
Multi-Coated optic.
Waterproof and shockproof.
Decent for low light hunting at cheap price.
Cons
Short eye relief is not available.
Conclusion
Tasco World Class Riflescope is a reliable scope that can easily withstand any harsh hunting conditions. It is a durable riflescope that is available at a low price. If you're looking to hunt during the dusk and don't have the budget for high-end scope then this scope is an excellent choice.
---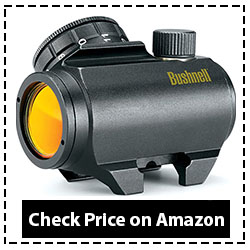 The first rifle scope on our list has a 3 MOA rating. That is why; the accuracy is on the higher side. With 11 different brightness settings, you can be sure that the view which it can provide is quite precise.
A unique feature of this rifle scope is that it is entirely waterproof due to the O-ring on offer. Even when you immerse it in the water completely, it will not impact the rifle scope.
Are you wondering about its construction quality?
Worry not! It has a shockproof design. As a result, when using it in rough terrain or even if you tumble outdoors, the rifle scope will remain intact.
One feature that certainly makes it much more efficient is the presence of nitrogen inside the scope. Due to this nitrogen, you will not have to worry about fogging. You will get complete clarity irrespective of the humidity or temperature change.
With high adjustment dial, precisely adjusting the red dot brightness will not be a problem. The easy to mount design makes it compatible with most rifles and muzzleloaders. Thus, when you look at this rifle scope, you will realize that it consists of all the necessary features that you might look for in 1. That is why it is a perfect buy.
FEATURES
11 different brightness levels.
100% waterproof.
3 MOA rating.
Shockproof design.
Pros
Anti-fog design.
Easy to mount.
Highly versatile.
Durable.
Excellent clarity.
Cons
Packaging could be better.
---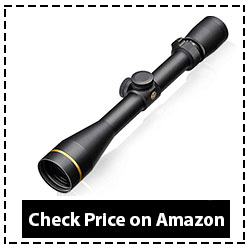 The scope that we are highlighting now is 3.5mm x 10mm x 40mm. The duplex reticle design, along with the matte finish, certainly helps it stand out.
A great feature of this Rifle Scope is that it is not only waterproof but also fog proof and shockproof. That is why the usability of this riflescope is much better than many other options that you will find.
With the help of 1/4 MOF finger click adjustment, it is easy to get the precision as well.
When you look at the construction, it consists of 6061-T6 aluminum. It is the aircraft-grade aluminum that ensures that the durability is undoubtedly on the higher side. It can add up to 20 minutes of shooting light and reduce the glare, which makes it easy to get a precise shot.
With the ultralight design, moving it around is undoubtedly an easy task. Thus, if you're looking for an advanced rifle scope, this one is a good option.
FEATURES
Uses 6061-T6 aluminum.
Adds 20 minutes of shooting light.
Reduced glare.
Matte finish.
Pros
Heavy-duty construction.
Usable in any weather.
Precise adjustment.
Ultralight design.
Cons
Mounting takes a bit longer.
---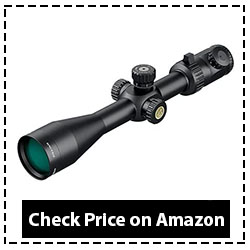 The USP of this riflescope is the advanced multi-coated lens. That is why; the light transmission is on the higher side. It offers accurate color viewing, which is another advantage. The 6061T6 aircraft grade aluminum certainly makes it a reliable choice.
Also, the mechanical integrity of the rifle scope is up to the mark. The riflescope offers you complete waterproofing and high thermal stability.
It is shock-resistant and, therefore, can handle recoil easily.
The 6-24 x 50 focal plane makes it versatile as well. The 4x magnification process is another reason to go for it. The heat-treated construction means that the sturdiness is on the higher side. It is entirely waterproof and, Fog-proof construction provides excellent clarity. With these features, you cannot go wrong with this riflescope.
FEATURES
Sturdy Aluminum construction.
Shockproof & waterproof.
Multi-coated lens.
4x magnification.
Pros
Excellent magnification.
Highly durable.
Excellent clarity.
Versatile.
---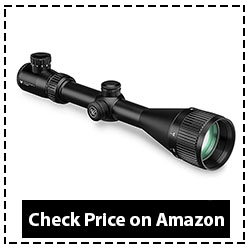 The 3-12 x 56, which we are speaking about now works even in low light conditions. As a result, it is perfect for hunting.
With an adjustable image focus, it is easy to get a precise shot. Additionally, it has an anti-reflective coated lens that provides you with a clear view.
The turrets incorporated into the design are easy to adjust using a finer. With the help of easy MOA adjustability, it is easy to zero in on the target with complete clarity.
The aircraft-grade aluminum does not disappoint either. Moreover, it consists of an O-ring. The advantage of this ring is that it makes the entire scope waterproof. At the same point of time, it consists of purged nitrogen as well. That is why you won't face any issues related to fog, either. The shockproof construction is once again a feature of this scope, which makes it stand out from others.
The response time of this scope is again an advantage that cannot and should not be ignored. The 30mm tube ensures that the construction is pretty durable.
The scope is made from hard-anodized metal. As a result, wear and tear will not be a problem when you are using this scope consistently. Moreover, you can adjust the magnification between 3x to 12x. It ensures that you can use it for an extensive range.
If you are looking for a versatile riflescope, this one will not disappoint you.
FEATURES
3x to 12x magnification.
30mm tube.
Works in low light conditions.
Consists of an O-ring.
Pros
Durable aluminum construction.
Versatile.
Easy to adjust.
Fast response time.
Cons
Packaging could be better.
---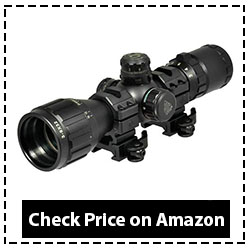 The best feature of this scope is the 1-inch tube. It comes with an emerald coating. The job of the emerald coating is to transmit more light. At the same time, it offers ¼ MOA adjustment. The ¼ MOA adjustment provides excellent precision and clarity.
You can adjust it from 3 yards all the way up to infinity. It ensures that you can use it for a variety of objects.
With the help of dual illumination, using it in any weather conditions is easy. Moreover, the wide field of view which it provides is another advantage. It can offer you eye relief also. It comes with a 2" sunshade, which is missing in many other riflescopes. And it ensures that you can use this scope in extreme sunlight also.
It consists of the rings, which make it easy to attach and detach. At the same time, the flip-open lens makes it very easy to use as well.
Also, it is shockproof and entirely reliable, as well. At the same time, it is filled with nitrogen. Due to nitrogen, you need not worry about fog. It is rainproof as well. The sealed construction makes it genuinely waterproof. As a result, you can use it in any weather without any issue.
The riflescope consists of a Mil-dot reticle that can estimate the range as well. Due to this reason, it becomes easy for you to use this rifle scope. When you look at the combination of these features, you will realize that it is undoubtedly one of the best riflescopes on offer.
FEATURES
Range estimating erectile.
Consist of a sunshade.
Nitrogen filled construction.
Dual illumination.
Pros
Highly durable.
Works in any weather.
Excellent focus.
Works in any light condition.
---
Best Rifle Scope Buying Guide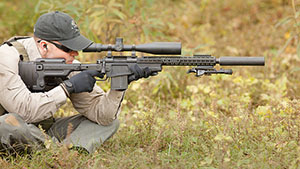 Although many rifles come with a built-in iron sight, at 100 yards, these can cover only up to 6 inches of the target. This allows for only limited preciseness of the shot and is also not very helpful during low light conditions. A rifle scope on the other can cover up to 1/8th of an inch at 100 yards. It can accentuate the available light, allowing the shooter to place a long-distance shot with high accuracy even in low light conditions. Rifle Scopes allow you to take full advantage of all the different weapons that would otherwise be not very advantageous.
The first thing to consider when buying a scope is its magnification. Long-distance shooting weapons require intensive magnifying scopes while short-distance shooting weapons used for constantly moving targets are better off with average magnification. Lower magnification like 4 and 6 allow for faster and more intuitive shots and helps to effectively keep track of the target. If you want to go for a scope that offers versatile magnification, you can pick a variable power scope that can be adjusted as per the requirement. These are more expensive as compared to fixed magnification power scopes but worth the investment due to its high utility and flexibility. Moreover, a variable power scope from a reputable company is also unlikely to have any functional drawbacks.
Size Of The Objective Lens
When you decide on the magnification that you need for your scope, you will be required to choose an objective lens. This lens collects the light and focuses it onto the image. Bigger objective lenses allow for brighter and clearer images. However, it is not always practical to go for big objective lenses. These can be very heavy and may require a tripod to mount the weapon. If the balance is not maintained, it can weigh down on the shooter and can affect the preciseness of the shot. The cheek weld of the rifle should also be strong enough to bear the weight if your objective is heavy enough. Therefore, depending upon the weapon in question and the shooting range, you can according choose from a wide range of objective lenses.
Reticles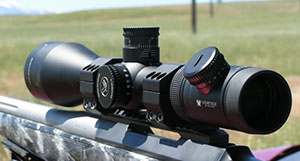 Reticles are the fine line that crisscrosses at the focal plane of the scope to allow for accurate measurement of the target. There are a number of reticle patterns used in scopes, from a simple dot to fine grids. However, the most commonly used reticles are duplex reticle, mildot reticle, and BDC reticle.
Duplex Reticle
Duplex reticles are by far the most commonly used reticles in scopes. It has two perpendicular lines that cross at the center of the lens. The lines are very fine at the center allowing the shooter to view the target with great accuracy. Towards the other edges of the scope, the line becomes thicker. this can be helpful especially during the low light conditions when the fine center crosshair may not be visible. This type of reticle is ideal for hunting and target shooting.
Mildot Reticle
Mildot reticles are used for long-range shootings. It is based on the duplex reticle and has additional dots along with the center crosshairs, which are placed according to specific angles measured in milliradians. These dots can be used to adjust the shot taking the wind velocity and elevation into consideration. The dots along the vertical line can be used as a bullet drop compensator. Once the shooter becomes acquainted with a mildot reticle, it helps to place accurate shots. It is due to this very aspect that the mildot reticle is considered as the standard reticle in military and law enforcement.
BDC Reticle
BDC stands for bullet drop compensator. With this scope, the shooter does not have to adjust the height of the scope for every shot. The only difference between a duplex and the BDC is that the BDC reticle comes with a lot of calibrations along the central vertical line. These calibrations allow for easy calculations for differently ranged target distances. The BDC reticle is far more effective than the duplex and the mil-dot reticle. However, it is only available for certain cartridges and their accuracy can only be guaranteed up to within 500 yards.
Minute Of Angle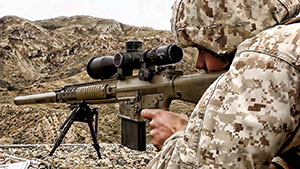 Minute of angle or MOA is a term used to refer to the variances in the target at a distance of 100 yards. With every click of the adjustment knob, the bullet's point of impact will move closer towards the target point. This is great for someone who is looking for fine and precise adjustments. You can either go for an MOA or a milliradian [MRAD] scope. The MRAD scope is great for long-distance shooting.
Reticle Positioning
When you have finally decided on the choice of reticle and MOA or MRAD, it is time to choose the reticle positioning on the scope. FFP and SFP are the two positionings of the reticle. FFP positioning is commonly used for short-range targets. Here, the reticle size remains constant irrespective of the magnification. So you will a steady aim at the target at all levels of magnification. SFP is used for long-range shootings. Here, the size of the reticle changes with magnification. At low magnification, the reticle is barely visible. However, long-range shootings always come with increased magnification and therefore provide accurate measurements.
Parallax
Parallax error is when the reticle seems to change position when you move your head. This is caused when the scope is not able to focus the target and the reticle in the same focal plane and it can lead to missed shots. Many inexpensive scopes can provide parallax-free viewings only for short ranges. One way to overcome this error is by moving the head back until you see an equal shadow on all sides of the reticle.
When you have finally settled on what you are going to need, compare the prices. A good scope can cost up to several hundred dollars. Invest in a name that you trust, even if it means paying a little extra. A rifle's efficiency is very much dependent on the scope it uses, so get a scope that will help you get the most out of your rifle.