When you are out in the wild what the best tool to have is? Anyone who has been out camping or surviving in the wild knows there are three things you need, Fire, Shelter, and something sharp. Many would choose a knife. But, those who are in the know prefer the Best Bushcraft Axe instead.
The reason for this is the fact that a Bush Axe will let you clear brush, build a shelter, and let you make all the survival tools you could want like fishing spears. You can even make yourself an Atlatl to give them range, and if you want to go the whole hog, you can make a hunting bow as well. Besides cutting wood for your fire, you can even shave with a properly sharpened Axe.
So, for camping out almost anywhere in the world, a good Bush Axe is something you will always want in your kit or go bag when you are planning to take to the woods.
Today, you are in for a treat as we have not one but 5 such axes for you to look over with us, and perhaps one of them will have the honor of finding its place with your other camping and survival tools.
Being prepared is much more than just empty thought in a world where the weather is now capable of shutting down a city like New York as well as other places around the globe. So, let's begin and look at our first Bush Axe.
5 Best Bushcraft Axes in 2021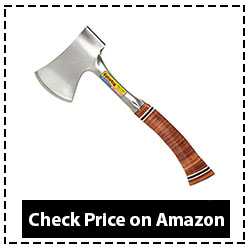 When you want, a quality Axe for taking off the beaten trails into virgin territory you wouldn't do any better than an Estwing. Forged from solid steel into one integrated unit you have the perfect helpmate when you need to set up a campsite.
You can hone it to razor sharpness, and you could actually shave with it if you liked. However, it is better used in getting firewood, cutting down saplings for a deluxe survival shelter.
Many take the basic axe and sand off the varnish, covering the leather handle to treat the handle with oil instead, making it an even more durable tool that will last for years of camping as well as other outdoor activities.
Given that this axe is one solid piece of steel and made in the USA, it is a bit heavier than you would expect. But, that gives you more power on the downswing to chop through a stubborn chunk of wood you are breaking down for kindling or cutting a sheltered pole.
With this bush axe at your side, you can almost live indefinitely off the land comfortably with the minimum of gear as well as clear a campsite of underbrush quickly in record time.
Key Features:
Made from 1055 carbon steel.
Treated to measure between 45 and 60 on the Rockwell Standard.
The weight of this axe is over 28 oz.
Made in the USA in Rockford Illinois.
Cast into one single unbreakable piece of steel.
14 inch handle the perfect axe for camp and brush removal.
Pros
With some care and maintenance, this axe will last for decades.
The Axe you'd want after being stranded on a deserted island.
Good craftsmanship and thick enough to get the job done.
Rugged and perfect for work around a campsite.
After putting an edge on it, the way I liked it. I went through some logs like nothing, and the edge came through still sharp and ready to go again.
I want a quality axe that was priced right. And I got that and more with the Estwing. It's made in America, and it is an outstanding tool for home or outdoor use.
Cons
The first thing you need to do is get rid of the varnish on the handle. Oil it right and then put a good edge on it. Then you'll have an axe that will last.
The sheath did not cut it with me. It didn't fit well around the blade tight enough.
The varnished handle slips when I wear gloves.
The stickers are hard to take off and leave a gummy residue.
Reviewer's comments
Since 1923, Estwing has been crafting fine hand tools since that time right up to the 21st century. The E24A is just another example of their style and craftsmanship. It weighs about 2 pounds, and that makes the Amazon description off a tad.
The metal quality is good and once you put a good edge on it. The axe will keep it, and the extra weight gives you the needed force to split wood small enough for your campfire. This reviewer liked the single-piece construction that meant not ever having to replace the handle of the axe.
Some worry about the handle giving out. However, in the many years of using similar axes, this has never been a problem. The biggest bugaboo is the handle. The varnish wears away. The review sanded it off and spent a few days oiling the leather and letting it dry.
This repetitive process resulted in a no-slip handle that will stand up to the weather during outdoor use. Making this axe worth keeping that will be with you for years of work out in the wild.
---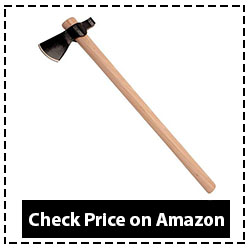 Cold Steel has been one of the few blade makers that can now compete with venerable companies like Case and Buck. Their blades are made to last, and the Trail Hawk shows you just what we mean.
Resembling the frontier day tomahawk, it rests at your hip comfortably. With a wide enough blade, it can cut grass off at ground level to be used to make a rope for use in building shelters, rafts, and for making traps for small games.
This makes it handy also for harvesting wild plants and herbs for food and medicines. It can also do the mundane job of cutting wood for your campfire as well.
It can also be thrown with accuracy, and that makes it a fun addition for those who enjoy outdoor sports. An all-around camp tool and an outdoorsman's best friend, you will want to take it with you out on your next camping trip.
It also makes up a critical part of any survival kit or BOB (Bug Out Bag) for those who want to be able to survive in the wild for any length of time as well. So, for those of you who are looking for the right blade at the right price here is your solution.
Key Features:
Drop forged to make it super sturdy and durable.
The handle is made of solid hickory that wouldn't crack, splinter, or break under heavy use.
The blade has a 2 1/4 inch wide face that provides just the right amount of cutting surface you want in a bush axe.
Pros
Another great product from Cold Steel at an exceptional price.
The axe head can split wood as I can attest to having done 200 lbs for my camp one weekend.
For an under $30 Bush axe this is a great deal. Get rid of the set screw, and the handle will last longer.
Cons
It needs some work out of the box to make it a great camping tool. Get rid of the setscrew, the epoxy coating, and then sand the handle. Then you have the best in a cheap hand axe.
The handle was nicked out of the box. A little sanding fixed it though.
Reviewer's Comments
When you are in the woods or hiking long distances, being able to build a shelter out of what is available is a needed skill. That's why the Trail Hawk is such a versatile tool. Not only can you cut down the Dogbane that will give you the cordage you need to hold your shelter together and keep out the elements.
However, it can let you size the branches, peel stripes of bark off trees, that you can use to make a fish or crayfish trap. With such traps, you can forage and live comfortably in the woods.
While you wouldn't be doing any logging with this axe, you can take down saplings to make fishing & spears to help you catch fish, frogs, and other small game.
For those who want to master the skill of axe throwing this reviewer found the Trail Hawk to be well balanced for this and if you have two, you have one to throw and one as a backup. The axe is light enough so it would weigh you down, so it fits into a Bug Out Bag the G0-Bag for a SAR First Responder.
The Native Americans and the settlers who followed afterward used bush axes for hundreds of years and that should tell you the worth of having a good axe like the Trail Hawk at your side.
---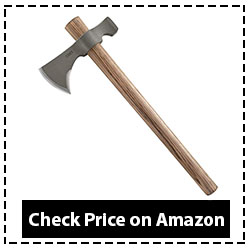 Some people like to do things differently from the rest. For example, more and more people are going off the grid as the world has become more unstable and services are unreliable in the event of weather.
So, if you want to get out from under and DIY all the way, there is no better way than packing a Woods Chogan at your side. This Bush Axe can cut a cord of wood like nobody's business.
The business end of this axe is broad enough to do any job you may need to get done in camp up to building a cabin if you want. Designed by Ryan Johnson, it incorporated his many years of living off-grid. 1055 steel gives this axe the strength you need and the Tennessee Hickory handle makes it rugged enough to last for years. The reverse side of the Chogan is made to hammer stakes into the ground or tenderize venison if need be.
If you are planning to learn how to live off the land or are a Prepper/Survivalist, you cannot get an axe for field use better than this one. Add the Woods Chogan to your camping gear, and you'll never be let down when you need a sharp edge most.
Key Features:
1055 steel forged for flexibility and strength.
3.5 inch wide cutting face handles any cutting work you need.
The 19-inch handle makes it a heavy-duty cutting tool.
Hammer opposite the cutting face gives a balanced swing and hammers nails of stakes with equal ease.
Pros
Rugged and dependable.
Price and quality all in the one tool you need when you hit the woods.
Splits small logs with ease.
A good heft and the right length of the handle for a smooth, powerful swing that cuts wood down to size fast and easy.
With the weight of its head wood seems to cut itself.
I am a trapper, and the design and weight of this axe make getting a camp shipshape is a breeze. Pound stakes, Scrape and cut wood. There are 1000 things that need doing while running a trap line and the CRKT does 1001 of them.
Cons
The CRKT has to be the dullest thing ever coming out of the box. But, once you put your edge on it, it becomes your sidekick for working and living in the woods or off the grid.
The 19″ handle didn't do it for me. I switched it out for a 21″ Hickory replacement, and now I have an axe that fits my hand to a "T".
Reviewer's Comments
This reviewer likes the benefits of modern civilization. However, lately, it has become apparent that a little distance from it might be a good idea. This is why many (this reviewer included) are learning to live without these modern conveniences.
Having the ability to live off the grid and be able to build a home, hunt, fish, and trap are becoming useful skills. That is why you need the proper tools with you when you are away from it all.
The CRKT is one of these tools that can go anywhere and ensure you can make a go of it wherever you end up. It cuts wood, splits, and scrapes. You can shape wood to build a cabin all the way down to shave kindling to start a roaring campfire to stay warm.
However, one of the attractive things about this axe is the pricing is that for about 50 bucks it is all yours. However, it might need a little customization. You then have a tool that will make living off the land doable, comfortable, and dare I say it enjoyable!
If you've ever considered needing the best bushcraft axe for going camping, learning to live in the wild or just want an all-purpose tool for use in the backyard. This is the axe that will do that and become part of a Go-Bag for those who need to be ready for anything. Then the CRKT Woods Chogan is just what the doctor ordered.
---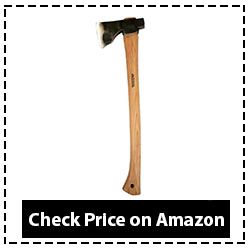 When you want to get out in the woods, and you need to get ready for a coming storm. This is when Swedish steel comes through.
You can split those logs and use them to put together a storm shelter that will let you weather out the storm snug and dry. You can be sure that with the artisanship of Les Stroud you have an axe that lets a person go into the woods, be confident, and secure when you are out there.
The cutting face can be honed to razor sharpness. You need it when you have a cord of woodcut for your camp heating needs. It will trim back the brush around camp, and you can trim bark to lash logs together along with making traps for fish or crawdads. You do not need to worry about taking a tent anymore, as you are now able to build the best in an outdoor shelter.
Key Features:
HRC57 in hardness.
22-inch handle, which gives you an impressive swing.
Pros
When you need an Axe that gets the chopping work done fast.
The edge coming out of the box only needed a bit of work, and it was ready to go.
It comes with a 22-inch handle that is perfect for chopping wood and cutting branches to create a Duck Blind.
You want a wedge made of Swedish steel that is sharp and has a handle that will stand up to a lot of chopping in the field. The Bushman is perfect for all this.
I left the head of the axe in a tree. So, I got myself a 23″ handle, and now this axe is a one-man cord maker.
Cons
The handle needs to be replaced after my first outing with this axe.
For $170, I expected more from what the reviews and YouTube said. It is just an average axe that you can get cheaper.
Reviewer's Comments
A good and serviceable axe for use in the woods, while the head comes from Sweden that does not make it the super-duper chopping tool that it is touted on YouTube. It does what you need around camp and keeps an edge well.
However, it has issues with the handles and the shipping and storing of the completed product. However, their customer service responds quickly. This should not be happening with an axe that costs this much.
This reviewer has seen some quality cutting tools come over from Norway and Sweden, but this bushcraft axe falls short of our expectations. So, we agree with only a 4-star rating for this product until they can improve on their QA of their finished products.
---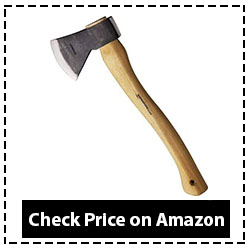 German cutlery has been famous for centuries and Condor goes back to 1787 in Solingen. The GERB WEYESBERG COMPANY rose to world prominence and branched out to locations all over the world.
Condor is one of these subsidiaries that still follow in the footsteps of the original family's vision. In 1964, the company formed IMACASA with a new plant in Santa Ana, El Salvador. From these humble beginnings, they have kept to the German ideal of exceptional quality with a group of artisans who trained in Germany.
Since 1964, many of them still work in San Salvador, using German precision and machinery brought over for the purpose of creating some of the best in hand tools and in our case, a great Bush Axe that is worthy to be carried by a Teutonic Knight. Nevertheless, is made for you to have one of the best tools for living and surviving in the wild.
You can cut 3″ logs into kindling and the blade once sharpened keeps its edge throughout the year with a little touch-up now and again.
So if you like, the feel of German artistry in a size that goes with you out into the woods and from there you have a tool that will do the hundreds of things you want doing in the field.
Condor's Greenland Pattern Axe is just right for you.
Key Features:
Made from 1045 High-Carbon Steel.
The Axe weighs in at a bit over 2 lbs.
American Hickory handle that forms the base of a tool that will go through a piece of wood almost without effort.
Classic Condor design for the blade.
Scalloped blade face to provide the maximum cutting edge and sharpness.
Pros
Cuts and chops right out of the box.
The perfect Bush Axe to take out into the field or the woods.
Turns logs into kindling and can be used to cut back brush and bracken.
German Steel cuts through almost anything without losing its edge.
Makes camp chores simple, fast, and easy, You are now able to build a shelter, cut your firewood, and keep your campsite free of brush and manageable.
Rugged Hickory handle absorbs the shock of use without cracking or splintering.
Fits in my Rucksack and I take it everywhere when I go out into the woods.
Cons
The head came loose after my first outing. Condor sent me a whole new axe without a quibble.
The handle didn't look like it would hold up to the weather. A dunking in Boiled Linseed Oil made everything better.
Reviewer's Comments
When you need a Bush Axe that will keep you safe in the wild, you want something that only German engineering can provide. That is what Condor has been turning out for decades since the early sixties. This Bushcraft Axe is just the latest example of some of what they are putting out these days.
This axe is sharp, weighty, and ready to go out in the woods to help you get your camp set up in record time. It then helps more by getting the wood, cut to a size that is useful for your night fire that will keep you warm and cook your food.
This Bush Axe has a lot of power in a small package that anyone who has to live or survive outdoors will appreciate. Quality, American Hickory, and German Steel are all you need when you are off the grid or trying to try your hand at camping.
Final Thoughts
Bush Axes come in many sizes styles and lengths of handle. However, they all have one thing in common. They help get the work you need doing around the camp. You can use a Bush Axe in building a shelter for protection to stay dry or getting the wood to keep it warm.
Also, they will help you in numberless other ways by cutting grasses to make cordage to tie logs or saplings together for building a shelter.
A Bush Axe is also useful in making hunting and fishing tools that make life easy and provides you with tasty meals as well.
The Best Bushcraft Axe can rightfully take its place as one of the prime tools you need to live comfortably in the wild, and you have seen five of the best to be found on Amazon.