Unlike other operational carry such as tactical flashlights or knives, the pen is often overlooked. So why not opt for one that could save your life or at the very least work under the most extreme weather conditions. Tactical pens do just that, they are heavy-duty writing tools that double up as self-defense weapons, usually made from strong machined metal and utilizing a pressurized ink cartridge. They sit comfortably alongside your other tactical gear and clip easily onto webbing, pockets or belts – once you go tactical you'll never use a standard pen again.
The tactical pens listed in our guide look at the best brands and the most trustworthy writing companions for when you're on operational duty. And for when your out of ammo and your knife is indisposed any one of these pens can become your first line of defense. If Jason Bourne can wield one to great effect then you'll understand what kind of damage a sharp-tipped chunk of metal can inflict.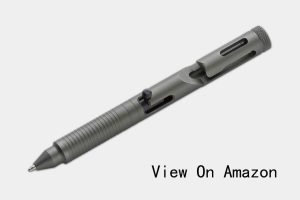 The Bolt Action Tactical Pen will keep you connected to your inner survivalist while you're cooped up in the office. Made from anodized milled aluminum, the bolt action mechanism for opening and closing the tip will keep you amused as you dream of traversing mountain ridges.
Keeping the pen secure on your person comes courtesy of a perfectly machined clip, ideal for securing to your shirt or pocket. And with the diameter of the pen barrel the same as a .45 caliber case this isn't your standard-issue office pen. Just keep that flat-tipped head away from your colleague's skull.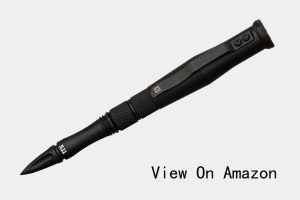 The Double Duty Tactical Pen is billed as the toughest Pen on the planet. If your low on ammo and your knife have gone AWOL, then this pen really is mightier than the sword as a last-ditch defensive tool. Equally at home as a premium writing instrument, this is one pen you'll want in your tactical carry.
Machined from an aerospace-grade aluminum construction with a matte black finish and a knurled grip for better control, the 5.11 Double Duty Tactical 1.5 Pen also features a sharp, pointed end for stabbing your would-be assailant.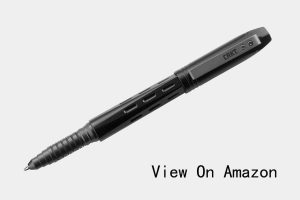 When a pen has been designed by an award-winning knife designer, Allen Elishewitz, you know it's been made with self-defense in mind. The Tao Tactical Pen from Columbia River Knives and Tools is crafted from precision machined aluminum and features an impact crown on the cap and a pointed button the opposite end providing two levels of defense for the handler.
Inside there is a tungsten carbide ballpoint and thixotropic ink cartridge from Fisher Space Pen that provides you with a tool that can function at almost any temperature, hot or cold, at any angle, and even underwater. This is one heck of a writing implement on our list of tactical pens.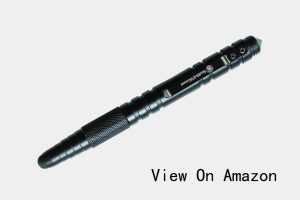 With smart devices making a more frequent appearance on operational tours, the Smith and Wesson Tactical Pen is the perfect combination of traditional and modern. Designed for those that rely on tablets and smartphones, the screw cap comes with a built-in, replaceable stylus tip that will work on most touch-screen devices.
For the traditionalist, the Smith and Wesson still use a Schmidt P900M Black Ball Point Ink Cartridge for when the paper is the only option. Other features include a black pocket clip and a personal protection tip machined from hardened 6061 Aluminum.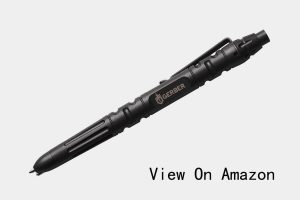 With law enforcement professionals have had a hand in the design of, Gerber's Impromptu Tactical Pen you can understand why this has a place on our list of best tactical pens. In looks alone, it shouts tactical and is matched in its performance too.
A simple push-button exposes the tip of the ink cartridge that can write in all weather conditions making this a trusty companion on any op. The tempered steel tip can smash through glass and the machined steel construction makes for a heavy and sturdy self-defense weapon.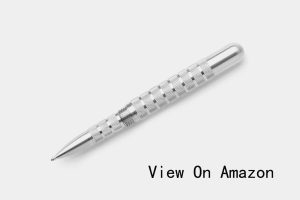 A man's pen can speak volumes about his personality and taste. Made in the USA and originally designed for government and military use the Embassy Tactical Pen will make sure you're well respected out in the field or the boardroom. Ready for even the most destructive of environments the battle-ready 300 series high-grade stainless steel body makes a real impression while the knurling means you won't lose your grip in a tight situation.
The internally threaded housing gives an entirely secure closure between lid and pen, and pen tip and body and will withstand temperatures between -30 and 250 degrees Fahrenheit. As a standard-issue, the Embassy works with Fisher Space pen refills. These cartridges are nitrogen pressurized capsules with a special link that will let you write upside down, right side up, in zero gravity and underwater. And with the cap screwed back on you have a unibody brass rod suitable for self-defense.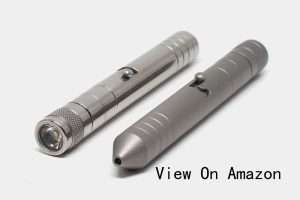 Finding a tool that can make a real difference to your tactical loadout is a tough one in an ever-growing market space. And finding one that delivers on its promise of giving you something practical, compact and durable, even more so. Thankfully, Refyne has delivered with the P1 by combining two commonly used items – a pen, and flashlight – reducing the amount, you'll need to take in your everyday carry.
The Refyne P1 is a boldly designed titanium bolt action pen connected via a magnetic twist-lock to a 130-lumen water-resistant flashlight. Both bits of kit can work together or apart with the flashlight rechargeable via a micro USB. The pen uses a bolt action mechanism and deploys a Lamy M22 rollerball cartridge and comes available in two finishes, matte or polished.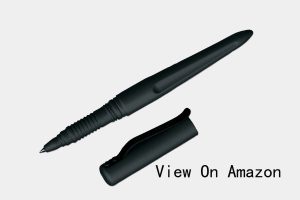 The Mil-Tac Tactical Defense Pen is made from aircraft grade anodized aluminum and is designed specifically for military and law enforcement personnel. But if you're not a member of our esteemed forces fear not, this will still make for a solid multifunctional pen for your everyday carry.
Pointed on one end, blunt on the other it's down to you which is the better tool for self-defense duties. With it's minimal, understated design the Mil-Tac is one of the more discrete choices of tactical pens. Assailants won't see you coming.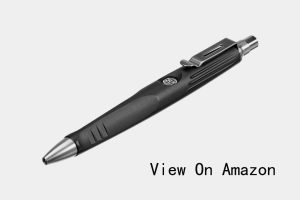 Unlike it's more rugged counterparts, the SureFire Pen IV is at the luxury end of tactical pens. Its sleek lines showcase the precision-machined high-strength aerospace aluminum with a black hard anodized Mil-Spec finish.
Offsetting the black is a stainless steel pocket clip, nose cone, and durable retractable click button and to keep the ink flowing all day, the SureFire utilizes a Schmidt easy flow 900 ballpoint pen cartridge.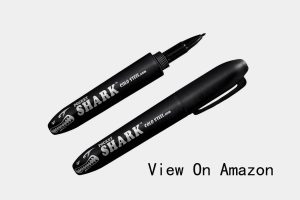 Cold Steel's Pocket Shark is like no other tactical pen on this list. It looks just like your standard permanent marker, but if you get struck by one, you're going to know about it.
Made with a black Grivory construction (high impact plastic), the Pocket Shark's walls are four times thicker than your average maker. This makes for a greater impact when used as a self-defense tool and will stand up to the roughest treatment while in the field. You can even roll over it with a car, and it will bounce back. But then you wouldn't expect anything less from a brand that is known for its high-performance tactical knives.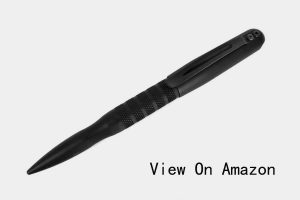 When a pen leads with the name "Tuff Writer" you sure hope it can back that up. If it couldn't, we wouldn't be featuring it on our list of the best tactical pens. To start with the Tuff Writer gives you the ability to write in temperatures of -30 to 250 degrees Fahrenheit, but let's hope you never find yourself in either situation. It also boasts left threading to prevent the tip from vibrating loose and a sharp tip for stabbing at any would-be attackers. Just remember when changing the ink cartridge that the pen's tip goes righty-loosey.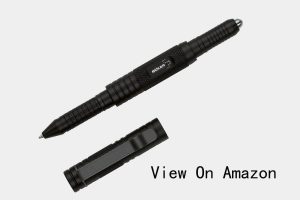 We finish our list of the best tactical pens with another from the Boker brand. This option from the Plus Tactical series is made from a lightweight aluminum construction, featuring a black anodized body, with a checkered texture and cap to provide a secure grip.
The Boker Plus Tactical Pen also has a hard, rounded stainless steel insert on the shaft end, which allows it to be used as a self-dense Kubotan.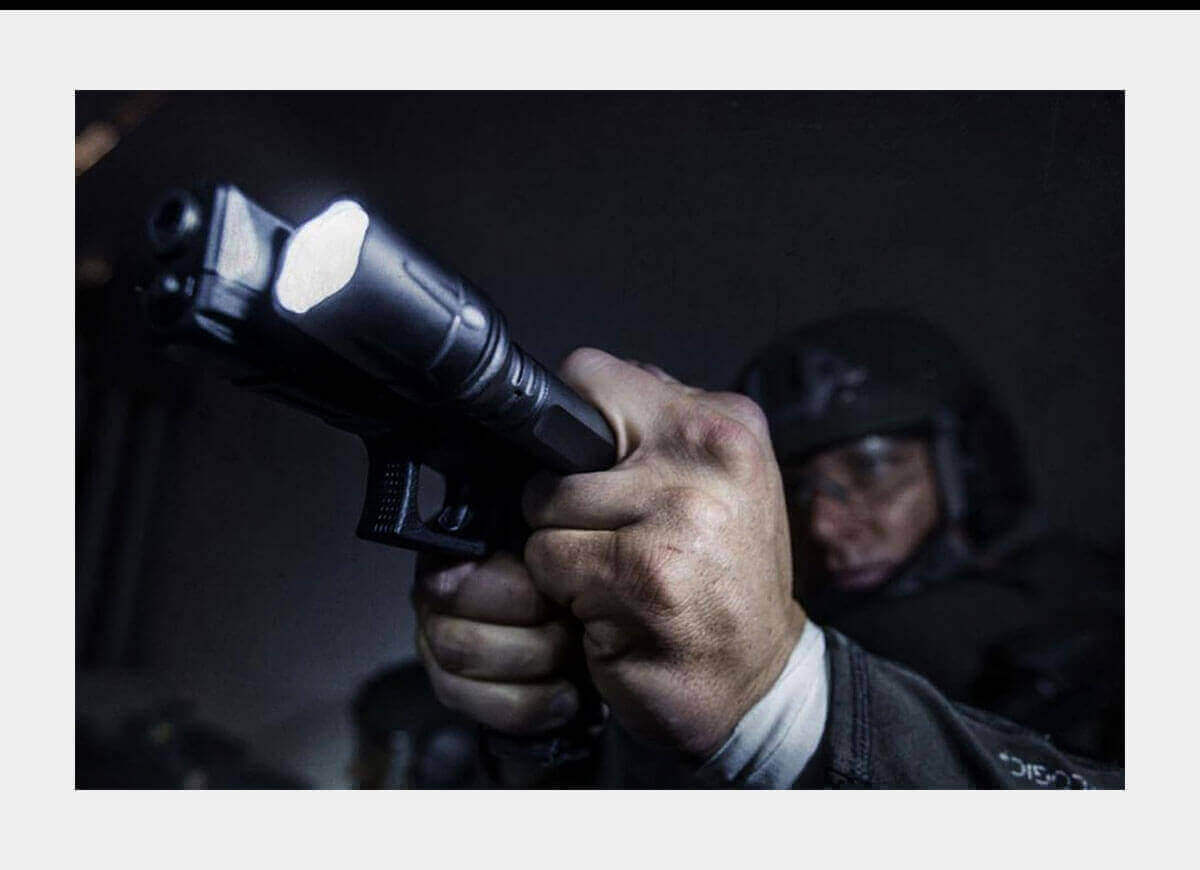 Best Tactical Flashlights
Chances are that writing on an op in the dark is going to happen. That's why we've put together a guide to the best tactical flashlights to light up the way. Not just for illumination, these flashlights can double as a self-defense tool when you need something bigger than a tactical pen.