Used in war and peace the famous entrenching tool dates back through both World Wars and every war since according to an old motto, "When the going gets rough, the tough dig and dig fast." That's why the best folding shovel should be in every kit for anyone who wants to go out in the wild.
You cannot make camp without one. You need one to dig a fire pit, clear a campsite, of course, dig a latrine as well. But, in an emergency, it will excavate you a dugout that you can line with leaves, pine needles, and cover with branches. You then have a survival shelter that can keep you warm and comfortable.
In the winter, having a portable shovel can be the difference between life and death. You can build a snow shelter, create a hollow in the snow near a tree, and pile up a windbreak that blocks the cold wind from robbing you of your body's heat.
That's Why We Need Shovels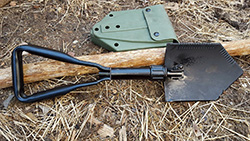 For these reasons and many more, you need to have a good folding shovel with you whenever you venture out into the wild. It doesn't matter if it is for hiking, camping, or if you are a member of a First Responder Team. You never know when you will need the use of this versatile tool where being able to dig foxholes or trenches creates a place of sanctuary.
The art of entrenching and using tools like it has been indispensable tools of the military since the days of Caesar. Today you will be introduced to 11 of the best folding shovels on the Net. Tools that any Roman Legionnaire would have given their eyeteeth to have that now, you can get with just the click of a mouse.
11 Best Folding Shovels in 2022
**Below, you'll find our more detailed reviews, but you can also click the links above to see current prices or read customer reviews on Amazon.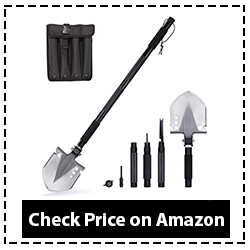 If you're looking for a sturdy, versatile shovel you can use in pretty much any situation this is the shovel for you.
Perfect for camping, hiking, emergency, and survival purposes. The EST Shovel (just like the company says) is made to outperform. The shovel's toughness and versatility are simply unmatched.
The EST Shovel is one of the best 18-in-one multi-tools out there. This shovel has a hardened-steel, reinforced shovelhead that is tough enough to chop and saw wood and other raw materials. The military-grade aluminum handle makes it lightweight and easy to work with. It comes with a convenient packable ripstop nylon pouch. This folding shovel is lightweight and can be easily disassembled, so you can keep it anywhere, from your car to your bug-out bag. Click here to read the full review.
Pros
Multipurpose.
Small enough to fit in any day back.
Highly versatile.
Designed in America.
Easy to use and assemble.
Holds up over time and through many uses.
Cons
At 3 lbs it's a little bit heavier than other survival shovels but that's due to the thicker, higher quality handle..
Summary:
---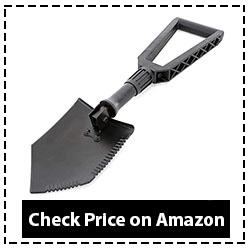 Are you looking for a highly portable shovel?
If yes, this trifold one is the perfect option for you. When folding it, it is not only easy to carry but also easy to store.
With the help of 2-way multi-adjustment, customizing it according to your requirements is easier than ever. If you're wondering about its handle quality, it consists of a nylon handle, which is fiber-reinforced. That is why; it can certainly help you in a variety of applications.
The carbon steel blade, along with serrated edges, makes it easy to deal with any soil.
It comes along with a storage bag as well, which can make things easier for you.
The trifold design is one of the reasons why it is on our list.
Pros
Trifold design.
Easy to store.
Adjustability options on offer.
Heavy-duty handle.
Carbon steel blade.
Cons
The carrying package can be better.
Summary:
---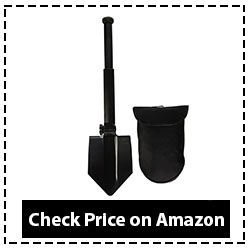 Are you looking for a versatile folding shovel?
If yes, this one is a reliable choice. You can use it as a shovel as well, that is one of the prime reasons why you should go for it.
The lightweight design helps you carry it easily. It makes the shovel easy to handle. In addition to that, the folding blade is lockable at four different positions. That is why; customizing the operation of this shovel is not a problem.
The extendable telescopic handle makes it easy to use. Also, it has high impact-resistant construction due to polymer material. That is why the reliability and ruggedness that it provides are much better than many other options.
It comes with a carrying pouch that certainly makes things easier for you. In terms of versatility, it is one of the best options which you can go with.
Pros
Versatile.
Lightweight.
Heavy-duty construction.
Lockable blade.
Telescopic handle.
Cons
The packaging can be better.
Summary:
---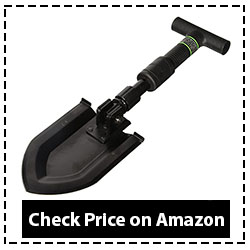 The excellent feature of this folding shovel is the folded length of 10 inches. The open length is 16.6 inches. When you extend it fully, it is 20 inches. The weight is just 1 lb, which means that moving it around and handling it is not a problem.
With the help of a 3Cr13 S.S. blade, you can be sure that durability is not a problem.
The polyester sheet makes it easy to store it. That is why; it is suitable for use as a camping shovel. The T-shaped handle can provide you with a proper grip. When you're moving the soil or any other substance with full force, the handle design certainly plays a critical role. With a T-shaped handle, you will have no complaints at all.
The entire handle length is adjustable at many different levels, which allows you to customize it according to your requirements.
The sharpened edges, quick to fold design along with the telescopic handle, means that when you're going for it, you will have no problems at all. With a versatile and compact design, this folding shovel is sure to grab your attention.
Pros
Lightweight design.
Heavy-duty blade.
T-shaped handle.
Easy to use.
Cons
The handle locking mechanism needs improvement.
Summary:
---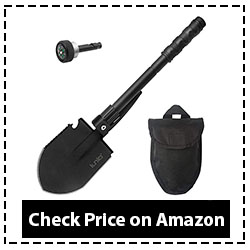 The next one to reach our list is, once again, a versatile tool. It is a folding shovel that you can use it as a nail extractor, bottle opener, saw, pickaxe, and so on.
It incorporates a compass into its design as well. The compass makes it suitable for camping.
Moreover, the antiskid handle provides you with an excellent and sturdy grip. You can lock to handle at the length which you want. So, customizing its length will undoubtedly work to your advantage.
The weight of just 21 ounces does not disappoint either. Additionally, it comes along with a sheath as well. Since it is foldable, the sheath measures 5.31" x 8.66". That is why, when you're not using it, storing or moving it around is going to be easy and safer than ever.
The high carbon steel blade is wear and tear-resistant. It is what makes the folding shovel highly durable. The rubber handle provides you with an adequate grip as well. With all the necessary features on offer, when you're going with this folding shovel, you will not have to look for a replacement or additional tools anytime soon.
Pros
Multipurpose.
Includes accessories.
Lightweight design.
Heavy-duty blade.
Summary:
---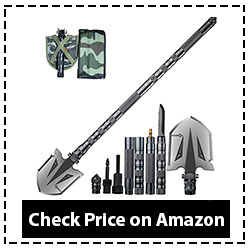 The USP of this folding shovel is that it comes in different color options. That is why, if you're very particular about aesthetics, this one provides you with plenty of options.
The versatility is such that you get the knife, shovel, emergency whistle, and firestarter incorporated into the design. There is a bottle opener as well.
The removable magnesium rod ensures that you can use that rod for breaking the windows or other such functions in times of an emergency.
With a sweat-proof and slip-resistant handle, the grip that you get is much better than other folding shovels on this list.
The carbon steel construction for the blade and aluminum alloy construction for the handle means that durability is not going to be a problem. At the same time, it is incredibly lightweight.
The handle length is adjustable. That is why customizing is not going to be a problem. The adjustable handle length also means that people of varying heights can use it comfortably. Getting a proper grip while using this folding shovel is going to be an added advantage.
You can rotate the blade anywhere from 25° to 180°. This feature is missing out on many other folding shovels. If you're looking for the best military folding shovel, this one should be on top of your list.
Pros
Heavy-duty construction.
Highly versatile.
Adjustable blade angle.
Lightweight.
Summary:
---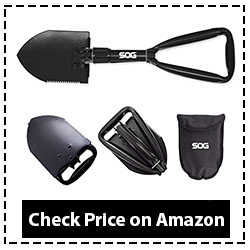 Here you have the tool you need when you hit the trail hiking or camping. It is lightweight and adjusts to different configurations as needed. That means you can cut a brush around a campsite.
You can switch to spade mode to break below that first layer of tough ground that often stop those trying to dig using their hand shovels or bush knives. It folds into a compact shape that takes up just a small amount of space in your backpack or fastens to the outside of a load-bearing harness.
Features:
Since 1870 when the US Army began, issuing digging tools the evolution of the portable shovel or entrenching tool has been in flux. Often used not only as a digging implement the entrenching tool has been sharpened to double as a close combat weapon, the Russian Spetsnaz and elite forces within the US military still train to use their portable shovels in CQC.
The F108 has a serrated that allows it to be used as a brush-clearing tool as most campers require this more than to be able to fight in the trenches. Weighing only 24 ounces, the SOG is lighter than many of the portable shovels you can buy at the Army-Navy stores and this is a blessing when you have to lug a 30-40 pound pack out in the wild.
Its ergonomically designed trifold allows it to make a compact bundle that fits in its own carrying case and can lock in the 90° position to act as a spade or mattock to help in the digging of latrines or drag dirt to cover a fire pit.
Pros
While it is not as sturdy as the military issue entrenching tool or may be used for any heavy-duty use, For the average camper it is ideal to clear a small campsite and do the routine chores needed to run a camp.
A great little tool for when I camp out over a weekend not prep for invasion.
If you want to dig three deep trenches, you need to look for a more heavy-duty portable shovel. However, if you need work around your campsite done you get what you pay for in a small economical package.
Small enough to fit in a day back, you have the balance between economics, weight, and size.
Cons
Made of lightweight aluminum instead of either stainless steel or iron it is not as rugged as the Marine issue entrenching tool. However, for small tasks, it works pretty well.
Read the ad carefully, and you won't be disappointed I expected a much larger tool than what I received; this is not your father's entrenching tool.
Reviewer's Comments
As this reviewer has a number of entrenching tools, this one rates as the minimum requirements for camp use, size, and wait. It is not designed for heavy-duty use for a Prepper who is expecting to dig foxholes and entrenches.
Its main advantage is the fact is it weighs so little and can clip on the back of the web belt pack inside a backpack with ease. While it can be used to cut weeds, grass, and underbrush, you should stay away from attempting to cut down saplings were small trees. For that, you might want a hand ax or a machete instead.
Where it works well is in keeping your hands from being messed up while you are trying to figure latrines, fire pit, and as we mentioned earlier removing brush from around the campsite. All in all, it is an okay lightweight camping tool but in no way is it in the big leagues.
---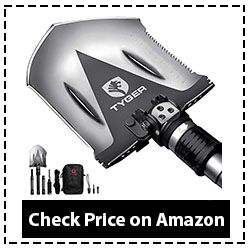 Ergonomically designed to provide you with either a hand shovel for its almost 30-inch entrenching tool, the head is adjustable to 45 and 90° with a serrated chopping edge and measuring scale as well. It will fold four times for you and fit into its attached pouch.
So, the next time you're setting up camp you get stuck in the woods at night you can quite easily construct yourself a do-it-yourself campsite with a campfire as well as create your own shelter with ease.
To go along with all that you get a lifetime replacement warranty as well for a replacement portable folding shovel or a refund of all your money.
Features:
The head is made from stainless steel with an Aluminum handle you have a Swiss Army knife of functionality, which allows you to survive in the wild, find your way with a compass, and make fire, along with the ability to cut away brush. Should you need to open a bottle or measure your catch, it can do all that and more.
It also has a cutting blade that attaches to the handle that allows you to take down saplings to make tent poles in an emergency.
The Tyger Auto then provides you with a complete survival kit with its very own carry pouch and shoulder strap that lets you place it next to your Go Bag or BOB and head out the door.
Once you get in the field, you can adjust the head to 90° and clear the brush away from your campsite. The serrated on the edge of the shovel makes this a simple operation. You can then use it to do a regulation campfire and encircle its stones.
Should you require further insulation from the elements, you can create a step dugout and cover that with your tent. That way Mother Earth herself will insulate your sleeping bag.
Pros
Versatile and makes short work of brush in my garden and when I go camping.
Goes together in sections and I get a shovel sized to the work I am doing.
Sturdy and holds up to the uses I put it to.
With all that it does, it still only weighs 2-1/2 pounds.
Cons
I wish they would have replaced some of the more useless items with some things I could actually use.
You need to torque the sections together to keep them from loosening up when using them.
Reviewer's Comments
Here is a portable shovel with a handle that expands to almost 30 inches. This gives you the advantage you need an E-tool when things get difficult. This is something that this reviewer would envision being part of a smokejumper's go-bag just before boarding a plane to hit the ground with, as a backup to his normal gear. For a Prepper it might be too bulky whereas a trifold entrenching tool might be a better option.
While the reviewer never likes multi-functional tools generally, this one does have a couple that is useful as in the case of the firestarter and the hammer. The compass is not something to write home about in the age of GPS or Lensatic compasses. But, in a pinch could serve you.
The workmanship is good. The only caveat is that you need to ensure you have tightened the sections together tightly to keep the shovel from loosening up on you. The overall take on this tool is positive and for a camper, would fit in well with their basic camping loadout.
---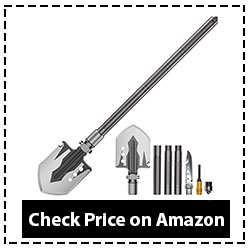 With the Multitool, we have a winter car survival tool or one to use if you get your wheels caught in the mud. For a camper, it is also useful for chores around the camp. It has a number of additional features like an extendable handle that grows itself to give you the extra length you need to use to dig a small trench, dugout, or snow shelter.
If your car is stuck or disabled, it will allow you the means to create a haven if you can't use the vehicle to heat yourself. It has a knife/saw, handle compass, and a firestarter, all nice to have tools to have in your trunk or your backpack.
Features:
The entire shebang fits into its own carry bag that includes a carbon steel shovelhead along with the following survival goodies and functions. You have:
Shovel
Hoe
Cut Knife
Hook knife
Hex wrench
Knife
Bottle opener

Harpoon saw
A Phillips screwdriver
Magnesium bar ignition rod
Compass
Survival whistle
Window Breaker
You see you have a variety of tools that can help you while camping or hiking and in a case of breakdowns on the road.
Pros
Has everything I want in addition to my usual camp gear.
I would use most of this stuff, but it is nice to have just in case. I bought it for the shovel, which I keep with my Space Blanket and other cold-weather emergency stuff in the car. And I don't imagine having to build a campsite along I65. However, there are always blizzards in Indiana, and rest stops are a long way apart heading down to Indy.
Cons
The Shovel is great. But the add-ons don't really interest me.
Reviewer's Comments
Here is another variant of the survival shovel that sells. It only offers the Shovelhead that is sturdy. The extras don't impress this reviewer, which probably dates back to the days of the Rambo movies. Movies that made everyone want a knife with all the survival gear in the handle.
Ignoring the extras, you have a shovel that has an adjustable handle that can double as a brush cutter. That is all you really need from a portable shovel, and all the extra stuff is just sauce for the goose.
Most of us who go out in the field already have these items in one form or another. The idea of having a collapsible shovel in the trunk is the main thing you want anyway as you wouldn't want to be camping out.
However, with the proper mindset, it can be useful if the fecal matter hits the impeller and you are away from your BOB or Go Bag.
---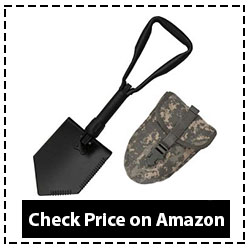 When you want the best in a Folding Shovel, you need to turn to the one that Uncle Sam has issued for years. This one is a Trifolder, and unlike the current NATOissue, doesn't use that screw tightening mechanism that fouls and becomes useless in the field, no cheap substitutes here.
You have an aluminum handle, and High Carbon Steel bladed head. Unlike many of the other brands that outsource to China the company is still making its products in Michigan.
Features:
There are not too many things to talk about when it comes to the original entrenching tool. 3 lbs., 26 inches long, and folds down to fit in a Molle Bag or one of a number of other bags made for them over the years. It pops open in a snap and screws to lock and unlike the Gerber doesn't foul if sand and mud are around.
So, if you want a real E-Tool to dig a trench to keep water from running into your tent at night or you want to dig a real foxhole to sleep in. You can do that and more with the original Folding Shovel that was inspired by the tool the Romans used to build their Empire. The GI E-Tool has been used all over the world and is still the best.
Pros
Tough, and I have 3, One in each of my vehicles.
You can dig a trench, lay a waterline in your crawlspace, and dig a moat around your daughter's sandcastle on the beach.
I used mine at the beach, and it goes through sand, old coral, and seashells with ease. Rinse it off and oil it and it is ready to do it all over the next weekend.
It's heavier than other models, and that just means it'll handle the load better.
Rugged and adjustable to the different angles you want to do the various roles you need to be done when you are in the field from sheltering, brush clearing, and putting a drainage trench around camp to keep your sleeping bags dry.
Cons
The original, while sturdy is weighty and that is one reason Ames lost out to Gerber. Otherwise, it is still able to handle more abuse before being destroyed in the field.
Reviewer's Comments
This reviewer has discovered that when people try to improve on a proven design, they often muck it up. The E-Tool or Folding Shovel evolved in Combat into the most efficient tool for getting a GI ready for what can happen, whether it was on the islands in the Pacific Campaign, in Europe, and even in the deserts of the Middle East.
Many of the portable shovels imitate the original and finally after decades of work it took a company like Gerber to come close to the job of beating the simple design that this reviewer has used for over 20 years.
New materials and outsourcing are the watchwords of today's manufacturing. However, when your survival is on the line, you want to stick with what works best.
---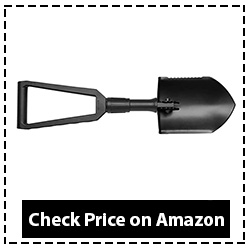 Here is what the person who needs the best folding shovel wants a sturdy little tool that is Johnny-On-The-Spot when you need to dig your way out of trouble. It fits in with most Camping/Hiking load-out and wouldn't weigh you down. The Gerber name says it all and ensures you have a product that will do the job and holds up out in the field.
With this folding shovel, you have the last piece of Hiking, Camping, and Survival gear you will ever need. You can dig your camp's basic needs like a fire pit, and shelter construction, and dig yourself a Hawaiian-style Luau Pig Pit.
Features:
When you hit the field, and you need to get your camp shipshape the shovel unfurls with a quick sliding mechanism that locks everything in place fast and simple. The head is made from High Carbon Steel, and the handle is a synthetic Resin composite that is tough and wouldn't slip and let you down when you need it most. On top of that, it is tough and has a nail handle that lets you use it as a hammer to pound in tent stakes.
Pros
You'll now be digging all your foxholes with this Gerber if you work for the USMC. However, it will also handle light camp work and latrine duties as well.
Small, lightweight, but that doesn't mean it isn't made for heavy digging. It is a small camping shovel that helps you keep your campsite cleaned and squared away.
If you need to remove the brush, you need to ready your campfire this is your tool of choice. It is about as long as your arm from elbow to fingertip and will do the camp chores you want to be done.
Cons
The Gerber's Achilles heel is the hinge. While it can only handle 750 whacks going head to head with Aims at 900 + for the original. The Gerber only required a new bolt before it was back in service. It is strong enough to handle being used as a pick in hard soil. For sand and loose soil, it is ok. However, don't expect to be moving the rock of Gibraltar. But you can dig a ditch with it.
Reviewer's Comments
This is an excellent lightweight camp tool. We stress the word lightly. That is one of its main advantages. For some reason, the quality of Gerber products has not been the same in recent years when the Mark II was the knife of choice.
Cruising the local Walmart and seeing an entire aisle devoted to Gerber Gear was when concern began degrading the regard once held for one of the best knives out there.
The Gerber can do the heavy digging. It is a great camp shovel and if treated with a little TLC will give you many years of service. However, don't expect it to work miracles or use it like John Wayne on Iwo Jima.
---
Final Thoughts
Today you've seen what 11 of the many makers of Portable Shovels have to offer. This reviewer while enamored with the original E-Tool made by AMES, which has been making the things the military needs since 1946, concedes that the Gerber is just a tad better. And EST Gear Folding Shovel also is a good choice.