Hunting with a crossbow is the ultimate challenge. When you hunt with the same weapons and skills humans have used for thousands of years, it adds a completely different dimension to the sport. No hunting skillset would be complete without the addition of crossbow expertise.
The X-bow offers any hunter the perfect balance of patience, tracking, and accuracy abilities. No matter what your skill level, if you don't have time to do the necessary research, we have everything you need to make an informed decision in one convenient place.
To help you choose which crossbow in 2023 suits your hunting needs, here is our list of the 12 Best Crossbows Available Today. For those of you who are short on time, one of our top picks is the TenPoint Turbo GT. If you have a crossbow, then you should make the effort to invest in a bow sight that'll suit your needs and improve your game.
12 Best Crossbows in 2023
---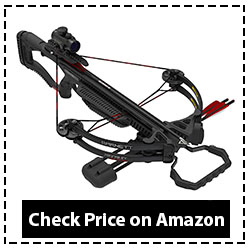 Barnett continued to raise the bar when they introduced Recruit Tactical in 2017. In terms of draw weight, speed, quality, and design, it blows the competition away in its class. Not only is it the best-priced item Barnett offers, but it also gives the most bang for your buck.
The Recruit Tactical has been designed for beginner archers or those who are younger and/or smaller framed. The dimensions are compact and impressively lightweight. This makes it ideal for easy Manoeuvrability, Aiming, and Firing.
The Barnett Recruit Tactical Crossbow comes with everything the beginner archer needs to get the hang of hunting right away.
Key Features:
Premium red-dot sight
Rope cocking device abilities
Lightweight quiver
2 x Head-hunter Arrows
Lubrication wax
Manual
A hex key, bolts, nuts
Pros
High quality & affordable price
Lightweight
Easy to cock
Durable and compact
Accurate for distances of up to 50 yards/46m
Fast
Best crossbow to help develop beginner skills
Safety features
Premium red-dot sight for a simplified shooting experience
Cons
The package doesn't include a case
Could include more bolts
Not for large/tall beginners
Conclusion
---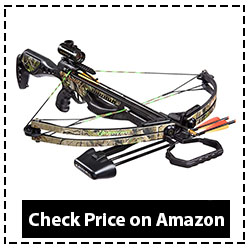 Many adults have the crossbow hunting bug bite them and when it does, they will want to look at the Barnett Jackal Crossbow Package. It's easy to assemble at home and once the set-up is complete, you can look forward to easy accuracy at distances around 60 yards/54m.
The trigger pull is approximately 3.5 lbs/1.6 kgs. This will feel perfect for adult beginners who want to prevent accidental firing, but still have enough give to pull the trigger without firing. The crossbow mechanism is fairly loud, but this is to be expected with such a powerful weapon. You can expect to hit around 1"/2.2 cm away from the bullseye, even without using the red-dot sight that comes with the package.
Key Features:
Using 400-grain arrows translates to approx. 82 lbs/37 kgs stopping power per 30 yards/74 m
Red-dot sight
Detachable quiver
Hex keys, bolts, screws
Manual
Quiver platform
Pros
Best for adult beginner
Affordable
Cost-to-power ratio high-value
Package includes everything
It provides legal levels of kinetic energy to hunt in the U.S.
Dry firing prevented by automated safety
Military-style stock
Comfortable
Easy Assembly
Cons
The package doesn't include rope-cocking device
Conclusion
---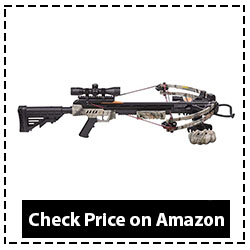 Crosman, are the CenterPoint's makers and is better known for their BB guns. They've been able to enter the crossbow market successfully, in our opinion.
First up, the CenterPoint isn't the lightest or the smallest crossbow on the market, but at 7.9 lbs/3.5 kgs, it's not impossible to carry it to your favorite hunting field or target practice. It comes with a convenient shoulder sling in the package. The good news is that, for the money, it has no problem bringing down anything from Cape buffalo to multi-prong bucks. The accuracy the CenterPoint gives makes hitting these targets solidly in the vital organ a breeze.
Key Features:
4 x 32 scope
4 x arrow quiver
Cocking rope
Shoulder sling
20" carbon bolts
Manual
Pros
Fast 370 fps firing velocity
Compact & lightweight
Fully adjustable tactical stock & forearm
Scope included
Cons
Very vague instruction manual
Marginally front heavy
The stock feels slightly flimsy, though still durable
Conclusion
---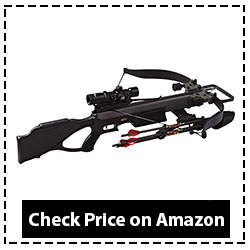 The Excalibur Matrix 380 Crossbow's score is very high with our testers. It is sturdy and powerful; perfect for hunting. Despite its serious hunting capabilities, the Matrix-380 is still well-balanced and lightweight. This makes it extremely comfortable to handle. Extras features include the camouflage design that prevents the bow from alerting your position, a nice thing to have when using a blind.
Key Features:
Simple and easy to maintain in the field
Perfect for any skill level
Sturdy build
Riser attaches quickly to the limbs
Fits comfortably and securely against the shoulder
Pros
Comes with a high-quality scope
Built for durability
Compact and lightweight
Powerful
Cons
Costly, but worth the investment
The 260 lbs draw weight needs a rope cocking device
Short power stroke
Conclusion
---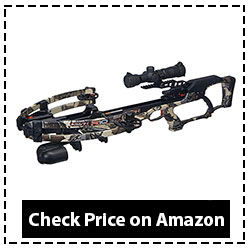 If hunting in close quarters and running is what you enjoy, the Ravin-R10 is for you. Its narrow design is perfect for Manoeuvring around trees and bushes. The Helicoil technology eliminates the need to pass the wires through the rail slot, and the design combines high velocity with quietness and stealth.
Key Features:
Helicoil technology makes it compact, accurate, and powerful
Fires bolts up to 400 fps
Arrives fully assembled & pre-tuned
Systems include Frictionless Flight, Trac-Trigger, and Versa draw-cocking
Unbeatable Manoeuvrability
12 lbs draw weight
Pros
Lightweight & compact
Feels the same as a rifle when aiming
High kinetic energy
Suitable for all game and targets
Versa draw cocking saves you time & effort
High quality 100 yard/91 m scope
Cons
Cost: The Ravin-R10 is expensive
It takes time to learn how to cock the handle
Conclusion
---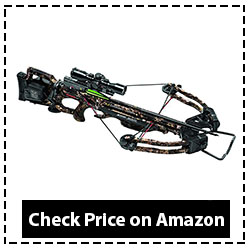 The clear winner of the Game & Fish Reader's Choice Award 2016, and has held up well against newcomers. It might have a name like a car, but it handles like a precision instrument.
Key Features:
Adjustable Fusion-S stock
Ultra-compact
3 x Proview scope
3 x carbon arrows
Detach quiver w/ ambidextrous side-mount quiver bracket
Acu-draw cocking mechanism
Pros
Its 13.5"/35 cms axle to axle measurements when cocked make it a formidable hunting weapon
Up to 360 fps
The scope comes with a fixed dovetail mount
Super high quality bore-sighted at the factory – good to go out of the box
Cons
Power won't raise your eyebrows but is still adequate for all hunting needs
Not as quiet as we would like
String stops are needed if you hunt over the distance
Conclusion
---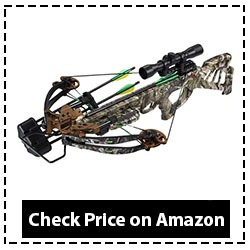 A close contender for the best for price and value category, the SA Sports is extremely lightweight with high velocity and power. It is easy to assemble with clear instructions.
Key Features:
Includes standard anti-dry fire mechanism
Automatic safety switch
4 x 32 multi-reticle sight model
Easy assembly
3.5 lbs/1.5 kgs trigger mechanism
3 x carbon arrow; rope cocking device; hex keys
Pros
Extremely quiet & lightweight
Decent high velocity & power
Easy assembly
Cons
Limited scope abilities
Only 1-year warranty
Conclusion
---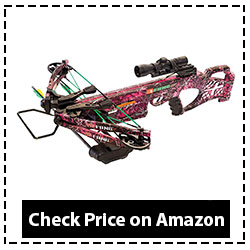 The PSE Fang Series Compound Crossbow is one of the best deals on Amazon. If you are on a budget, but still don't want to compromise on ShootAbility and performance, the PSE Fang is the ideal X-bow for you.
Key Features:
Anti-dry fire & auto-safety trigger
Perfect for all ages and experience levels
4 x 32 multi-reticle scope
5 x bolt detachable quiver
Cocking rope
Tube of rail lubricant
Pros
Comes as a complete kit
Quick and easy to cock
Outstanding value
Hard-hitting and powerful
Cons
The scope could be better
Bolts in the kit could be better
Conclusion
---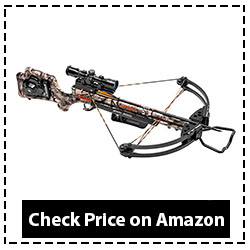 Based on the Invader HP, but with some new, great features, the G3 is lightweight with a good grip. The stock is semi-skeletal which gives it a lighter weight.
Key Features:
TenPoint 3 x MultiLine Scope
Acu-draw cocking mechanism
Instant Detach-3 Arrow quiver
3 x carbon arrows w/ practice tips
Pros
Magnesium riser reduces weight
Durable
Dry fire and misfire-proof
Highly accurate
Cons
Package scope not illuminated
No rope cocking device in the package
Short warranty
Conclusion
---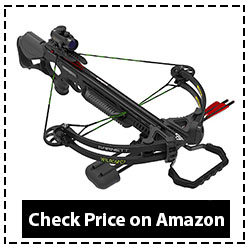 A solidly performing intermediate-level crossbow, another winner from the reputable Barnett brand. A clean, simple design with everything an intermediate hunter would need. Comfortable grip with rubber coating for use in extreme cold weather conditions.
Key Features:
Trigger Tech
Anti-dry fire
Comes semi-assembled
Finger protection
Pros
Great safety features
High-quality materials
Lightweight & durable
The rope cocking device included
Cons
The weak scope that doesn't match the performance of the X-bow
Conclusion
---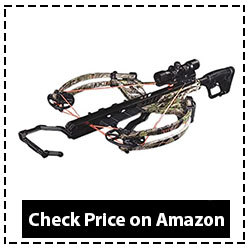 The Bear X Torrix FFL comes complete with everything you need to head out to the woods or bush and start picking off targets.
Key Features:
Forward-facing limbs that move the riser and bow weight for optimal balance
Even stress distribution and efficiency
Picatinny rail runs
Extended finger guards
Adjustable 3 x S trigger
Anti-fire safety
3 x arrows
Rail lube
3 x multi-reticle scope
Pros
Highly recommended for all levels
Ready to use
115.6 ft to lbs kinetic energy
Cons
On the expensive side
Heavy, not recommended to carry over long distances
Conclusion
---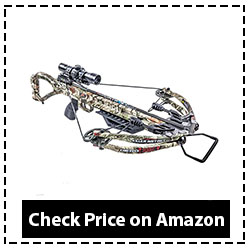 The Hero 380 packs a real punch in its compact, sleek frame. It's suitable for both seasoned veteran and beginner bow hunters. Tough, lightweight, and comfortable enough for an easy shoot. This X-bow's deadly accuracy goes beyond the standard 60 yards/54 m. If you plan on filling your freezer with venison, this is the best crossbow for you.
Key Features:
Lumix 4 x 32 IRW scope
3 x bolts
String suppressor
5 x bolt-quiver
Rope cocker device
Rail lube
Multiple additional add-ons are available
Pros
Shoots bolts up to 380 fps
High quality for the price
Lightweight
Manageable draw weight
Accurate
Cons
The 3.5 lbs trigger is okay, but a 2 lbs one would have been better
The package has a few extras
Difficult to assemble
Conclusion
---
Best Crossbow Buying Guide for 2023
Are you looking for a Crossbow?
Are you confused about the various options available?
If yes, we would today share with you a comprehensive buying guide. Once you go with this crossbow buyer's guide, it will become easier than ever to choose the best crossbow for the money.
Now, we will go into the basics of the crossbow and also the parameters that you should consider while choosing one.
How to Find the Right Crossbow?
You have to familiarize yourself with the parts and types of crossbows available to choose the right crossbow. After that, you have to compare the shortlisted options on a few parameters. Once you take these parameters into account, selecting the best crossbow for hunting will be easy.
Different Parts of a Crossbow
Let us start with the parts of the crossbow to help you understand more about it.
The Stock – The stock of the crossbow is the part where you grip while shooting. It also helps the crossbow keep the barrel, trigger, and sight bridge together.
The Bridge – The bridge is the part of the crossbow on the upper side, which holds the sight.
Retention Spring – The retention spring is responsible for holding the arrow in place. The job of the retention spring ends once the trigger releases it.
The Trigger – The trigger of course is responsible for releasing the bolt.
Foregrip – The foregrip is the vertical handle in front of the trigger of the crossbow. It is to provide you with additional holding space while shooting the arrow.
Flight Groove – The flight groove is the path on the crossbow where the arrow lies. It is responsible for keeping the bow straight until the bolt is shot.
These are the parts of the crossbow that you need to be familiar with before buying it. We will now share with you the different types of Crossbows so that you can make an informed decision.
Types of Crossbows
Before you search for the best crossbow, it is essential to familiarize yourself with the types of crossbows available. We will highlight it below.
Recurve Crossbow – The recurve crossbows have extended draw length. As a result, the hand shock is on the lower side, and the acceleration is better. The strain on the bow structure is also lower. Advanced archers and hunters use these crossbows.
Compound Crossbow – The limbs of the crossbow are stiffer than usual to store the energy needed to fire the bolt. The construction of these Crossbows is such that they are much more energy-efficient than others. When you take a shot, the pulleys will bend the limbs with the cables to store the energy needed. The pulleys, in turn, are directly attached to the strings. That is how a compound crossbow works.
Pistol Crossbows – Pistol crossbows are characterized by their compact size. There are many variants available depending on the pressure they can generate.
Repeating Crossbow – Repeating crossbows require you to initiate a single movement. Once you do so, the stringing of the bow, the launching as well as the shooting will happen automatically. As a result, the shooting rate is much faster. If you want to reduce the effort to put into shooting, this is the one which you should go with.
These are the four most common types of crossbows. Once you are familiar with the type of crossbow which you want to choose, it is essential to look at a few things which will help you pick the best crossbow for big game hunting or shooting practice.
Things to Consider When Buying a Crossbow
The things to consider while buying a Crossbow are:
1. Weight
The weight of the crossbow refers to its draw weight. Mostly, when going for hunting crossbows, the draw weight required will be in the range of 150 lbs to 175 lbs. Similarly, for an archery crossbow or recurve crossbow, the draw weight can be 150 lbs. Generally speaking, the higher the draw weight, the better it is.
2. Speed
The higher the speed at which the crossbow can launch the arrow, the better it is. A lot also depends on your technique. However, generally speaking, each crossbow has a maximum speed rating beyond which you cannot shoot the arrow. So, it is a crucial factor to take into account while buying a Crossbow.
3. Arrow Size and Track
Not all crossbows are compatible with all arrow sizes. When choosing one, you have to not only look at the size of the arrow but also at the arrow track available on the crossbow. It will determine how, conveniently, you can hold the bolt before shooting it. Both these have a detrimental impact on the arrows that you can use. That is why; you cannot ignore these factors.
4. Extra Parts
Did you know that many crossbows come with accessories?
That is why; you cannot choose one without looking at the accessories included. Accessories can be things like:
Carrying case
Scopes
Bolts
Tripods
And so on
While you might not need all of these accessories but it is better to choose one which comes with at least a few of these accessories. It can make your life easy. Also, when it includes accessories, you will not have to worry about buying them separately.
5. Cocking Aids
Cocking is the process of maintaining the string at the center. It aims to ensure that the fingers do not get pinched. It requires a considerable amount of pressure and accuracy. That is why most of the Crossbow manufacturers provide you with the aiding device for the same. If you, too, want to reduce the effort put into centering the string, it is advisable to go with the crossbows that come with cocking aids.
6. Design
The design of the crossbow refers to a few factors. The first factor is the type. We have detailed the types above. The design of the crossbow would change depending on the type you choose.
Additionally, it also refers to the aesthetics of the crossbow. The aesthetics can vary from one Crossbow to another, even if it is of the same type. Hence, you have to consider both of these factors while choosing the crossbow.
7. Price
Do you have a budget in mind?
If not, you should first set the budget. It is essential to filter the crossbows according to the amount that you are willing to spend. Once you do so, it will become easier for you to choose the right crossbow.
8. Safety
Safety once again has two aspects when it comes to crossbows. We would go into both of these below.
Safety mechanisms in the crossbow – If it comes with safety mechanisms like auto-locking or a safety trigger, that is a definite advantage. You should prefer crossbows with such safety mechanisms.
Familiarity – The second safety aspect depends on you. You should always think about choosing a Crossbow with which you are familiar. Once you do so, you can be sure that using it safely will not be a problem.
These two factors contribute significantly to the safety of the crossbow. That is why; you have to consider both of them and choose the best crossbow accordingly.
9. Accuracy
Most compound crossbows come with a built-in scope. As a result, you get higher accuracy. However, irrespective of the type of crossbow, each one has a range depending on the draw weight. While considering the accuracy of the crossbow, it is essential to look at this range.
The range refers to the distance at which you can shoot the bolt accurately if you use the right technique. Modern crossbows can go as far as 500 yards as well. However, for hunting, it is a big no, it is better to go with Crossbows that are accurate up to 35 yards. If you're a skilled archer, you can choose one which is accurate up to 80 yards. The accuracy also depends on the quality of the bolts and bolt heads that you use.
Thus, when you take all of these factors into account, then only you can determine the accuracy of the crossbow and choose the best hunting crossbow.
10. Kinetic energy
Generally speaking, the higher the kinetic energy that the crossbow can generate, the better it is. It ensures that the speed imparted to the bolt will also be high. So, while choosing the crossbow, it is crucial to choose one that can generate higher kinetic energy.
11. Noise
Noise is an essential factor when choosing a crossbow. If you go with something like a recurve Crossbow, the noise is on the higher side. In that case, you will have to use a silencer. The other types produce comparatively less noise. The noise also varies from one crossbow to another. That is why you have to look at the noise aspect and then take a call.
These are the few parameters that will help you choose the best crossbow for women and men. We will also help you understand how you can achieve higher accuracy while using a crossbow.
How to Use a crossbow to Achieve accuracy?
There are a few tips to keep in mind to improve your accuracy while using a crossbow. These include:
You have to make sure that it is cocked correctly.
You have to use the scope to your advantage.
And you have to use compatible bolts.
These three tips can help you with the same.
Care & Maintenance
In the absence of proper care and maintenance, its accuracy will decrease. There are a few simple tips that you can follow to maintain it properly. These include:
You have to keep it in a carrying case when not in use. It will protect it appropriately.
You have to also clean it from time to time.
And you have to wax the string and lubricate the reel periodically to ensure that it functions smoothly.
These three simple tips can help you maintain your hunting crossbow.
Summary
Thus, when looking for the best hunting crossbow on offer, our ultimate reviews and buying guide above can come to your rescue. Using this buying guide, comparing and choosing the right crossbow will be easy than ever. It is time to select a precise crossbow to improve your accuracy and enjoy the entire experience.
When you shop online for your hunting sports gear,  make a list of some of the features you need in your crossbow. You should also gauge what level of expertise you are now, and where you hope to be eventually. Finally, sketch out your top-most budget limits.
With these facts at your fingertips, you will have a better X-bow shopping experience in 2023.
If you use your crossbow for hunting, or you like to shoot outside in the wild you may be interested in gaiters to protect your legs. Experienced crossbowmen use them to focus on the shot, not on the dirt in your shoes or soaked socks annoying you. Here we have some info about gaiters for young hunters. I hope this is useful to you!