Hunting with a crossbow is the ultimate challenge. When you hunt with the same weapons and skills humans have used for thousands of years, it adds a completely different dimension to the sport. No hunting skillset would be complete without the addition of crossbow expertise.
The X-bow offers any hunter the perfect balance of patience, tracking, and accuracy abilities. No matter what your skill level, if you don't have time to do the necessary research, we have everything you need to make an informed decision in one convenient place.
To help you choose which crossbow in 2020 suits your hunting needs, here is our list of the 12 Best Crossbows Available Today. For those of you who are short on time, one of our top picks is the Excalibur Matrix 380. If you have a crossbow, then you should make the effort to invest in a bow sight that'll suit your needs and improve your game.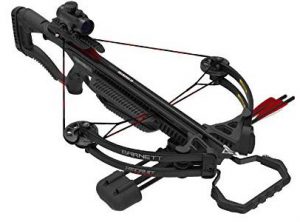 Barnett continued to raise the bar when they introduced the Recruit Tactical is 2017. In terms of draw weight, speed, quality, and design, it blows the competition away in its class. Not only is it the best-priced item Barnett offers, but it also gives the most bang for your buck.
The Recruit Tactical has been designed for beginner archers or those who are younger and/or smaller framed. The dimensions are compact and impressively lightweight. This makes it ideal for easy Manoeuvrability, Aiming, and Firing.
The Barnett Recruit Tactical Crossbow comes with everything the beginner archer needs to get the hang of hunting right away.
Key Features:
Premium red-dot sight
Rope cocking device abilities
Lightweight quiver
2 x Head-hunter Arrows
Lubrication wax
Manual
A hex key, bolts, nuts
Pros
High quality & affordable price
Lightweight
Easy to cock
Durable and compact
Accurate for distances of up to 50 yards/46m
Fast
Best crossbow to help develop beginner skills
Safety features
Premium red-dot sight for a simplified shooting experience
Cons
Package doesn't include a case
Could include more bolts
Not for large/tall beginners
Conclusion
New to the sport of hunting with a crossbow? You can't do better than buying a Barnett-Recruit Tactical crossbow to assist your learning curve.

Many adults have the crossbow hunting bug bite them and when it does, they will want to look at the Barnett Jackal Crossbow Package. It's easy to assemble at home and once the set-up is complete, you can look forward to easy accuracy at distances around 60 yards/54m.
The trigger pull is approximately 3.5 lbs/1.6 kgs. This will feel perfect for adult beginners who want to prevent accidental firing, but still enough give to pull the trigger without firing. The crossbow mechanism is fairly loud, but this is to be expected with such a powerful weapon. You can expect to hit around 1"/2.2 cm away from the bullseye, even without using the red-dot sight that comes with the package.
Key Features:
Using 400-grain arrows translates to approx. 82 lbs/37 kgs stopping power per 30 yards/74 m
Red-dot sight
Detachable quiver
Hex keys, bolts, screws
Manual
Quiver platform
Pros
Best for adult beginner
Affordable
Cost to power ratio high-value
Package includes everything
It provides legal levels of kinetic energy to hunt in the U.S.
Dry firing prevented by automated safety
Military-style stock
Comfortable
Easy Assembly
Cons
Package doesn't include rope-cocking device
Conclusion
If you want a crossbow that will have you up and hunting with the experts in the shortest time, you should try the Barnett-Jackal. Suitable for all types of game and targets.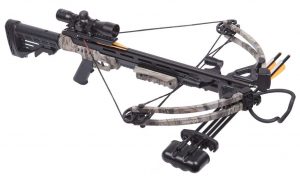 Crosman, are the CenterPoint's makers, and better known for their BB guns. They've been able to enter the crossbow market successfully, in our opinion.
First up, the CenterPoint isn't the lightest or the smallest crossbow on the market, but at 7.9 lbs/3.5 kgs, it's not impossible to carry it to your favorite hunting field or target practice. It comes with a convenient shoulder sling in the package. The good news that, for the money, it has no problem bringing down anything from Cape buffalo to multi-prong bucks. The accuracy the CenterPoint gives makes hitting these targets solidly in the vital organ a breeze.
Key Features:
4 x 32 scope
4 x arrow quiver
Cocking rope
Shoulder sling
20" carbon bolts
Manual
Pros
Fast 370 fps firing velocity
Compact & lightweight
Fully adjustable tactical stock & forearm
Scope included
Cons
Very vague instruction manual
Marginally front heavy
The stock feels slightly flimsy, though still durable
Conclusion
We don't recommend you buy the CenterPoint if you are new to crossbow assembly and have no access to a local bow tech to help you assemble this package. If you are familiar with the Xtra Crossbow assembly, you should have no problem setting up. On the field, the CenterPoint delivers a hefty 128 lbs/58 kgs of kinetic energy, enough to take down the biggest legal game.
The draw weight of 185 lbs is not such a backbreaker to cock when you use the rope cocking device that comes with the package. The scope is not a red-dot, nor is it top of the line tech; but the multi-reticle is solid enough, holds zero nearly forever, and sights in easily. Even seasoned hunters haven't felt the need to replace the CenterPoint scope with something more high-tech.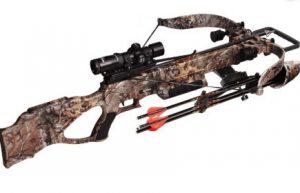 The Excalibur Matrix 380 Xtra Bow scores very high with our testers. It is sturdy and powerful; perfect for hunting. Despite its serious hunting capabilities, the Matrix-380 is still well balanced and lightweight. This makes it extremely comfortable to handle. Extras features include the camouflage design that prevents the bow from alerting your position, a nice thing to have when using a blind.
Key Features:
Simple and easy to maintain in the field
Perfect for any skill level
Sturdy build
Riser attaches quickly to the limbs
Fits comfortably and securely against the shoulder
Pros
Comes with a high-quality scope
Built for durability
Compact and lightweight
Powerful
Cons
Costly, but worth the investment
The 260 lbs draw weight needs a rope cocking device
Short power stroke
Conclusion
The Matrix 380 by Excalibur delivers the speed and power you want to make humane kills and accurate shots.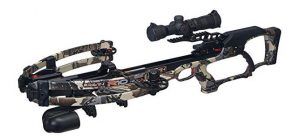 If hunting in close quarters and running is what you enjoy, the Ravin-R10 is for you. Its narrow design is perfect for Manoeuvring around trees and bushes. The Helicoil technology eliminates the need to pass the wires through the rail-slot, and the design combines high-velocity with quietness and stealth.
Key Features:
Helicoil technology makes it compact, accurate, and powerful
Fires bolts up to 400 fps
Arrives fully assembled & pre-tuned
Systems include Frictionless Flight, Trac-Trigger, and Versa draw-cocking
Unbeatable Manoeuvrability
12 lbs draw weight
Pros
Lightweight & compact
Feels the same as a rifle when aiming
High kinetic energy
Suitable for all game and targets
Versa draw cocking saves you time & effort
High quality 100 yard/91 m scope
Cons
Cost: The Ravin-R10 is expensive
It takes time to learn how to cock the handle
Conclusion
The Ravin R10 is designed to be handled even when wearing gloves. Even though the Ravin-R10 dimensions are compact, it would still be nice to have it come with a shoulder sling. It would come in handy when propping up the crossbow as well, as it falls over when propped against something, and is too expensive to lay on the ground; a shoulder sling would make it easier to hang.
With that small complaint aside, you will struggle to find a better X-bow on the market than this one.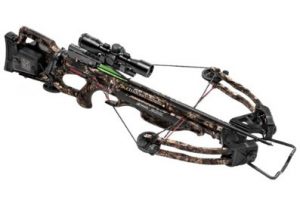 The clear winner of the Game & Fish Reader's Choice Award 2016, and has held up well against newcomers. It might have a name like a car, but it handles like a precision instrument.
Key Features:
Adjustable Fusion-S stock
Ultra-compact
3 x Proview scope
3 x carbon arrows
Detach quiver w/ ambidextrous side-mount quiver bracket
Acu-draw cocking mechanism
Pros
Its 13.5"/35 cms axle to axle measurements when cocked makes it a formidable hunting weapon
Up to 360 fps
The scope comes with fixed dovetail mount
Super high quality bore-sighted at the factory – good to go out of the box
Cons
Power won't raise your eyebrows but is still adequate for all hunting needs
Not as quiet as we would like
String stops needed if you hunt over the distance
Conclusion
The TenPoint Turbo GT is built for the experienced X-bow hunter who demands quality and performance.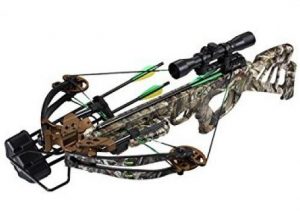 A close contender for the best for price and value category, the SA Sports is extremely lightweight with high velocity and power. It is easy to assemble with clear instructions.
Key Features:
Includes standard anti-dry fire mechanism
Automatic safety switch
4 x 32 multi-reticle sight model
Easy assembly
3.5 lbs/1.5 kgs trigger mechanism
3 x carbon arrow; rope cocking device; hex keys
Pros
Extremely quiet & lightweight
Decent high velocity & power
Easy assembly
Cons
Limited scope abilities
Only 1-year warranty
Conclusion
The SA Sports Empire Beowulf Crossbow package comes equipped with a full-barrel Picatinny rail and adjustable mount foregrips as well. The scope is only suitable for daytime hunting.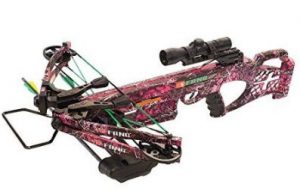 The PSE Fang Series Compound Crossbow is one of the best deals on Amazon. If you are on a budget, but still don't want to compromise on ShootAbility and performance, the PSE Fang is the ideal X-bow for you.
Key Features:
Anti-dry fire & auto-safety trigger
Perfect for all ages and experience levels
4 x 32 multi-reticle scope
5 x bolt detachable quiver
Cocking rope
Tube of rail lubricant
Pros
Comes as a complete kit
Quick and easy to cock
Outstanding value
Hard-hitting and powerful
Cons
The scope could be better
Bolts in the kit could be better
Conclusion
The PSE is perfect for hunting legal animals of all sizes, and target shooting as well. It's accurate, good value for money, and adaptable.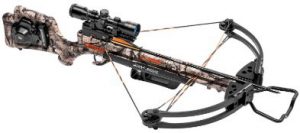 Based on the Invader HP, but with some new, great features, the G3 is lightweight with a good grip. The stock is semi-skeletal which gives it a lighter weight.
Key Features:
TenPoint 3 x MultiLine Scope
Acu-draw cocking mechanism
Instant Detach-3 Arrow quiver
3 x carbon arrows w/ practice tips
Pros
Magnesium riser reduces weight
Durable
Dry fire and misfire-proof
Highly accurate
Cons
Package scope not illuminated
No rope cocking device in the package
Short warranty
Conclusion
The Invader G3 is well priced, high quality with ultra-accuracy and we have no hesitation in recommending it, but the package could do with a little improvement.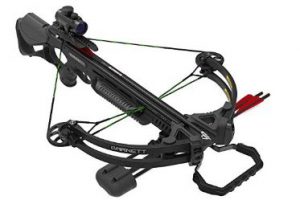 A solidly performing intermediate level crossbow, another winner from the reputable Barnett brand. A clean, simple design with everything an intermediate hunter would need. Comfortable grip with rubber coating for use in extreme cold weather conditions.
Key Features:
Trigger Tech
Anti-dry fire
Comes semi-assembled
Finger protection
Pros
Great safety features
High quality materials
Lightweight & durable
Rope cocking device included
Cons
Weak scope that doesn't match the performance of the X-bow
Conclusion
The Wildcat is best suited to an intermediate hunter who wants an x-bow they can upgrade eventually.


The Bear X Torrix FFL comes complete with everything you need to head out to the woods or bush and start picking off-targets.
Key Features:
Forward-facing limbs that move the riser and bow weight for optimal balance
Even stress distribution and efficiency
Picatinny rail runs
Extended finger guards
Adjustable 3 x S trigger
Anti-fire safety
3 x arrows
Rail lube
3 x multi-reticle scope
Pros
Highly recommended for all levels
Ready to use
115.6 ft to lbs kinetic energy
Cons
On the expensive side
Heavy, not recommended to carry over long distances
Conclusion
This is specialist equipment for hunters who have decided they will be using their kit regularly and want the best.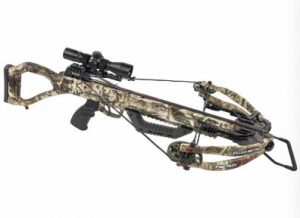 The Hero 380 packs a real punch in its compact, sleek frame. It's suitable for both the seasoned veteran and the first-timer. Tough, lightweight, and comfortable enough for an easy shoot. This X-bow's deadly accuracy goes beyond the standard 60 yards/54 m. If you plan on filling your freezer with venison, this is the best crossbow for you.
Key Features:
Lumix 4 x 32 IRW scope
3 x bolts
String suppressor
5 x bolt-quiver
Rope cocker device
Rail lube
Multiple additional add-ons available
Pros
Shoots bolts up to 380 fps
High quality for the price
Lightweight
Manageable draw weight
Accurate
Cons
The 3.5 lbs trigger is okay, but a 2 lbs one would have been better
Package has few extras
Difficult to assemble
Conclusion
One of the best crossbows on the market for its quality and price. The compact Hero 380 can't be beaten for accuracy at this level.
---
When you shop online for your hunting sports gear,  make a list of some of the features you need in your crossbow. You should also gauge what level of expertise you are now, and where you hope to be eventually. Finally, sketch out your top-most budget limits.
With these facts at your fingertips, you will have a better X-bow shopping experience in 2020.