Flashlights are fast becoming an essential item of most men's Everyday Carry. But tactical flashlights, are usually reserved for those who work in security, law enforcement, or the military. And even then, finding the right flashlight for the job is a tough ask.
Available in any number of sizes, construction, and materials, tactical flashlights are usually reserved for those that need to throw some serious light on the situation. They also need to provide plenty of functions and be tough enough and durable enough for a means of self-defense. Usually, on the larger side, these aren't your standard EDC Pocket Flashlights, tactical flashlights are designed to fulfill the operational needs of the carrier.
The Best Tactical Flashlights
So if you're a military or law enforcement professional and have struggled in the past to find a suitable tactical flashlight that meets your requirements, then we're sure our list of the 25 best tactical flashlights will answer your particular demands.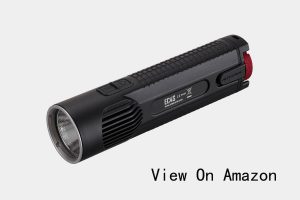 For a relatively small flashlight, the Nitecore EC4S offers five brightness levels and has a maximum output of 2150 lumens using a Cree XHP-50 LED. With a beam range of 280 meters, the EC4S can be powered by two 18650 lithium-ion rechargeable batteries or four CR123A lithium metal non-rechargeable batteries.
Designed for easy one-handed operation, the EC4S features a dual side switch with an integrated power level indicator. There are five modes to cycle through with 45 minutes of continuous light on the highest mode and an incredible 13.5 days in the lowest mode. And a double click of the mode switch from the off position will immediately enter strobe mode.
Length: 5.91 inches
Weight: 6.03 ounces (without battery)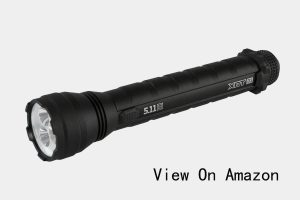 The XBT D3 Tactical Flashlight is the perfect companion and everyday carry for Security Professionals or for those just looking to illuminate a large area. With two output levels, the D3 will cast an impressive 1231 lumens of light on high, and 100 lumens on low for when saving power is necessary.
Constructed from Aerospace Grade aluminum, a top-quality polycarbonate lens, a regulated circuit, and three LEDs the XBT has been designed for superior durability, output, and run-time. The aggressive bezel is also intended for use in self-defense situations and with water and impact-resistant built in this is a reliable option when looking for an EDC tactical flashlight.
Length: 12.06 inches
Weight: 32 ounces (with battery)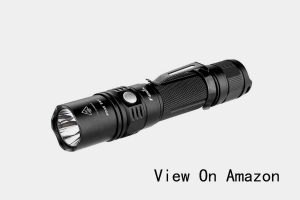 The Fenix PD35 Tactical Edition LED Flashlight is the perfect option for on-duty first responders or the casual hiker and camper. A pocket-sized tactical flashlight the PD35 measures less than five and a half inches long and is designed with the military and law enforcement professionals in mind.
With a power option of 1000 lumens to choose from you'll benefit from a beam that reaches up to 200 meters in turbo output mode. There are a further six choices in the Outdoor mode including a variable strobe. And if you're wondering where the PD35 gets its Tactical namesake then you'll be satisfied to know there is a rear switch only operation for fast, simplified mode selection of momentary, turbo, low, and strobe.
Length: 5.2 inches
Weight: 3.1 ounces (without battery)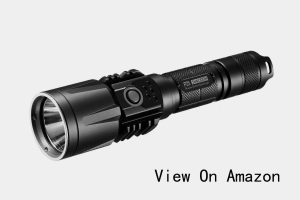 The Nitecore Smilodon P25 Tactical Flashlight was invented for military use in mind, and designed for the tactical elite of users. Its compact size along with a super bright CREE XM-L U2 LED light delivers an effective 860 lumens for up to two hours.
Easily mounted to firearms with the built-in Picatinny rails the P25 also features an IPX-8 waterproof rating up to two meters. The tail cap also features a specialized U-shape for ease of use with tactical gloves or to prevent accidental activation. With a run time of 325 hours on its lowest setting, there is an integrated power and battery life indicator light to warn you of impending darkness.
Length: 6.3 inches
Weight: 6.03 ounces (without battery)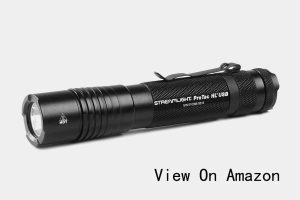 One of the brightest tactical flashlights on the market the ProTac HL USB from Streamlight is a serious contender for your consideration when picking a tactical flashlight. Better still you can recharge the ProTac HL when you're on the go via a USB slot, perfect for when you're running between operations in your SUV. And with room for backup batteries, you'll always be able to light the path ahead of you.
The anodized aluminum construction features IPX4 water resistance and is also impact resistant, ideal for when things get tough. With light output between 85 and 850 lumens, there are plenty of modes to choose from with run times between an hour and a half and 12 hours.
Length: 6.5 inches
Weight: 7.2 ounces (with battery)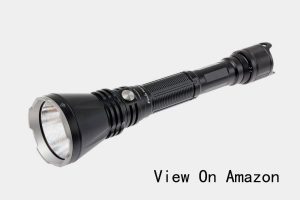 The Fenix TK47 Tactical Duty Flashlight is fitted with a Cree XHP70 LED, which gives the carrier an impressive beam of almost 1,339 feet, that's some serious illumination that will come in hand for any security or law-enforcement professional.
With that much power from the front, the TK47UE Tactical Duty flashlight also includes a multi-functional rear light that features a red light for signaling and a soft lantern light for duties such as report writing. Separately controlled, the tail light has four modes including a low-lumen white or red light for reading and a red Flash/SOS.
Length: 10.48 inches
Weight: 12.87 ounces (without battery)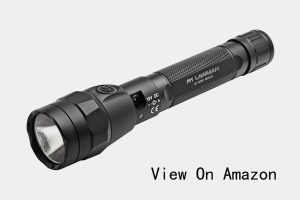 Capable of delivering 1,000 lumens of light the R1 Lawman is one of Surefire's brightest tactical flashlights. Designed for law enforcement in mind the R1 benefits from a tactical tail cap switch with three separate output modes to choose from as well as another three light output levels via the head switch.
Made from Mil-spec anodized aluminum the Surefire R1 Lawman is as tough as they come. Carrying the R1 you'll be accompanied by an extremely capable piece of gear that also benefits from a gasket seal to keep out any dust, sand, or moisture.
Length: 8.1 inches
Weight: 10.2 ounces (with battery)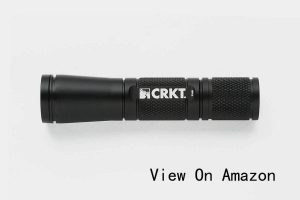 This little pocket rocket from CRKT is made from a durable lightweight aluminum body and measures just 4.84 inches. Although smaller than most tactical flashlights on our list the Williams still packs a punch, and will happily stand up against its bigger cousins.
The rubber tail cap button will switch between two output modes with a maximum light output of 320 lumens and just five lumens on the battery-preserving mode. Lighter and smaller the CRKT is the perfect choice for lighter roles or more discrete jobs.
Length: 4.84 inches
Weight: 3.1 ounces (without battery)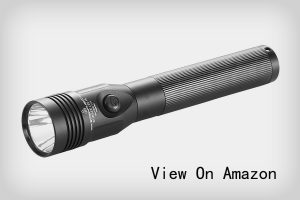 Unlike the other tactical flashlights on this list, the Streamlight Stinger doesn't feature a bezel for defense or a tail cap switch, so really, it's not a true tactical flashlight. So why feature it? It's not been designed for heavy-duty security work or military operations what it's best used for is beat cops and first responders looking for bright light with unparalleled reliability and portability.
The Stinger LED HL will happily hook to the belt or hip of an officer of the law and with its concentrated 640-lumen output, the Stinger's beam can reach almost 300 yards. There is the standard tactical strobe mode but if long-range light is an everyday requirement then the Stinger HL will fill the role gladly.
Length: 8.4 inches
Weight: 12.4 ounces (with battery)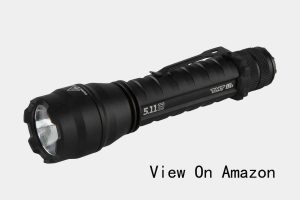 The ideal EDC tactical flashlight the TMT L2X is just 4.49 inches long, has a slim profile and lightweight design that makes it ideal for a pocket carry along with its integrated pocket clip.
There are two modes; high and low, with three hours of continuous use at 638 lumens and two days at 52 lumens. Constructed from durable lightweight aluminum the TMT has been designed to withstand ground drops and rain making it the perfect choice for first responders.
Length: 4.49 inches
Weight: 1.6 ounces (without battery)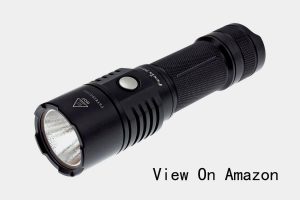 Unlike it is smaller sibling the Fenix P35, the Fenix PD40 won't fit comfortably in your pocket. Chunkier and longer it packs a quite impressive 1,600 lumens of light that will brighten the way up to 650 feet ahead. With a larger housing, the PD40 holds a 26650 Li-ion rechargeable battery and Cree MT-G2 LED.
With an anti-reflective coating, the PD40 is a great example of how a tactical flashlight should be finished. And with five modes, and heat, water, and impact resistance the PD40 are destined to be your favorite light.
Length: 5.7 inches
Weight: 6.1 ounces (without battery)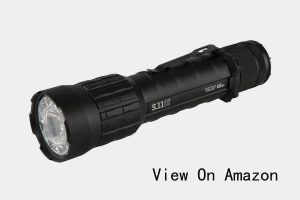 Although all of 5.11's tactical flashlights are designed and manufactured for tough situations the P3MC is built like a tank, literally. IPX4 water and impact-resistant this is the toughest in the TMT series lineup and with heavy knurling and chunky grips you're never going to lose your grip, gloves or not, wet or dry.
Featuring three output modes, the P3MC is rechargeable and is perfect for regular field use, although with just 357 lumens of light output it might not be your first choice if you plan on blinding your attacker.
Length: 6.25 inches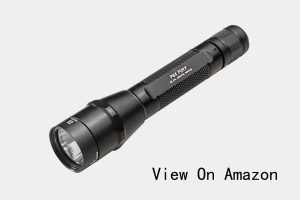 With a single-output, the P3X Fury Tactical Flashlight has a virtually fail-proof ultra-high-output LED that delivers 1,000 blinding lumens of perfectly focused light. Built for military and law enforcement professionals the Fury is the perfect tool for searching, signaling, or overpowering a threat in tactical situations.
The palm-sized searchlight can be momentarily activated with a press of the thumb on its tail cap switch and for a constant-on activation, simply twist the tail cap clockwise. Constructed from high-strength aerospace aluminum the bodies' knurling is comfortable yet secure in all weather conditions.
Length: 6.6 inches
Weight: 7.2 ounces (without battery)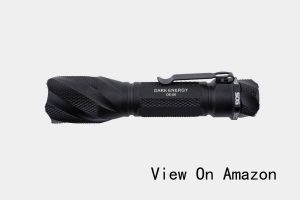 SOG's Dark Energy flashlights are for those that want something that looks and performs a little differently. The brightest flashlight in its size the DE-06 has the power and durability you might expect from a larger flashlight.
Developed with a single-button switch you can filter through five modes: momentary on/off, 100% power, 40% power, reading, and tactical strobe without the need to press and hold the button. And with a maximum output of 687 lumens, you can light up the treetops and down trails with ease. The 6061 T6 aluminum housing is aggressively checkered and is coated in a Class III anodizing for maximum durability and grip.
Length: 5.95 inches
Weight: 4.8 ounces (with battery)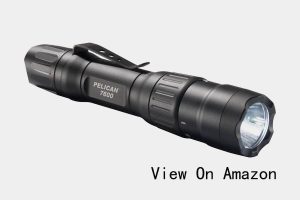 The Pelican 7600 is one of the best all-around law enforcement tactical flashlights on this list. It combines the latest lighting technology with an array of features in a compact design. Surpassing 900 lumens the lithium-ion battery is rechargeable via a USB cable and once fully charged will power the high-performance LED light for just over three hours.
The 7600 also includes a red and green LED which aids in night vision preservation and can be used for traffic control when partnered with a slip-on wand accessory. There are three modes; high, strobe, medium and low, and five different programs to personalize these to your liking. The removable pocket clip and its IPX8 submersible status complete an all-around tactical flashlight worthy of featuring on our list.
Length: 6.19 inches
Weight: 6.9 ounces (with battery)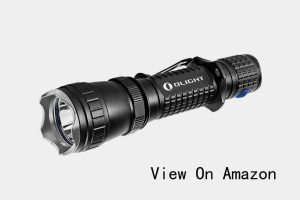 The M20SX Javelot is a dual-switch tactical flashlight that can be powered by either two CR123 batteries or a single 18650 battery which gives a maximum power output of 820 lumens. And with a specially modified LED the Javelot will give you a maximum beam distance of over 1,200-feet.
Featuring three brightness modes and strobe, both options are easily accessible by the two tail switches. Made from hard-anodized aircraft-grade aluminum the body has exaggerated knurling great durability and the combat grip ring prevents rolling and works perfectly with the various tactical techniques for employing a light. Thanks to a number of optional tactical accessories the M20SX Javelot can be mounted to weapons and upgraded with remote pressure switches.
Length: 5.5 inches
Weight: 4.4 ounces (without battery)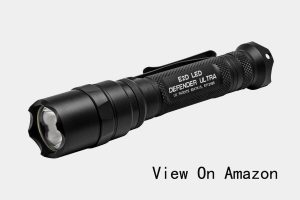 By now you will have realized the Surefire brand is known for their high-quality tactical flashlights. The E2D LED Defender Ultra is no exception to the rule. At ease with civilians or law enforcement officers alike the compact size and ability to perform makes it a firm favorite amongst first responders.
A simple-to-use push-button tail cap operates this dual-output flashlight, possessing over 500 lumens of brightness on the high mode, and five lumens on the power-saving low beam mode. While 500 lumens is enough to temporarily blind an attacker the specially-designed bezel is perfect for inflicting blunt force trauma when there is a need to protect yourself from an assailant.
Length: 5.6 inches
Weight: 4.2 ounces (with battery)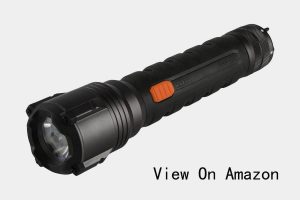 5.11 have worked alongside seasoned Search and Rescue professionals to develop the S+R A6 Flashlight. So you have it on good authority that this makes for an excellent tactical flashlight up to the harshest of challenges in the field.
Casting a brilliant 602 lumens of light, the S+R A6 is powered by six AA batteries and is specifically engineered for durability and lasting performance. Featuring a thermoplastic rubber over-mold and heavy-duty sleeve bezel at the handle the A6 is gifted with enhanced impact resistance and a secure grip in all temperatures and climates. While the rotary tail cap offers momentary and steady options while preventing accidental on.
Length: 10.3 inches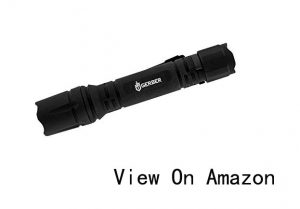 Constructed from solid aluminum The Gerber Cortex Flashlight is extremely adaptable and delivers a solid 675 lumens of bright light as well as a softer strobe mode, making it a firm favorite whether that's in pursuing a suspect or defending against a threat.
Powered by either three Lithium CR123 batteries or two AA batteries, the Cortex Tactical Flashlight is also waterproof up to IPX7 standards, giving it an active role as a tactical flashlight on and off the operational field.
Length: 6.15 inches
Weight: 4.8 ounces (with battery)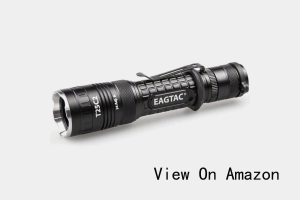 When you associate the word "tactical" with a flashlight, then the EagleTac T25C2 is up there with the best of them. It has the functionality, the performance, and looks to fit the everyday tactical bracket it rightly sits in.
Throwing out a maximum of 1350 lumens from the CREE XM-L2 U4 LED makes this one of the most powerful flashlights on this list. In real-world terms that means a concentrated beam can reach 860-foot, which's almost the length of three football fields. The main features of the T25C2 include a tactical mode with multiple brightness levels and a strobe mode, as well as a drop-in module for utilizing different LED bulbs with varying output and wavelengths depending on your needs. The hardened aerospace aluminum construction will withstand falls, severe weather, and even includes a rubber cigar grip and a removable pocket clip.
Length: 5.7 inches
Weight: 4.68 ounces (without battery)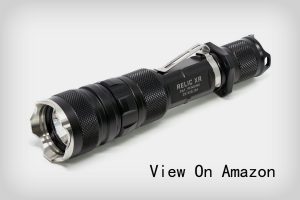 The ZeroHour Relic XR is a compact USB rechargeable tactical flashlight with a variable control ring, tail-cap switch, and waterproof battery backup all-in-one. This flashlight is also designed to be weapon mountable and will work with any standard one-inch weapon mount.
With a maximum output of 1,000-lumen the Relic XR has the option to switch through preset modes; 10 lumens, 1000 lumens, Strobe, and SOS. The XR will even provide a charge for your smartphone with its 3400mAh lithium-ion battery which promises to deliver at least a full charge.
Length: 6.25 inches
Weight: 7.3 ounces (with battery)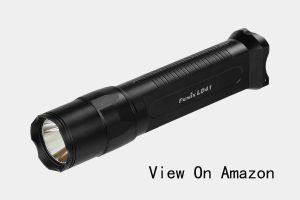 The Fenix LD41 is a high-performance tactical flashlight with a broad range of applications from your standard outdoor camping weekend to full-on search and rescue operations. And at 960 lumens you won't be left in the dark thanks to a Cree XM-L2 LED which is rated for 50,000 hours of use.
It employs unique dual tail cap switches to provide quick switching between four brightness levels and two flashing modes – and a momentary-on function. It also features constant brightness and waterproofing to IPX-8 standards, making it the perfect partner for whatever situation you find yourself in the day-to-day.
Length: 6.9 inches
Weight: 6.7 ounces (without battery)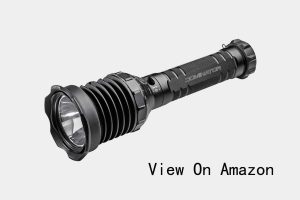 Although the Surefire UDR Dominator has a hefty price tag attached to it – in fact, the most expensive tactical flashlights on this list – it is by far the most badass of the lot, easily fulfilling the role of a tactical flashlight. Big in size, it's also big on power too, with a maximum output of 2,400 lumens of bright white light.
The Dominator can run on dual fuel allowing it to be both recharged daily or run on disposable batteries for higher output. It's also dust and moisture-proof thanks to the Mil-Spec hard-anodized aluminum body. Further features include separate head switches for constant-on, momentary-on, and high output, 9 different, battery-saving light output levels, and an onboard power gauge. This tactical flashlight is made for military operations or border security when going big is the only option.
Length: 11.6 inches
Weight: 38.4 ounces (with battery)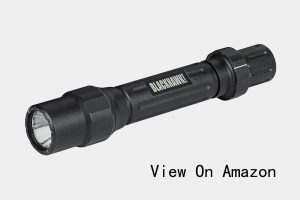 The Night-Ops Legacy Tactical Light kicks out 570 lumens of light, which is a lot less than most other tactical flashlights of a similar size. But what it lacks in brightness it more than makes up for in its tactical functionality.
Featuring an aluminum body with a hard-coat anodized finish, this tactical flashlight gives you a rugged design that will stand up to the daily hardships you'll end up putting it through. And with a rotating function selector switch, you can activate the light with your preferred setting without having to scroll through functions with a momentary switch.
Length: 6.1 inches
Weight: 8.7 ounces (with battery)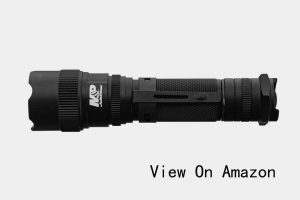 Known for their firearms Smith & Wesson also know a thing or two about tactical flashlights. Built to last, the MP12 is constructed of anodized aircraft aluminum with a shatterproof tempered glass lens to ensure it will stand up to extreme conditions. Waterproof and impact-resistant you have a choice of multiple carry options from attaching to your belt, mounting directly to your weapon, or use with the included lanyard.
The bright white LED gives a beam distance of up to 242 meters with high, low, and strobe modes providing 875 lumens on high and 43 lumens on low. Powered by two CR123 batteries you'll get two hours of continuous runtime on high and 43 hours on low.
Length: 5.8 inches
Weight: 6.8 ounces (with battery)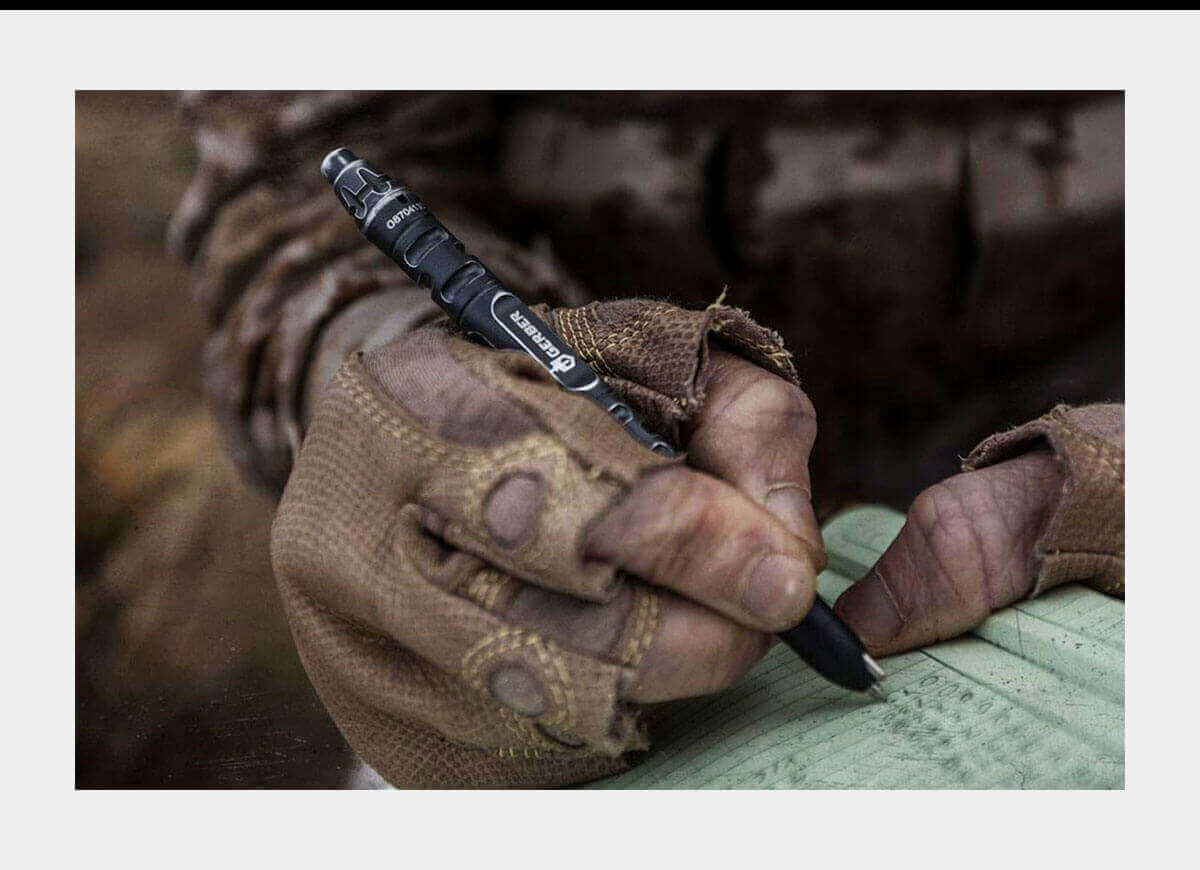 BEST TACTICAL PENS
Why not expand your tactical loadout with a battle-hardened tactical pen. Designed by and for law enforcement, first responders, and military personnel, a good tactical pen could save your life.