Although we are heading into the digital age of a cashless society, we're not quite there yet, and without a wallet, we'd be pretty stuffed. They package up everything from ID Cards, family photos, credit cards, and that all-important cash into a pocket-friendly carrying device. Every man needs one, whether he's a serviceman, a military man or just your everyday urban or wilderness explorer. But what happens when you try and evolve the wallet; you get tactical wallets. From filling a multi-purpose role to using extreme materials, tactical wallets are on the rise.
Why settle for a weedy leather carry case for your bills when you can hold a survival tool in the palm of your hands. Everything from flashlights to pens to night vision binoculars gets the tactical treatment, so why not the standard wallet? With the ability to saw a tree branch in half, to deploying paracord, to opening a bottle we've narrowed down the search for tactical wallets so you don't have too. If you're looking for something a little more functional our list of, the 12 best tactical wallets will upgrade your cash and cards to militant level specification.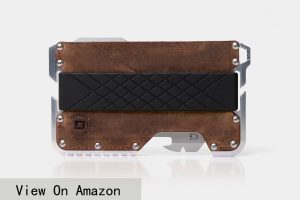 The Dango T01 Tactical Wallets are a sleek, rugged everyday carry that leaves any other wallet you've considered dead in the water. It does everything you can ask of a slimline wallet, RFID-blocking capabilities, room for four cards in the leather pockets and as many as eight in the rear cavity, plus cash. There's even room for folded notes under the silicon band. Sure it would have been a great wallet at that but Dango has gone several steps further, and in a matter of seconds you can transform the wallet into a multi-tool boasting 14+ functions.
Made from 6061 aerospace-grade aluminum with a full-grain leather exterior you can choose between brown or jet black. When engaged, the multi-tool nests securely into the safety locks built into the wallet chassis allowing for easy sawing, cutting, and protection. Features include built-in hexes, a paracord cutter, nail remover, knife, saw, ruler, bottle opener, and even a phone stand. Remove the multitool, and it becomes fully TSA compliant and still features a bottle opener. It's also 100% American made.
Capacity: 12 Credit Cards, Folded Bills
Materials: Aerospace-Grade Aluminum, Stainless Steel, Raw Hide Leather
Features: Removable Multi-Tool including Hex Wrench, Paracord Cutter, Nail Remover, Bottle Opener, Pry Bar, Screwdriver, Knife, Saw, RFID Protection, plus more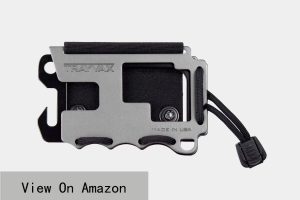 Another USA made wallet; the Trayvax Orginal Wallet is designed for an active lifestyle, built to survive knocks and drops, constructed from a combination of aluminum, stainless steel, and elastic. Despite heavy duty materials the Trayvax Wallet will happily slip into your front pockets and will expand to hold between three to fourteen credit cards, plus bills. It also boasts RFID protection, to keep your financial identity safe, a bottle opener as well as MIL-SPEC paracord for when any sticky situations arise. The brand's original wallet, it still inspires others and with a lifetime warranty, and compact size, it remains one of their best.
Capacity: 14 Credit Cards, Folded Bills
Materials: Aluminium, Stainless Steel, Elastic, MIL-SPEC Paracord
Features: RFID Protection, Bottle Opener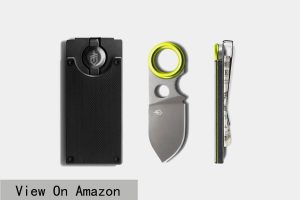 The Gerber GDC Money Clip isn't strictly a wallet for the purists, but it does carry cash, and it meets the requirements to feature on our list of the best tactical wallets. This unique wallet will carry up to five credit cards and bills under the money clip, but it also hides a sharp 3.7-inch fixed blade knife for emergency cuttings jobs. The serrated thumb hole also ensures a firm grip. Practical, durable, and rustproof the GDC Money Clip is constructed from a combination of titanium Nitrite coated stainless steel and G-10 material and tips the scales at just 2.9-ounces.
Capacity: 5 Credit Cards, Folded Bills
Materials: Titanium Nitrite Coated Stainless Steel, G-10
Features: Money Clip, 3.7-inch Blade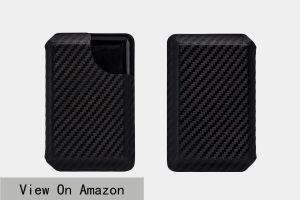 If carbon fiber isn't aggressive enough for you, then we might have lost you to less manly wallets already. Available in three different sizes the Combat Wallet from Hell-Bent Holsters can hold between five and twelve credit cards and comes with an optional money clip for those extra bills. The exterior is built from tough carbon fiber Kydex ready for the day's battles and for an added layer of security you can opt for RFID protection as well. The super slick, patent-pending design, allows for a retention/fanning motion to access and select your cards.
Capacity: 5-12 Credit Cards, Folded Bills (Money clip sold separately)
Materials: Carbon Fiber Kydex
Features: Retention/Fanning Motion of Cards, RFID Protection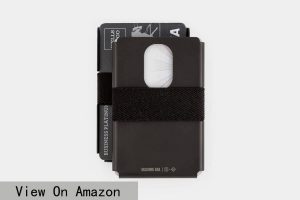 Years in the making, the Machine Era Co. Ti5 Slim Wallet is an ultra-light, ultra-durable, RFID-blocking, and bottle-opening wallet. Slim, light, and durable this is one of the best all-round everyday carry essentials you'll find today. Precision made the Ti5 Slim Wallet is machined from aerospace (Grade 5) 6AL-4V Titanium and comes in a choice of uncoated or PVD coated finishes. Highly durable the coating makes them as impact and scratch resistance as Machine Era Co. could make them, keeping it beautiful for years to come. Featuring a rear thumb slot this doesn't just give you quick access to interior cards; it opens bottles too. With room for up to eight credit cards, the elastic band can keep paper money in place as well.
Capacity: 8 Credit Cards, Folded Bills
Materials: Aerospace Grade 5 PVD Coated 6AL-4V Titanium, Elastic
Features: RFID Protection, Impact, and Scratch Resistant, Bottle Opener, Expandable Strap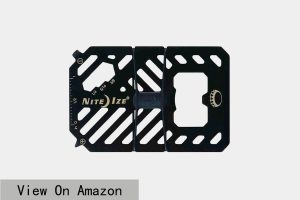 When a wallet meets a toolbox, you get the Nite Ize Financial Tool Multi-Tool Wallet. Despite its slim profile and sleek look, the Financial Tool comes complete with a wrench, flathead and Philips screwdriver, bottle opener, metric and imperial ruler, and scraper. The high-tensile elastic strap to hold your cards and cash won't lose its stretch and won't weather or wear over time. Forged from heat-treated stainless steel, the Financial Tool is the perfect companion for any laborer or keen adventurer. It's a complete all-in-one pocket tool.
Capacity: 8 Credit Cards, Folded Bills
Materials: Stainless Steel, Elastic
Features: 7-in-1 multi-tool includes: Cash Wrap Strap, Scraper, Bottle Opener, Wrenches, Screwdriver, Tape Cutter, Rulers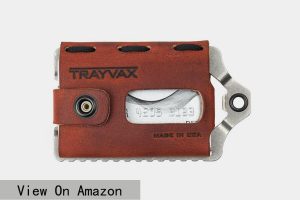 Another offering from Trayvax on our list of best tactical wallets. This time the brand has combined leather with a stainless steel body to create a softer, but no less utilitarian look for the Element Wallet. With a capacity to hold up to 12 credit cards, the Element also has a hideaway internal money clip with space for up to five bills. It also features a lanyard hole for an optional tactical paracord attachment, a bottle opener, and RFID protection. Built to last, the Trayvax Element Wallet is available in a number of leather and metal finish combinations to match your style or EDC gear.
Capacity: 12 Cards, 5 Folded Bills
Materials: Leather & Stainless Steel
Features: Internal Money Clip, Bottle Opener, RFID Protection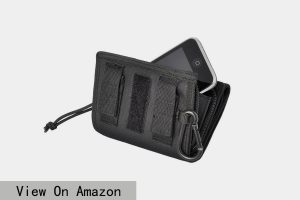 Designed like a tri-fold wallet, the Hazard 4 Mil-iWallet combines the function of an iPhone-case with a high capacity wallet, which accommodates a number of ways to carry it. Featuring a removable carabiner you can carry the Hazard 4 on a belt loop, shoulder strap or webbing and the velcro strips sewn to MOLLE spaced standard will attach to any small MOLLE pouch. There is room for 11 cards, two SD or SIM cards, an emergency key slot, currency dividers, and an easy to read ID window. It might be bigger than most wallets on this list, but it's a 2-in-1 case to store all your assets.
Capacity: 11 Cards, 5 Folded Bills, Coins
Materials: 1000D Ballistic Nylon
Features: Removable 1″ Nylon Strap, Key Slot, SD/SIM Slots. Carabiner, MOLLE Velcro Straps, Smartphone Case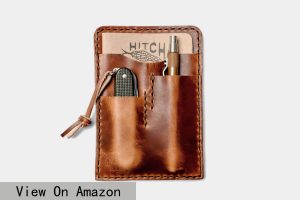 When your collection of everyday carry has outgrown your pockets then there is this; the Hitch and Timber EDC Card Caddy. The perfect companion to expand your capacity the EDC Card Caddy is beautifully handmade in Baltimore, Maryland handmade from 4oz American tanned Horween leather. As well as a capacity for up to eight credit cards and cash it also boasts pockets for a small pocket knife and an EDC pen. Each item is made to order, stitched and burnished by hand, and available in several colors.
Capacity: 1-6 Credit Cards, Folded Bills
Materials: Horween Chromexcel Tanned Leather
Features: Pockets for Small Pocket Knife and EDC Pen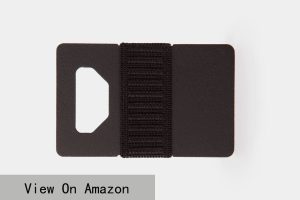 The innovative Spine Wallet is a rugged minimalist wallet that is designed to sit comfortably in your pocket with a low profile. Made of lightweight grade five titanium it's tough enough to be thrown about in a backpack or to rub up against keychains, keys, and whatever else you carry as well as being able to open bottles. The sturdy elastic strap will hold up to 10 cards keeping them securely in place and is completely non-magnetic, so it can't damage your cards, phone, or access keys. With RFID Shielding the Spine Titanium Wallet is an affordable, low-cost tactical wallet.
Capacity: 10 Credit Cards, Folded Bills
Materials: Grade 5 Titanium, Elastic
Features: RFID Protection, Non-Magnetic, Bottle Opener, Expandable Strap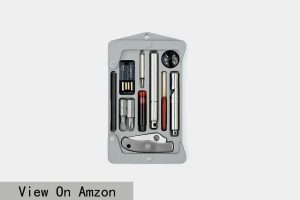 This tactical wallet is jacked up on so much everyday carry gear; we don't know where to start. Unique, the Jackfish Survival Wallet is an indestructible super slim card holder containing essential everyday tools. At just 0.3-inches thick, the Jackfish can hold four credit cards but comes full of handy equipment that can help save your life, or just get you through a working day. It comes with a Spyderco folding knife, compass, SD card, hex bits, a pen, iodine, and more. Available in a choice of gray titanium or black aluminum, the Jackfish has got you covered.
Capacity: 4 Credit Cards
Materials: Titanium or Aluminum
Features: 11+ Tools Including Hex Bits, Compass, Knife, Pen, SD Card, and RFID Protection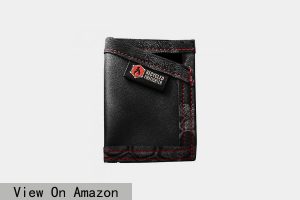 If you've ever wondered where recycled boots go to when they die, then 5.11 Tactical and Recycled Firefighter has the answer. The 5.11 Tactical x Recycled Firefighter Sergeant Leather Wallet rounds off our list of the best tactical wallets and is made from rejected and repurposed American Military Boot Leather and MIL-SPEC Nylon ribbon. Handcrafted and sewn in the USA, the Sergeant Leather Wallet is finished with a red T-90 nylon thread that adds to the durability, fire, water, and impact resistant qualities of the overall wallet. Its slim profile will sit comfortably in your pocket and can carry up to eight credit cards. It sets the standards for quality, EDC wallet.
Capacity: 4-8 Credit Cards
Materials: American Military Boot Leather, MIL-SPEC Nylon Ribbon, Elastic
Features: Fire & Water Resistant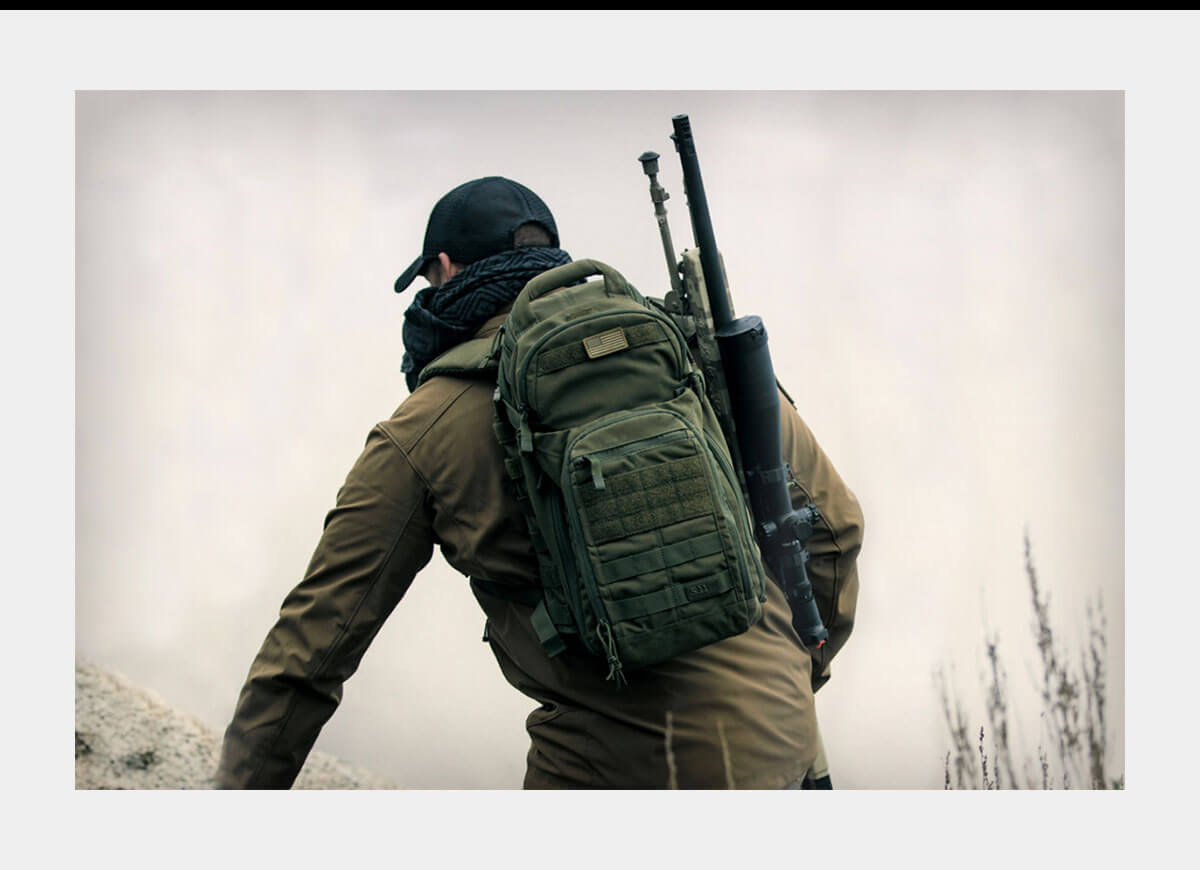 Best Tactical Backpacks Reviewed
Now you've chosen a tactical wallet why not think about where you carry it, other than your front pocket. With our list of, the 22 best tactical backpacks, you have an almost unlimited choice.