Before we get into the review, let me ask you one question.
How much you value your hearing?
If you don't appreciate and undervalue your hearing, then you will find this review is just a boring health advice article. But if you recognize the value of how important your hearing is, then this recommendation of the best ear shooting will save your hearing. Your ear will thank you later!
One of many hearing risks if you do a lot of gun shooting is Tinnitus. Tinnitus is a common problem and happens to 1 in 5 people in the world. Shooting guns without ear protection increase the chance of a person affected by Tinnitus Symptom.
But don't worry, if you don't want to give up your hobby for shooting then wearing the best ear protection is the answer to reducing the risks. Today, we give you the five best hearing protection for shooting, so you shooting junkie don't have to worry about any risks.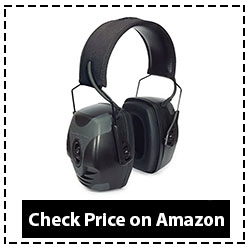 Impact Pro produced by Howard Leight, a well known global provider of passive and intelligent hearing protection. Howard Leight also the founder of HearForever, an awareness group about risk and danger of NIHL (Noise-Induced Hearing Loss)
Now let us get to the product itself. The product comes with matte green and black color weighing about 15.8 ounces.
To operate Impact Pro need 2AAA batteries that can last for 450 hours of usage. The batteries itself included in the package.
Impact Pro has a noise reduction rating (NRR) of 30 dB. Above the average than any other muff that falls within 25 – 28 dB. I can't find any product that provides this level of NRR in this price range.
FEATURES:
This earmuff automatically blocks any loud noise generated by gunshot. Non-Harmful noise such as a conversation with your friends or command from the safety instructor will be amplified.
Impact Pro comes with 3.5mm jack, this allows you to connect your device and play music while you were shooting the target or hunting a deer.
The sound produced by this earmuff is surprisingly good. Although not as good as other made for music headphone, the sound reproduced by this muff have some quality in it.
The idea of this earmuff is that normal sounds such as conversation sound, shooting range instruction will be amplified and go through. When the noise level above 82 dB is detected, the mic will shut off to prevent these noise and protect your hearing. For comparison, a busy street produces over 82 dB.
Shooting with this earmuff is very comfortable. You surely can wear this for hours without hurting your ear.
With all the good things mentioned, Honeywell Impact Pro has its weaknesses. The size of this earmuff is pretty large it is about the size of a woman's small purse. And because of it, it could be an issue if you try to eye to your rifle sight.
Pros
High NRR rating for the price.
Excellent for Indoor Shooting.
The good sound produced.
Comfortable to use.
Cons
Some users may find trouble fitting this muff.
Conclusion
Howard Leight Honeywell Impact Pro arguably the best electronic hearing protection for the money. This earmuff does a great job to protect your eardrum from the loud noise. The amplified microphone allows you to receive all sound within the acceptable rate. It is extremely comfortable to use that you would forget you had them on. Also, the electronic sound quality is good enough to enjoy your music while shooting. Overall this is top hearing protection for shooting and worth the money.
---
2. Honeywell Impact Sport: Best Electronic Hearing Protection For Hunting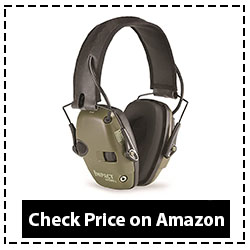 If you're looking for earmuff that does well for outdoor shooting, this earmuff does a great job at that.
Impact Sport is another product from Howard Leight that still have resemblance with Impact Pro. The difference lies between the NRR. Impact Sport has 22 NRR while Impact Pro stands at 30
The physical appearance of this ear protection designed for shooting environments with lots of obstruction. The headband is a very low profile followed with a streamlined design.
The green and black color do match with what this earmuff excel at, outdoor shooting. The visual appeal also works not only outdoor but for indoor as well.
FEATURES:
The newer version of this product gives you four times amplification. It is one step better than the previous version which does three times.
Also, there is an improvement in weight, the earlier version weighing about 1.1 pounds while the newer version is 0.9 lbs.
This product electronic function more or less the same with its brother Impact Pro. It has an MP3 player powered by 2AAA batteries that can last for 350 hours.
Impact Sport as its name suggests is more suitable for hunting and shooting in the outdoor area. Don't get me wrong, this muff still does a decent job reducing the noise level indoor. But due to the enclosed nature of the indoor shooting range, It doesn't get its job done as its brother Impact Pro.
If you want to use this hearing protection indoor, I recommend you consider an earplug as an addition to your hearing protection.
Pros
Suitable for outdoor.
Streamlined design, very useful while aiming through the rifle scope.
Auto power-off feature.
Comfortable for heavy usage.
Cons
22 NRR still considered weak indoor.
Conclusion
This may be not the best hearing protection for indoor shooting. But if you planned to use this earmuff for outdoor such as hunting, you will have excellent hearing protection. 22 NRR is good enough for outdoor shooting, and its smooth design works really well while aiming through the rifle scope. Overall this is excellent ear protection for hunting.
---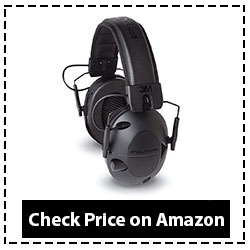 Peltor is one of many products from a multinational company called 3M. 3M is a company that produces a product based on research and science to help enhance life quality. Some of the 3M expertise included ranging from automotive to mining & gas.
That's enough for the brand teaser. Now, let us discuss the product itself. Peltor Sports Tactical 100 is hearing protection with 22 dB NRR.
It comes with classy black color, with its low profile cups to ensure you have no troubleshooting with shotgun and rifle.
The battery compartment is tethered to the muff providing easy access to replace the battery and preventing it from losing it.
FEATURES:
This ear protection has on/off volume control to allow a range of amplification levels. This function located behind the right-hand side ear cup.
Once you scroll the switch, it will emit a sound to help you decide how much amplification you might want. This coming handy when there is no ambient voice around to test the amplification.
Just below the right ear cup, you'll find 3.5mm AUX cable just as any other electronic hearing protection to play your music or tune in local radio.
The headband is about 1 5/8 inch wide. The attachment socket in each ear cup allows Peltor Tactical 100 to adjust between 5 inches and 6 inches.
Fitting often a problem in hearing protection, But this earmuff proved otherwise. This earmuff fits very well. As soon as you wear this earmuff, you will feel really comfortable. The earcups were sealing our ear completely perfect, providing excellent noise protection.
The adaptive frequency response technology from 3M allows Peltor tactical 100 to reduce background noise. It helps reduce unwanted noise, allowing you to hear a bright ambient noise.
This ear protection is not that perfect. The battery life is way shorter than the Honeywell Impact product. Many users reported it only lasts for 10 – 12 hours of heavy use.
Pros
Fit well with comfortable ear cushions.
One switch volume control.
Produce Clear ambient noise.
Good construction.
Adjustable socket.
Conclusion
Peltor Tactical 100 is another option for you to consider when looking for the best hearing protection. It gives you the comfort, ease of use and effectiveness of noise reduction level. Those three are important factors to consider when buying hearing protection. The adaptive frequency response also an excellent addition. Overall this is top hearing protection for you to buy and worth the money.
---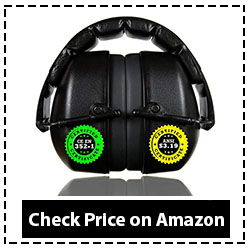 ClearArmor produces the highest NRR earmuff for shooting. There's not much to say regarding this brand. Another product from ClearArmor is safety glasses for shooting.
It only takes one look to realize the sturdy design this earmuff got. ClearArmor claimed this earmuff use premium industrial quality grade material which made these earmuffs guaranteed not to break. With the thick and large earcups design, assert that this product is doing a serious job to protect your hearing.
The engineering trick in this earmuff is the double layer of anti-noise foam that provides the highest Noise Reduction Rating alongside the size of the massive earcup.
FEATURES:
One thing crucial other that the NNR in the ear protection is the fit.
ClearArmor clearly has done a great job of providing hearing protection that fits very well. You can wear your shooter glasses, even with the extra ear rims this earmuff still felt comfortable and never deliver too much pressure on your head.
For the noise reduction, ClearArmor wasn't joking about confidently giving the Highest NRR Tag in this product.
From what I have been tested it performs well beyond another electronic earmuff with below 30 NRR. That is the performance expected from earcups that quarter of an inch thick. If the earcups are that enormous and don't get its job done, I wouldn't recommend it here. Ever. If you're still not sure whether this hearing protection is highly rated or just fake advertising, this product got NRR Tested & Certified-ANSI S3.19 + CE EN 352.1. That's enough for a quality guaranteed ear protection.
Other than the bulky size of this earmuff, the only problem is the clamping. If you got a big head, this probably would give you such a hard time wearing this.
Pros
Highest NRR rating.
Sturdy design and build.
ANSI S3.19 and CE EN521 certified.
Affordable price.
Cons
Clamping can be too tight.
Bulky size.
Conclusion
So, you wanted the best hearing protection? You got it! With its 31 dB NRR, you would never hear blasting gun noise ringing through your ear ever again. It fits really well even with additional glasses. Overall This product is a steal for the price to performance ratio.
---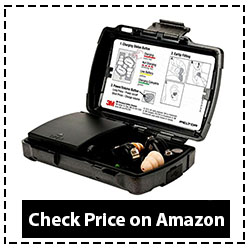 This time we reviewed the slightly different type of product from the list above. This time we got an earplug from Peltor.
Peltor TEP 100 is not the regular earplug you got for free from any shooting range, This is a tactical digital earplug. As its name suggests, this is a high tech earplug.
With the top technology by 3M, this earplug is more compact, lightweight, and a perfect fit for your shooting and hunting trip.
This product comes with a special agent type case. The case itself is a water-resistant charging case, containing two rechargeable electronic water resistance earpieces, four pairs of replaceable ear tips, and an optional lanyard cord.
FEATURES:
This tactical earplug does the same job as electronic hearing protection. It negates any high dB noise and amplifies ambient sound or conversation sound.
The noise reduction rating for this product is 23 dB, you got decent protection for the dangerous impulse sound generated by the fired weapons.
The best thing about earplug type hearing protection is you don't have to wear that bulky earmuff, This means you can comfortably wear all types of personal protective equipment without any disruption.
By the time you wear this earplug, you'll become comfortable. The lightweight and small design nature of earplug help to improve comfort and your shooting experience.
Let's talk about the downside of this earplug. If you are planning to use these earplugs for hunting, the wind sound could be a problem. This product failed to negate ambient wind sound which made it not reliable in an outdoor setting. However, for indoor shooting this product still delivers.
Pros
Excellent build and quality.
Earbuds come in different sizes.
Easy to Setup, literally plug and play.
Water-resistant.
The minimalist design means no interference with other Protection Equipment.
Cons
No protection from wind noise.
Conclusion
Although these earplugs are a little pricey, it is a good alternative to any electronic hearing protection. Both do the same thing, but the benefit is they did the job in a much smaller package. If you looking to filter out the loud gunshots while you don't want to interfere with any protective glasses or hats this product is for you.