With great power comes great responsibility. As cliche as it may sound, this famous quote by Uncle Ben goes for all gun owners out there. if you own a gun then knowing how to securely handle, store and care for your guns is part of your responsibility.
First thing first you need to know how to handle your gun, there are basically 10 rules for gun handling for you to apply.
If you are well aware of this, the next thing to consider for you is buying a gun safe. Gun safe provides not just a place to store your gun, but also comfort knowing your gun is in a safe place.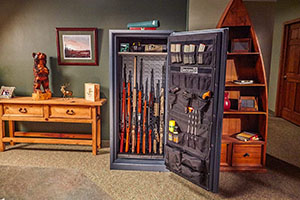 We know that searching for the best gun safe for the money could be a daunting task for you. Thus, we have reviewed top rated gun safes to help you with your responsibility as a gun owner.
Every year, thousands of unintentional death and injuries caused by firearms. The unsafe storage for firearms is what causing this issue. A 2000 study about firearm storage pattern concludes that 55% of homes with kids have 1 or more guns unlocked in place.
Eleven states also have laws regarding gun storage and locking. if you're living by the states mentioned, then buying your secured storage is what you needed first.
A 2013 national survey conducted that 67,2% respondent is pushing for the law requiring every gun owner locked up the gun when not in use. This is to prevent gun handling by your child or even worse burglar who broke into your home. Also by having a safe, you are one step forward for being a responsible gun owner. This is our picks for the best gun safe for the money.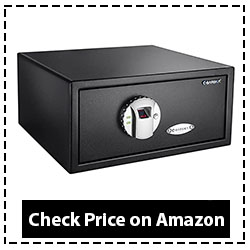 No need for the old-school numeric combination when opening your gun storage. Biometric Safe is the future gun safe. This type of vault provides comfort, beauty and of course safety for your weapon.
You can't talk about biometric safe without mentioning BARSKA. BARSKA is the leading manufacturer for the biometric gun safe industry. With lots of great product, you can't go wrong buying any product by BARSKA.
The dimension of this safe is 16.5 x 7.75 x 14.5 inches. It can be considered as medium size but this safe is compact enough to fit in anywhere you want. And it has plenty of room as well to store 2 full-size handguns + ammo and some other valuable things such as money or jewelry.
This product is weighing about 31 pounds, we can say that the safe is light enough to move to another place quickly (not a strong suit for safe but could be useful sometimes). Also, with mounting hardware available, this safe can be placed permanently in one corner of your house.
FEATURES:
Installing this gun safe from unboxing to start storing your valuable is pretty easy and straightforward, you won't have any problem installing the safe. It can save up to 30 fingerprints, and I strongly suggest you record your prints(thumbs preferably) from several different angles, so you'll get less hassle trying to open this safe.
Although if somehow you injured your finger you still get 2 emergency keys in the back of the safe. When it is not a reliable way to open the safe with this key, this is coming handy when the safe run out of battery or you injured your finger.
No fireproof rating available means this safe is very vulnerable to fire. as you expect from a pretty cheap safe, this safe is not fireproof let alone waterproof.
The access to this safe is fast but not fast enough. You need 3 seconds from entering your fingerprints to open the safe. When you open the safe, you will hear a loud beep sound, this can be useful alert if your child or anyone opening the safe. But there is silent mode if you don't like the alert sound.
Pros
Easy to install.
Mounting hole for the back and bottom.
Long battery life.
Pretty cheap for the feature and size offered.
Compact size.
Easy to open in the dark.
Cons
No fireproof rating.
The body looks like cheap metal.
SUMMARY
That is the BARSKA Biometric Safe review. BARSKA once again produces a quality product. With such a good price and excellent features, it's very hard to find another great biometric safe in this price range. No major faults can be found from this safe. Reliable safe with no real deal-breaker. The lightweight nature of this safe can be negated by bolting the safe to the wall & It's not supposed to be fireproof at this price point. Overall BARSKA biometric worth every penny you spend.
---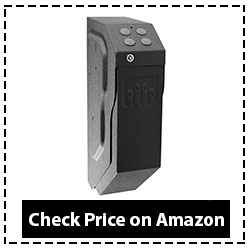 If you lack the spacious room and prefer minimalist gun safe, then you must check this product from GunVault.
One thing that is fascinating about this product is the unique shape. SV500 have a great design that offers not just a good looking safe but also provides flexibility in term of mounting.
If the typical box model gun safe doesn't suit you, then this safe is the answer to all your needs if you need a safe that takes up less space.
Gunvault has been developing the best gun safe in this industry for 25 years. It is one of the top Gun Safe manufacturers. Every product from this brand has a good modern-looking and unique feature that other competitor doesn't have.
FEATURES:
SpeedVault 500 comes with 2 types, SV500 and SVB 500. The difference between every two lies in the unlocking mode. SV500 is the digital combination safe while SVB500 is the biometric safe. SV500 would be a cheaper option if you were not looking for a biometric safe.
The safe is made from 18 gauge high-quality steel, creating a sturdy feel for the vault. Thanks to the design, It can fit anywhere from under the desk, nightstand and against the wall.
One feature that really unique is the TAMPER mode. What this mode does is it provides you info if anyone tries to open the safe and wrongly enter the code. It could give you hints about someone trying to open the storage when you are not home.
Once opened speed vault will pop out giving you the gun's grip on your reach without needing you to reach blindly in the storage.
SpeedVault is not without a dealbreaker. When the battery level is on a critical level, the safe started to buggy when trying to open the safe. It can take 2 – 4 attempts to open the safe successfully.
Pros
Very Flexible and compact design.
Easy to program.
Have internal light for the darkroom.
Come with packed "L" mounting.
Unique Feature.
Cons
The open sound too noisy for some people.
Screw provided is not long enough for wall mounting.
Very buggy on a low battery level.
SUMMARY
GunVault SV500 is one of the best quick access gun safes on the market right now. Its sturdy, flexible and compact design makes it easy to install and conceal it anywhere you wanted. Installing and programming are relatively easy, come with a packed-in mounting, and all you need is plug and play. It works well even in the dark thanks to the built-in inner light. The TAMPER feature also a very nice addition. If you're not sure what is the best gun safe to buy, then this product is on the first line for it.
---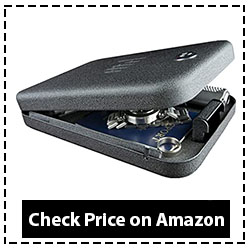 Do you want to travel with your guns? According to TSA Transporting Firearm Rule, you may transport your firearm in a locked hard-sided container as checked baggage only.
Or if you ever wanted to store a weapon in your vehicle? But the thought of your weapon gets exposed by anyone in the car make the idea is not worth it for safety reason.
This is where Gunvault NanoVault 200 kick in. With bigger design from its brother NV100, Gunvault NV200 is big enough to store your Glock 30 or Ruger LCP with some mag. If you think NV100 is too small, then this safe is right for you.
FEATURES:
Just like any other Gunvault product, NV200 is made from 18 gauge steel constructed a sturdy and durable looking design for the safe. This safe also has soft foam inside to ensure the content doesn't move around when it's locked.
The locking mechanism is very simple. It has easy to operate key lock system. This means no fingerprint recognition and digital combination. Just an old school Key Lock type Safe. In addition to that NV200 also come with a security cable to attach NV200 anywhere you want, without worrying someone would just break in and run away with your storage.
If you want to add more protection to your valuable, we recommend you to upgrade the lock and cable for this box. The added expense well worth it in the end. You got yourself excellent, reliable storage.
However, This safe is still an under 50 buck safe. Someone with novice lockpicking skill, or with a crowbar can quickly open and break this safe, no matter how sturdy and reliable this safe looked.
Pros
The price is very cheap.
Easy to hide and conceal anywhere.
Come with an additional security cable.
Perfect for traveling (Best Portable Gun Safe).
Cons
Some reported the foam has a terrible smell.
SUMMARY
Gunvault Nanovault 200 is a good gun safe for the money. With under $50 you got yourself a reliable and portable safe. It is very straightforward and useful for preventing anyone have access to your belonging. Any thief won't be able to break this without any preparation. Also, it complies with the TSA firearm transporting rule. Overall this is a good purchase, and it does its job very well. A must-have safe if you love to travel and wanted to bring your gun with you.
---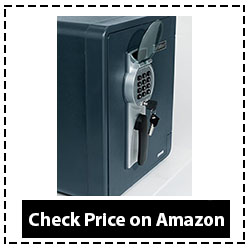 So you're afraid that someday in a bit of terrible luck, your house got burned or flooded.
Thinking to buy fireproof and waterproof safe but lack the budget? Worry no more because this product by the first alert will give you the answer to your problem.
The biggest capacity available of First Alert 2096DF is 2.14 cubic feet. So you surely have plenty of room to work with your gun or some document.
With weight about 145 lbs, it takes 2 strong men to move this safe. That surely adding a plus point as any thief will having a hard time if they were trying to run with this safe.
FEATURES:
First Alert 2096DF has become a hot topic about the affordable fireproof gun vault. First Alert 2096DF offering useful high-end features at a very reasonable price. With that in mind, you should really get this product if you are serious about protecting your belonging while still protecting your wallet as well.
For the fire protection, it is UL classified mean this vault is tested to withstand up to 1700 degrees for 1 hour. Waterproof protection work as a charm as well. It will remain waterproof even this it is entirely submerged. And prevent moisture from entering, although we still recommend you use a dehumidifier for your safe.
This safe has 2 adjustable shelves that you can creatively use or remove for your needs. You can separate the safe into 3 areas or use 1 big area for everything. It also has a kangaroo pouch in the door so you can keep your document stored separately.
However, this safe not made from anti drill material. No matter how heavy this safe is. If you have the tool, you can drill a hole in this safe quickly without a problem. If you need stronger metal storage, I suggest you maximize your budget.
Pros
Very heavy.
High-end feature at a very affordable price.
Adjustable shelves.
Has spare override keys.
Came with desiccant bag to prevent moisture.
Cons
Not anti-drill safe.
No wall mounting included.
SUMMARY
First Alert 2096DF may not be the best fireproof gun safe, But it is undoubtedly a great affordable fireproof gun storage. With tons of high-end features, it gets the spotlight for a gun safe at this price range. If you need cheap fireproof and waterproof gun safe, then this safe is the answer. You don't have to spend thousands of dollars to have a good fireproof and waterproof vault.
---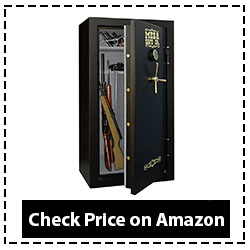 Let me tell you one word to summarize before we reviewed this product "BEAST". I'm not over exaggerating, but it is the best word to describe Mesa MBF6032E. If you are serious about your security then you should consider this product by Mesa.
This safe is made from 100% premium solid steel. It is not mixed with a plastic material like other cheap products used to reduce production costs. Making it one of the top-rated gun safes in store right now.
The 12 gauge body and 10 gauge steel door make Mesa MBF6032E more resistant and durable to any kind of break-in attempt anyone would ever try.
With its 14.4 cubic interior space, It is claimed capable of holding 30 rifles and handguns. Surely that's more than enough room for the most gun owners.
Also with weight over 650 lbs, nobody will move this safe out of your house without a helicopter. this is also what makes this safe is your best gun safe for the money.
FEATURES:
The locking system in this product is an electronic keypad lock. Within the keypad lock, there is an anti-drill resistant plate. Meaning any attempt to break the lock to try open the safe is useless.
Mesa MBF6032E also has been tested to survive 2 story drop. One of the few ways to open storage is by dropping it. But with the drop test survival of this safe, nobody will crack open the safe by dropping it.
Fire resistance also has been one of the best features this product has. Mesa MBF6032E has above the average fire rating than other products. It is claimed to withstand the temperature of 1750 Fahrenheit instead of 1200 average. It also configured to hold up an hour of high temperature while still protecting the inside of this safe.
But this product has some minor flaw, the interior carpet quality is not as good as the safe itself. The carpet is peeling off and wasn't glued very well.
Pros
Top assured security.
Above-average fire-resistant rating.
Come with a backup key.
Good looking design.
Has an internal power strip for dehumidifier & accessories.
Made of 100% high quality steel.
Cons
Low interior carpet quality.
Very hard to fit in 30 guns as advertised.
SUMMARY
The price is very worth it to spend over a thousand dollars for a safe with excellent quality. You don't need to bother about upgrading this safe in the short term. The Raw Power of the weight and pure steel design is enough to send any burglar home empty-handed. The electrical socket also a nice addition if you want to add accessories to your safe. Overall, This beast is a complete gun safe and of the best gun safes for the money.
---
SO, WHAT IS THE BEST GUN SAFE FOR THE MONEY?
From our list above we have given you our top pick for every need. There some products that excel than the other in terms of usage. If you want a great car gun safe, then NV200 is your best bet. If you need a quality quick access gun safe then SV500 wins with its sleek design. But, If you need heave duty complete gun safe then Mesa MBF6032E is what we recommend. Also, we have chosen that Mesa MBF6032E is your best gun safe for the money.