Tents are essential tools for all lovers of trekking, hiking, adventure, and exploration, as well as those families, friends or couples who like to camp in the mountains under the stars. The best family cabin tent will allow you to do all this with the maximum comfort possible.
When you go out to buy a tent, there are many aspects that you need to consider. Which one should you buy? Which one is the best? To tell you the truth, there is not a single tent that fits all the solutions. If you really want to find out which one would be the best family cabin tent, then grab a cup of coffee and read the rest of this buying guide.
In this article, we will tell you everything you need to know about tents so you can have the best on your next tour.
What is the Best Family Cabin Tent?
​​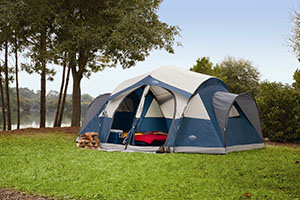 As I said before, there are many factors that you need to contemplate when it comes time to purchasing a family camping tent. It's very rare to find a "one tent fits all" solution.
By rare I mean, if you are the type of person who likes to go camping at the same spot at the same time of the year than you could probably get away with one tent.
I like to explore a lot, so a single tent won't be suitable for me. Depending on where you live and where you'll be camping, you'll need a tent that's going to be suitable for that specific environment.
Weather conditions, materials, size, etc. are some of the most important factors when choosing a camping tent. Rest assured, I have made an entire buying guide just for you.
Spend a few minutes and skim through the buying guide at the end of this article. By the time you are done, you'll know exactly which one will be the best family camping tent for you.
If you are in a hurry, then pick one from our list of top 10 best cabin tents reviews for your family.
Top 10 Best Family Cabin Tents Reviews
Choosing a tent is no small feat. You could already see in-depth what you should look for in a good model of this type and you can appreciate that there are few things. The offer in the market is very large and varied, so it may seem especially difficult to choose the right one.
The following comparative list is intended to help you find the right size, height, design, and performance for your adventures.
Comparison Table for Best Family Cabin Tents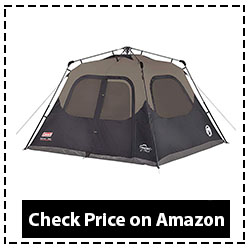 Coleman is the go-to brand when it comes to buying a family camping tent. The Coleman 6-person instant cabin is among their most popular lineup of family tents. There is a good reason why. If you want a hassle-free, simplistic yet comfortably designed tent then, by all means, pick this one. In terms of value per cost, this one is our pick for the best 6 person tent. Have a look at its features and you'll know exactly what I'm talking about.
Features:
The makers behind this tent took this one to a whole new level of convenience and ease. Setting up this tent takes less than 2 minutes. It was faster and easier to set up than most of the other similar sized tents.
This 10 x 9 x 6 ft tent provides plenty of additional space. There is plenty of space for your gears. It's also enough for a moderately sized family of 6. I would prefer this for a family of four though. Use the extra space for your gears.
The poles are made using aluminum. These poles are strong and lightweight. The best part is they are pre-attached. Since they are already attached to the tent, all you need to do is extend and secure. Simple!
This tent features the WeatherTec system. It's a fancy way to say that they are waterproof. Their patented welded floors and inverted seams do the job of keeping water out.​
Other features include integrated vented rain-fly. Large mesh-covered windows give you plenty of airflow inside the tent. They also provide tent stakes, but I would prefer to buy better stakes because they won't hold the tent for long in high wind.​
Pros
Pre-attached poles for quick setup.
Lightweight aluminum poles significantly reduce the overall weight.
Plenty of interior space.
Rugged Polyguard fabric for increased durability.
Storage pockets and meshed windows.
Cons
Although it does say waterproof, make sure you buy Rain Fly folks. I have heard people complaining about water leakage during heavy rain.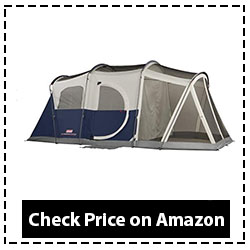 The name says it all. It's bigger, better and more feature-rich than our first tent review. If you want the Coleman Elite WeatherMaster to perform to the best of its ability, make sure you set it up correctly. Put all the stakes in and most importantly, make sure all the lines are set. Takes some time to set up, but what you'll get finally will be well worth your time.
Features:
The big advantage of this WeatherMaster tent is that it has a huge space inside. You can fit a queen size mattress in it. This is a 6 person tent that is suitable for a moderately sized family of four. Reserve the extra space for your gears.
The key selling point of this tent is its construction. From the image, you can see there is a large screen room for you to enjoy nature "bug-free". Inside the tent, you have side windows, the main window and one at the back. Plenty of headroom.
The most waterproof tent I have ever reviewed. The doors and the zippers both have a cover on top. The door opens all the way up for you to get in and out with ease. As you can assume, this too uses the bathtub floor.
It uses fiberglass poles. Not wired though. You have three slots to adjust the poles. Putting them on the ground, these poles have stakes and a little metal piece that wedges into these poles. Pretty solid construction!
Built-in hooks inside the tent. You can use them to hang tent lights and a fan. You can even split the inside of the tent into two rooms. The screened-in area without the floor is perfect for keeping your wet boots and other stuff out.​
Pros
Very sturdy poles that can withstand high winds.
Lots of windows.
Large screen room.
The most waterproof tent I've seen so far.
Very durable and long-lasting.
Cons
Unfortunately, the seam around the bottom part of the side windows isn't very waterproof. Make sure you buy a seam sealer.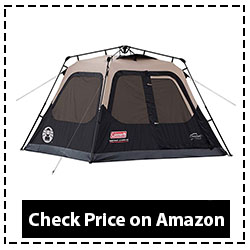 Another compact and lightweight tent from Coleman. This is a 4 person tent that is perfect for a family of two or three. Just like the 6 person version, it uses the same free-standing features, fiberglass poles, and Polyester/taped seams. If you are planning a trip for two, then this one is for you.
Features:
The Coleman 4 Person instant tent is an ideal option for a small family. A family of two to be precise. It may look small on the outside, but it features a 7-foot by 8-foot footprint.
The one thing that I love about it is how quick and easy it is to set up. It will take less than two minutes for you to set it up. Thanks to its pre-assembled poles, it requires minimal effort and completely hassle-free.
Inside the tent, you have plenty of headroom. Good airflow and ventilation. It also has very breathable material on the outside as well. It keeps the climate inside nice and comfortable.
And it is very comfortable for two people to spend the night. It also has a bathtub style groundsheet to prevent water from getting in. The floor is stitched into the sheet that curls up around the sides.
A couple of pockets inside to stash your gears and stuff. Good size doorway on the front makes it nice and easy to get in and out. There is also a mesh panel on the door for keeping out those pesky bugs.​
Pros
No-hassle in setup.
Pre-attached poles.
Very affordable.
Compact and lightweight.
Good ventilation.
Cons
No integrated rain fly and footprints. You need to buy them separately or else you'll see water leaking into the tent.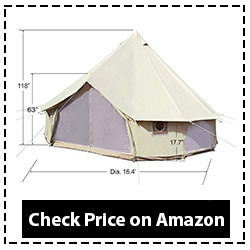 This is a more traditional or should I say "historical" looking tent in this list. This tent brings luxury into camping. This old-school canvas type tent is packed with features that make it very strong and durable. This is by far the best tent for going to the beach or to simply enjoy those falling leaves of autumn.
Features:
Like any other canvas tents, this too requires a bit of work to set up. There is a guidebook for this that comes along with the shipment. You'll also need a hammer to put those steel shanks in place.
This is by far the most breathable tent on this list. It has four windows. The Center pole and the Door pole are all galvanized steel tubes. They are sturdy and can withstand high wind.
Inside the tent, there is a lot of room. Make sure you don't bump the center pole. Just kidding! It's so tough that it'll take a lot of force to knock it down. It also comes with an integrated heavy-duty groundsheet that you can roll up on a hot summer day.
This tent comes with a convenient carrying bag and a full set of instructions. The package itself is quite heavy. The carrying bag has a matching color that looks pretty.
The tent uses cotton canvas fabric. There is a 3000mm waterproof PU coating on the fabric, but it's not completely waterproof. From Guy ropes to tent pegs, everything is included within the package.
Pros
A medieval-style canvas tent.
Very sturdy.
Convenient for a hot summer day.
Doors and windows have mosquito screens.
A stove hole on the sidewall to keep you warm in winter.
Cons
It's water-resistant, not waterproof. Not suitable for rainy seasons.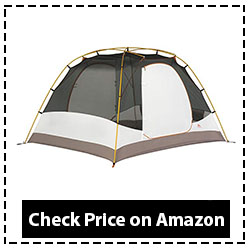 The Kelty Trail Ridge 4 is another free-standing type tent that is ideal for the cost-conscious camper. This one is perhaps the best car camping tent at a reasonable price. It's perfect for a backpack camper. I wouldn't recommend it for a large family though. If you want incredible breathability and a tent for stargazing, pick this one.
Features:
The fabric is durable. It uses Polyester, so you know it's going to last a long time. The pole structure gives you a vertical style sidewall. It means more elbow room and more headroom.
Not only you have enough rooms for two people and your gears, but you also have more head rooms due to its structure. Two doors provide quick access in and out of the tent.
The Kelty Trail Ridge 4 person tent has a bathtub style floor. It's going to keep your water off the ground. This tent has press-fit aluminum poles. These are very strong poles.
To add to its durability, it comes with a custom fit footprint. You don't have to buy any additional tarps for footprints. You can attach the footprint with the tent body and the rain fly.
Additional features include a stargazing fly, integrated rain fly and, built-in footprints. The whole canopy uses mesh, which makes it very breathable inside. The lampshade pocket adds a nice little touch to its features.
Pros
Ideal for budget-conscious campers.
Packed with comfortable features.
Dedicated full-coverage rainfly & footprint.
It has a nice gear loft and lots of pockets.
Vestibules on both sides.
Cons
Use it for car camping in good conditions, not suitable for bad weather.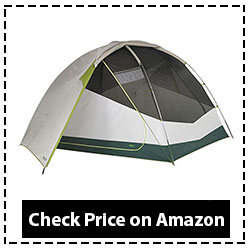 The Kelty Trail Ridge 6 Tent is another popular 6 person camping tent on this list. If you want to have the best field of view in your tent, then this is the one. This roomy tent is sure to please everyone in the family on your next camping adventure. Have a look at what features it has to offer.
Features:
This is a 6 person tent, so it has quite a big structure. The material is the same as the 4 person version of this tent. The noticeable difference is in its size. It has two poles that cross over each other for maximum support.
It has aluminum poles. So, you know it's going to be a strong tent. Considering the size of this tent, there are pole sleeves to give this one the necessary support. You also have the easy to use hug clips to attach those poles.
Not only do you have huge floor space, but there is also this extra brow pole that makes the sidewall of this tent vertical. Vertical walls mean more headroom. Bathtub style floor, seam taped and waterproof.
There are two big D-shaped doors, one at the front and another at the back. These massive doors make it easy to get in and out of the tent. These large doors and large meshed canopy provide excellent airflow.
It also has a custom footprint and that wicked rain-fly. Two large vestibules to keep your gears dry when it rains. This tent is also very durable. Includes pockets for every camper, a gear loft for hanging your extra gears.
Pros
A full-coverage rain fly.
Two large vestibules.
A custom footprint is included.
Meshed canopy for maximum breathability.
All the materials are waterproof.
Cons
If the high wind is in the forecast, make sure you buy ropes and additional stakes.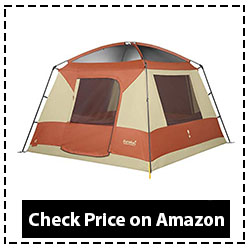 The Eureka Copper Canyon 6 Tent is built for recreational camping and car camping. This cabin style freestanding tent gives you the best value per cost. If you are not a seasonal camper and affordability is your priority than the Eureka Copper Canyon 6 Tent is for you.
Features:
The durable materials give you confidence in the construction while delivering reliable three-season performance. It features one large D-style door and very large windows on each side.
The entire rooftop meshes. If it rains, you'll just need to put the rain-fly on. The full mesh roof provides good air circulation and reduces air condensation inside.
And this cabin-style tent has a 10 by 10-floor space. Vertical walls on every side mean you'll have plenty of headroom too.
There is a hook right in the middle of the ceiling. You can hang a light there which enhances its beauty. None of those fussy extra features.
This is kind of a minimalistic tent. There are no pockets. It's not a deal-breaker though. The pockets are on the top beside the front door.
Pros
Huge interior space.
Good build quality.
Good for recreational campers.
Larger than most other 6 person tents.
Water-resistant material.
Cons
No footprints included. Although, you can buy a Eureka footprint. I would just use a cheap tarp instead.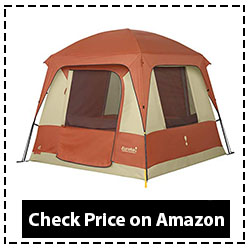 Another popular 4 person tent for Eureka. This is the smaller version of the Eureka Copper Canyon 6. The is a car camping family-style tent. As I said before this too is also for recreational campers.
Features:
It has a 6-pole cabin style design. Mostly intended for car campers and occasional campers. 8×8 floor space means you'll have plenty of space inside this tent. The height is the same as the copper canyon 6.
Same structure as Copper canyon 6. Vertical walls on each side. Large meshed rooftop for maximum breathability. Don't worry about water getting inside. This tent comes with a dedicated rain fly.
The poles are made using a combination of steel and fiberglass. The manufacturers reduced external features but improved its durability.
This is a free-standing tent, so you know it's very easy to set up. Like Coleman's instant cabin, it also took less than two minutes to set this one up.
Lack of pockets and all those fussy extras. As is said before, this one is for car campers. So, you are not going to camp that far from your car. That's why they got rid of those extras and focused on quality.
Pros
Roof vent provides maximum ventilation.
Best car camping tent for two.
Has external guy points on the rain fly.
Factory sealed floors.
Carry bags and stakes are included.
Cons
Not suitable for heavy-duty use.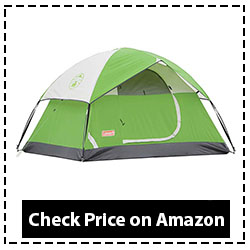 The Sundome 4 Person Tent is another popular dome-style tent from Coleman. This tent gives you an optimal balance of strength and stability with a low weight. As for the budget-conscious folks, don't worry! Just because it has a ton of cool features doesn't necessarily mean you have to break your bank for it.
Features:
Just like Colemans other instant cabin tents, The Coleman Sundome is a quick and easy to pitch dome tent. This is ideal for occasional breaks and sudden tours.
This tent has enough space for a group of two people to sleep comfortably. The poles are made using fiberglass. They are lightweight yet durable.
It has a large mesh window with an adjustable cover on the back. There is also a half window on its large D-shaped doors. There are also large mesh panels on the top for enhanced air circulation.
The guy ropes will make sure this tent will stand strong in windy conditions. The durable polyethylene groundsheet and welded seams ensure a dry interior.
It has a convenient doormat for kicking off shoes and boots. It also comes with a protective rain fly. Two storage pockets, power cord vents, lamp hooks all packed in this tent.
Pros
It has a lot of useful features.
Very easy to set up.
Reasonably priced.
Available in 4 or 6 person models.
Fire retardant fabrics.
Cons
If you want to make this tent completely waterproof, I would recommend you use seam sealers.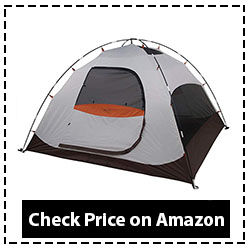 The ALPS Mountaineering Meramac 4 Person Tent is another typical dome type tent on this list. Most of the car campers don't want to spend that much on a tent. If you are a car camper than this one will be well worth your money.
Features:
This dome-style tent comes with two doors. There are windows in each door, which is pretty awesome! Most other dome type tents that I reviewed had only one door and a window.
Another cool feature of these windows is that you can leave them open during a rainstorm since there is an overhang on top that covers both windows.
The poles in this tent are made of fiberglass. It is lightweight, but I would've preferred aluminum poles.
During bad weather, there are two guidelines on each side. You can just stake them down during high wind.
It may look small from the outside, but inside there is plenty of space to fit a double air bed and extra space for your gears or pets.
Pros
Two doors with windows.
Two guy lines on each side.
Reasonably priced.
Easy to pitch.
Lightweight.
Cons
The only issue I've found so far is with the zippers. You need to hold one end for the zippers to slide.
---
Family Tent Setup Experience

Ultimate Buying Guide for Choosing The Best Camping Tent for Your Family
Tents come in a lot of different styles; tents come in a lot of different materials. Those are the big things you are going to have to decide on when you are selecting the best family camping tent.
Materials
Speaking of selecting tents, the first thing that comes to my mind is the type of materials. Family camping tents are made from several different materials. The first one is the Canvas. The other two popular materials that tents are made out in these days are Nylon and Polyester.
Canvas Tents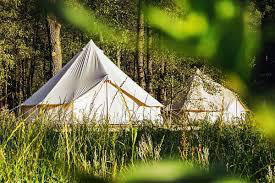 Canvas is typically used in a long-term type of tent. They have a type of historical look on them. Some people refer to them as prospector tents. The Boy Scout camps throughout America use canvas tents for their summer camps because they last a long time.
These tents are very solid & they'll accept a lot of abuse. They are also very expensive & very heavy. Compared to the more modern material, canvas tents are extremely heavy.
That's why you are not going to find any weekend/average camper or backpacker using canvas tents anymore. These are probably not the type you should go for unless you are looking for a more historical looking tent or for long-term use.
For a family vacation, say less than a week, avoid them.
Nylon Tents
Nylon is generally more expensive. It is stronger, lighter and coated to make it UV protected and waterproof. On a rainy day, nylon will tend to stretch and sag because it absorbs some water.
Polyester
Polyester is less expensive compared to nylon tents. It costs less and more resistant to the UV rays of the sun. When it rains, polyester won't absorb water and stay tight.
These are the pros and cons of different types of tents. Typically, Nylon is going to cost you more because it's lighter and stronger. In modern gears, you'll notice that the lighter something is, the more expensive they get. There is basically an inverse relationship between weight and cost.
Waterproof
Whether tents are made using Nylon or Polyester, they must stay dry in the rain. To make them waterproof, these tents are treated with polyurethane or silicone. Polyurethane is the cheaper option, which means it'll weigh more. On the other hand, Silicone does a better job of reducing the overall weight.
If you are looking for the best family cabin tent, then the material has to be Nylon coated with silicone which is Silnylon. It'll be strong, lightweight and waterproof.
Denier & Ripstop
You may have heard of the term "Denier or Tex". It is used to measure textile fibers, yarns, threads and fabrics in a multiplicity of units. To put it simply, it means weight. The bigger the number, the heavier or stronger the material is. For example, 500 denier nylon is going to be stronger than 200 denier nylon.
Ever noticed those little checkerboard patterns, especially on a lot of nylon fabrics? Those are called Ripstop. These are the little reinforcing strand, woven through the fabric in a grid pattern to prevent it from tearing. It strengthens the fabric.
Okay, so that's the end of the Material section. The next thing you should look for in the tent construction.
Construction
In this section, I'm going to talk about tent floors, free-standing versus non-freestanding tents, poles and most importantly – the way those poles connect to the tent. I'll also cover the rainfly, these are some important features that you should look for when buying a tent. So, sit back and read the rest of this buying guide.
Tent Floors
There are couples of different kinds of tent floors. Depending on your budget you may get a polyethylene floor (lower cost) or a nylon floor (more expensive). Tents basically come with two different floors.
The first one is the cheaper option, which is woven polyethylene. It looks a lot like those cheap tarps. It uses the same type of materials as the tarps. These floors have a woven pattern in them and coating on it to make it waterproof.
Notwithstanding the affordability of the floors, the tendency of the floor to deteriorate over time is a major drawback. The coating starts to flake off. These types of floors are generally used in cheap tents.
This can be a very good way to make a floor, but probably not going to last as long as a nylon floor. The advantage of this is that it's going to be a little tougher. As far as puncture resistance and scrapes are concerned, it'll do just fine.
The second one is on the Nylon floor. The floor material uses the same components as the side of the tent. The unique feature of this floor is that there is no seam at the edge. This is also known as the bathtub floor. The edge is shaped like a bathtub to prevent water from getting on the tent floor.
I would prefer the bathtub floor because it prevents water from coming in.
Free Standing Versus Non-Free Standing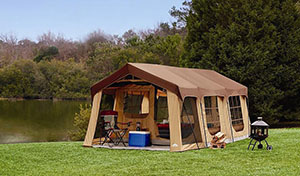 Typically in a larger tent, you won't find any free standing. Sometimes you won't find any free standing in a small tent. To put it simply, a free-standing tent doesn't require you to stay down. You can lift it up and move it.
Freestanding tents are basically self-supporting. The good thing about the free-standing tent is if the tents get dirty, you can just zip the door and shake the tent to remove the dirt and set it back down.
It makes these tents very portable. You'll probably need to stag them down anyway because in the high wind they'll get blown away.
Non-Free Standing tent needs to be firmly placed on the ground. It's like solving a little puzzle. You need to put the poles in order. You'll find these in a larger tent. It requires the corners to be stacked down to the ground to provide support. Like freestanding tents, you can't just pick them up and move them.
Poles
Some tents come with more older and traditional style pole configuration. Like steel poles, for example, they stretch out and provide the structure for the tent. Modern tents use fiberglass poles. They have a shock cord inside them. You can fold them up into a very small package and yet stay together. You don't have to figure out which piece goes where. Save you a lot of time.
Speaking of poles, notice how the poles connect to the tent. Some tents allow you to set your poles up and connect them using pole clips. Some of them use fabric sleeves that you have to slide the poles through. Both work pretty well.
Aluminum poles will give you more durability than fiberglass poles. Make sure you get the stronger ones because these poles are pretty difficult to replace.
Rain-fly
Even if the tent you bought says "waterproof", always take a rain-fly. Rain-fly comes in several different configurations. It's pretty easy to set up and you can remove them on a sunny day.
Most models of rain-fly come with additional accessories like vestibules or mud flaps. These are there to provide extra space for keeping your boots outside without getting them wet. The best part of having a vestibule is that you can enjoy the rain shower with the door open.
Footprint
When buying a large camping tent, you may also see some footprints advertised. It's a piece of material that is designed to sit under a tent, the same size as the tent to protect the floor from wear and tear. It's a good idea to buy one.
Now that you have the basics down, it's time to pick the ideal tent for your family. Not all tents will be ideal for you. I have my own requirements, you have yours. It's a no-brainier folk.
Other Factors to Look For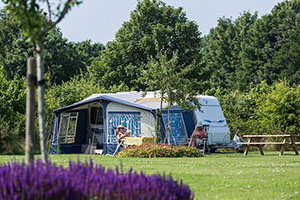 For example, I might require a compact and lightweight tent if I went camping alone. If you have a family of four, you'll need the best 4 person tent or the best 6 person tent.
From my personal experience, 4 person tents are for "Four extremely close friends". You can barely fit 4 people. If you are looking for a four-person tent, I would suggest you buy a 6 person tent.
Size Matters
Don't cram a family of six in a tent that is built for four people. Size matters, don't sacrifice size for value. Apart from family members, you need extra space for your gears as well. Nothing beats having a comfortable sleep outdoors. Make sure you have plenty of space in your tent to stretch out.
Height
Look at the center heights; those are at the specs at every tent. Bear in mind, you want to at least be able to sit up if it's a smaller tent. You want to be able to sit up comfortably without having to bend over. The peak height should accommodate even the tallest member of your party.
Weather Conditions
You have the option to buy 3 season tents, 3-4 season tents, and even 4 season tents. Just by looking at a tent, it's literally impossible to tell whether that tent will be good for all weather.
If you are planning to camp in mild conditions like summer, fall or spring then go for 3 season tents. They are quite popular among campers because these tents provide good air ventilation systems, mesh panels to keep insects out and can also withstand rains and mild snow.
3-4 season tents are warmer and sturdier but not suited for harsh winters. For extreme weather conditions like harsh winds and heavy snow, go for the 4-season tents.
Tent Features
Some tents have 1 door; some have 2-3 doors. Everything you add to it is going to increase the cost of it. You get what you pay for. If you want to get a really good tent that's going to last you a long time, I would prefer to stick with a name brand. Some of the best camping tent brands are Coleman, Eureka, Dream House, Kelty, etc. There are also other popular brands out there. I'm just naming a few of them.
Other features are sunroofs, ventilation, windows, interior loops, carry bags and internal pockets and so on. More features mean increased costs.
So far, I've covered pretty much everything you need to know before you buy the best family camping tent. Another crucial point I would like to mention is safety. It isn't part of this buying guide but you should read this.
Safety
I want to talk about a couple of safety things real quick because I think it's important. As sad as it is to talk about… hardly a year goes by without hearing somebody died from asphyxiation or carbon monoxide poisoning.
It's really important that you don't burn any kind of fuel appliance in the tent. Tents are made out of Nylon and polyester. These are synthetic materials that burn. They'll catch fire just like that. They'll burn, you could really die if your tent catches fire or have a big problem with burning.
The most common mistake people make while camping is they use tent heaters. If you want to fight the cold, buy better sleeping bags. When you burn charcoal outside or gas type heaters like propane inside the tent, you can go to sleep but not wake up.
I'm not joking. It happens way too often for people that should know better. No matter how cold or how tempting it is, I repeat don't use tent heaters. Buy better gears to keep yourself warm. It's not worth the risk to use tent heaters.
Always have adequate insulation and be careful around campfires. Don't put your campfire too close to a synthetic tent because of trees like pine, when burned they pop. And you don't want that ember burning your entire tent.
Wrapping Up
I know what you guys are thinking. It has been a long guide and so many points to keep in mind. I tried to make it short, but there were so many key points that I couldn't afford to miss any one of them.
If you don't want to bother researching and experimenting with different types of tents, just pick one from this list. Rest assured, they are handpicked by our team of experts at camping. If you are a first-time camper and going out with your wife and kiddos then pick the Coleman 4 person tent.
If you have a large party then go for the Dream House Four Season Family Camping Tent. That's the most feature-rich family camping tent on this list.
I've said everything I know about picking the best family cabin tent. It's all up to you to decide which one should be the ideal choice for you. Let me know which one you picked in the comments below. Happy camping and stay safe!