Looking for a buying guide about the best mountain bike for beginners?  The first time I went mountain biking I had no idea what to expect. My friends told me to grab a bike and tag along.
Grab a bike is exactly what I did. It didn't take me long to realize that it wasn't that easy. I quickly learned that riding over various terrains is far different from riding on city streets.
It would have been nice to have had a mini-tutorial on the best mountain bike for beginners before I embarked on our journey. That way I could have chosen an appropriate bike for my skill level.
Not understanding the different types of bikes available led to a negative experience. Many people are sure to give up after their first ride because they are ill-informed or not informed at all.
Do you know an experienced rider? Sitting down and talking with someone is a good start. Learn how to set your budget, determine where you will ride and learn the different aspects of biking.
Keep reading for an overview on selecting the right mountain bike for beginners.
What can you get for your biking budget?
If you are like me, you may be thinking, I'll just run up to the closest sporting goods store and grab a bike for a few hundred dollars.  It's just a bike ride, right?
Wrong!
There are mountain bikes on the market that cost up to $12,000. These are for biking professionals and die-hard riders. Beginners shouldn't feel pressured to spend that much.
The average cost of a mountain bike for beginners is a lot less expensive. For a quality bike that will last for years, plan to spend between $500 and $1,500.
Sure, you can find a lot of bikes on the market for much less, but they may not be worth it. You will probably find yourself shopping for a better bike by the end of the year.
Before you head out to shop for your new bike, there are a few things to consider.
What type of terrain will you be riding on and what style of riding will you be doing. This will play a huge part in choosing the bike you want to purchase.
As with any type of bike purchase, you want something that is right for you. Size, weight and frame height are a few key things to research.  It is also important to decide between a hardtail or full-suspension bike.
Once you have your list completed it is time to go bike shopping.
Check out our first contender!
Best Mountain Bike For Beginners 2021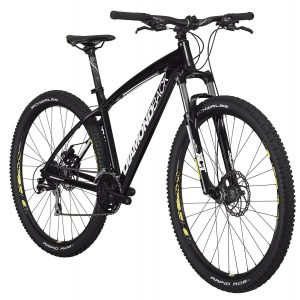 Diamondback is a popular maker of both hardtail and full-suspension bikes.
The Diamondback Overdrive 29er is a mountain bike for beginners set at a great price for someone just starting out.
It comes in four frame sizes ranging from 16-inches up to 22-inches. Other features include an 8-speed drivetrain, mechanical disc brakes, and a hand-built 6061-T6 aluminum alloy frame.
Full suspension bikes are a little pricier. After you boost your confidence in the hills and turns that come with mountainous trails, you can treat yourself to an upgrade.

---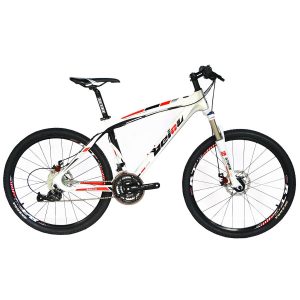 One of the best mountain bikes priced under $1,000 is the Toray T700 Carbon Fiber by BEIOU.
This awesome mountain bike for beginners only comes with 26-inch wheels, but its versatility makes it reliable and easy to handle.  It's a 27-speed bike that easily conforms to different surfaces and conditions for great riding adventures.
The handles bars are flat for a firm grip and better control when gliding around curves. The Toray T700 is also lightweight and comfortable, which will make your ride a breeze.
A great thing about carbon fiber bikes is they are made by hand, and if you damage the frame it can be repaired.
Go ahead and treat yourself to a bike you are sure to love.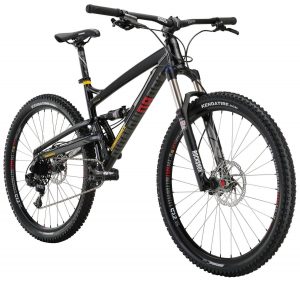 Speed, traction, and support are three things that individuals needing a mountain bike for beginners should be seeking.
With the Diamondback Atroz, you get all three plus complete full suspension. If downhill riding and rough terrain are how you get your kicks, a full suspension may be the bike for you.  They come with front and rear shock absorbers for a smoother ride.
The Atroz comes equipped with an 11-speed drivetrain and 27.5-inch wheels. These features will give you the diversity you'll need to ride on multiple surfaces.
Whether you are zipping around mountain trails or going on a cross-country ride, the Atroz won't let you down.

---
You may also consider buying a pre-owned mountain bike
Don't be afraid to purchase a pre-owned mountain bike. Serious riders are known to take good care of their equipment.
Shopping for a pre-owned bike is like shopping for a pre-owned vehicle. Do your research and buy from a reputable source.
By going the pre-owned route you may find a high-quality expensive mountain bike for beginners that fit within your budget.
Learning to care for your bike ensures it will give you years of service, just as it did the previous owner.
A few more things to consider when choosing a mountain bike for beginners
To ensure your happiness with your bike and to fully enjoy your riding experience, having the right bike is important.
Getting the best price may require purchasing a bike online. Don't be hasty in doing so. Do your research first.
Complete an online search to locate a bicycle store in your area that stocks mountain bikes. Visit the stores and test ride several styles and sizes. Find the one that will provide the best ride.
Use this opportunity to speak with a professional and ask any questions you may have regarding riding in your area. Get recommendations for bikes that do well in your local environment.
I also recommend meeting with a riding group in your area. Bikers love to share their knowledge and some will invite you to join in on a ride-along.
What better way to learn the in's and out's while receiving valuable information from someone with firsthand knowledge.
I hope this article has been a good source to start you on your way.
Happy riding, and don't forget to come back and share your experience with us in the comments section below.