Grilling the food started when the first man learned how to cook. Today the task has become easier and more convenient because of the gas-operated grills. They come in all price ranges, materials and qualities. Mostly the users look for best gas grills under $100.
If you are planning to buy a grill for your cooking sprees, whether at home or away then you may like to consider the following grills that are ranked as the best among their counterparts:
Top 8 Best Gas Grills Under 100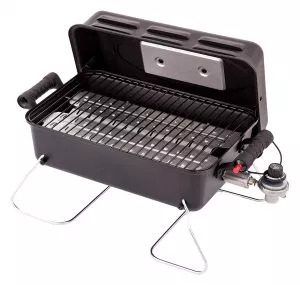 Who would like to have a delightfully grilled food cooked either in your backyard or during a family picnic? Char-Broil has introduced an excellent quality yet economical grill to multiply the fun and satisfy your taste buds craving for the yummiest bar-be-cue delights.
The simple, lightweight, portable gas grill measures only 24″L x 12″ D x 15″H. with these dimensions, they can be comfortably carried around along with 16.4 oz. or 14.1 oz. Propane cylinders. The 11,000 BTU grill is excellent for effective working in the least time.
To ensure that the lid does not fall while grilling a convenient hook is fixed to it. The overall performance of the grill cannot be ignored at all. It gives the best performance by occupying merely 190 square inches.
Pros
The char-broil gas grill is lightweight, and this makes it possible to take it anywhere.
With a folding stand, it is easy to store it while traveling.
There are minimal chances of rusting due to a black porcelain coat.
The handles are crafted with outclass insulating materials.
Cons
The sharp metal edges can be dangerous.
The gas regulator is not satisfactory.
The cleaning can be tedious.
While considering the best gas grills under your budget, the Char Boil gas grill appears as an impressive product. If you love having BBQ fun quite often, then this portable grill can be the best choice.

---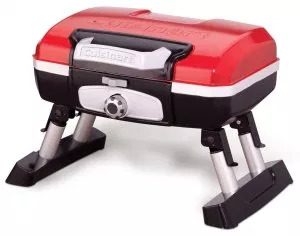 Getting a portable grilling system at a reasonable price is a dream of all those who love eating in the outdoors with family and friends. To meet the requirements of all these taste lovers s there are several budgets friendly, easy to use grills available on the market.
Cuisinart CGC-180T is praised for being portable and having a smart design for all kinds of users. It comes with folding legs and a manageable size of 145 square inches.
With a powerful 5,500 BTU burner, it seems a child's play to prepare mouthwatering 6 to 10 chicken breasts, eight steaks, eight burgers or 4 pounds of fish in less time.
It is not time-consuming to set up this briefcase style grill. The added advantage comes from the lightweight body weighing only 13.5 pounds.
Pros
It is an excellent option to grill for as less as two people.
Easy setup features make it suitable for all kinds of exteriors.
The briefcase like the lightweight body is convenient to carry and store while traveling.
Cuisinart grill can be used both tabletop or as a freestanding grill.
Cons
The lid pops up while moving around.
It's hard to handle for tall people, as the cooking surface is only 29.5 inches high.
The plastic handle melts when heats up.
Although it is reasonably priced, yet several users have shown their dissatisfaction too. Although it is good, it cannot be considered a great option to grill.

---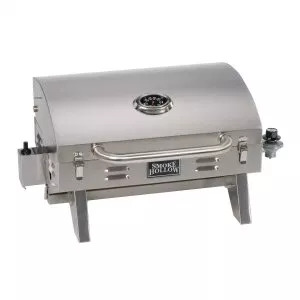 Cookout enthusiasts are always in search of some great grills to host a good gathering. They stay in touch will the market and try to get hold of the best grill that hits the market.
They try to do it as soon as possible so that they do not miss the chance of enjoying the grilled delights. The 305 square inch cooking surface is wide enough to hold a sufficient quantity of food while grilling on the 10,000 BTU stainless steel burner.
At a pocket-friendly rate, it is an excellent choice for boating, camping, picnics, and Tailgating.
Pros
The Smoke Hollow creation is easy to transport around with its compact features.
The grill is not complicated to assemble, hence it takes a little time to set up.
The heat spreads equally throughout the surface.
It is a high-class cooking appliance that is well built and durable.
Cons
The sparker has to be adjusted several times because of the delayed working of the igniter.
Some users find it difficult to carry without a storage case.
When we try to find out about the best gas grills under your budget one renowned name that often strikes us is that of the Smoke Hollow. In such an economical price, it is an excellent choice for those who look for perfect meals on grease-free surfaces. If you want a long companionship with the grill, then this grill is made for you.

---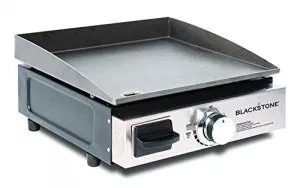 It is an undoubtedly premium quality grill by Blackstone that is the best to match the needs and requirements of any outdoor adventure including Tailgating.
It is possible to do any heavy-duty cooking due to the extended surface area of 260 square inches and dimensions of 15.25in x 17in. The grill offers a highly admired space-saving convenience because of the turning griddle attached to it.
The stainless H-burner heats up very quickly and ensures even distribution of heat with a 12,000 BTU output.
Pros
The wide cooking area makes grilling comfortable and easy to do.
The H style burner means quality cooking with even heat supply.
Carrying around is easy.
The manufacturers have ensured a longer-lasting appliance by using durable materials.
Cons
In windy outdoors, it cannot retain the heat for a long time.
With almost no con associated with it, it has proved its worth for the grilling lovers by its quality and performance. It is no doubt a surprise in a small package. From setting up to cleaning, the manufacturers have shown their concern for the user.

---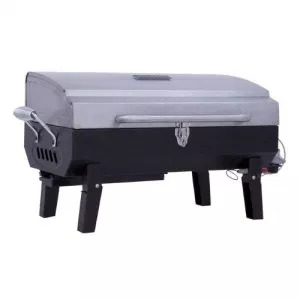 The Char-Broil has created a real black stainless steel grilling magic to meet the needs of all those who wish to have a grilling experience now and then. This simple, convenient and easy to handle appliance has all the features that make it a super quality grilling appliance.
With an easy to handle dimensions of 24.75″ W x 14.7″ D x 14″ and a total of 200 square inch cooking area, it makes grilling fun even in the limited area. With the folding legs, it is a premium quality grill for on-the-go grilling. The grease tray can be comfortably removed for cleaning.
Pros
As compared to the grills like those by Weber, it has comparatively lighter weight.
It is a breeze to set up the entire system.
The user manual is properly illustrated to make everything clear.
It does not require much gas for the functioning.
Cons
The regulator stops working after some time.
The tabletop grill takes a lot of time to heat up.
Getting a perfect grill from the list of the best gas grills under your budget is not an easy task. It requires a lot of vigilance. Despite little heating problems with this model of the portable grill, there is nothing much to regret once you buy it.

---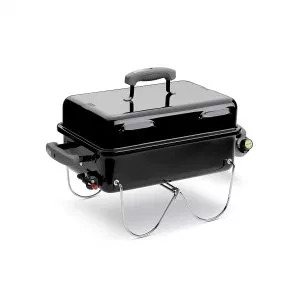 The portable grills have become a world-famous product, especially for those who seek excellent grilling experience with their loved ones. Through this 1141001 go-anywhere gas grill, Weber has introduced quality with the economy.
Despite the size of 14.5 x 12.2 x 21 inches, it is appreciated for being extremely powerful as it generates 6500 BTU. The manufacturers have fitted this grill with an easy to ignite system that functions with the help of the push-button mechanism.
Pros
It is an affordable grill made out of sturdy materials.
The tuck-away lid holder stops the lid from falling or closing while grilling.
Weber 1141001 has a large cooking area, but still, it is easy to transport.
The push button ignition saves time while preparing the grilling system.
Cons
Some users have complained about the lightening the grill.
It is not easy to clean it thoroughly.
The porcelain grate does not work as per the specifications.
Weber is the name of reliability and quality when it comes to the grills. The grills by Weber are considered as one of the most recommended grills. It is the case with this Weber 1141001. It is a total of reliability, convenience and eases that overshadow its limited disadvantages.

---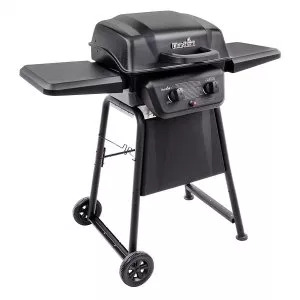 Classic 280 gets its name from the 280 square inches of cooking space that is offered to the consumer. The cooking becomes enjoyable over the porcelain-coated grates.
With dual burners cooking becomes less time-consuming. The whole system is weather resistant because of the porcelain coating. The metal shelves on the two sides give extra storage space.
Pros
Compactly sized grill that matches all kinds of outdoors.
It can cook a large quantity of meat at one time.
The grill gets hot easily.
There is a steel stand to fix the cylinder.
Cons
The grill cannot retain the heat.
Cleaning requires extra time.
Char-Broil has added all features with great precision. The grill guarantees comfort and ease in the pocket-friendly rates.

---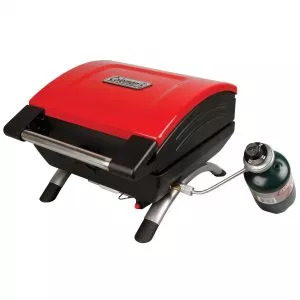 Coleman products are worth mentioning for their worth and long-lasting features. The case is not different in the case of NXT Lite. A tabletop grilling appliance can make your parties a memorable experience. With a sufficiently efficient cooking intensity of 8,500 BTU, it is possible to convert any food item into a mouthwatering delight on the menu. It has a grill space of 168 square inches, which is sufficiently large. The users love the matchless ignition with the assistance of the InstaStart™ push-button ignition.
Coleman has made it possible to enjoy the working of the grill with extra additions like griddle, grill or stove grates. This makes it possible to make different variations of a single food item without any problem. For uninterrupted cooking sessions, the unique feature is introduced that is known as Even-Temp™ for making the burners. Things are very easy to create, and hook up to your Bbq grill, which is not any problem.
Pros
The grills are sufficiently large to hold four medium-sized stakes and two large ones.
The grill can be comfortably cleaned with water and soap.
The Coleman creation hardly matches any other product like this in its rates.
Due to the manageable size, it can be comfortably utilized in all kinds of outdoors.
Cons
Comes with a comparatively difficult to manage grilling space.
The BTUs are comparatively less than the other grills.
Do you want to throw a grilling bash party in your neighborhood shortly? If you want your friends and family to love your plan, it is significant to try getting Coleman® NXT™ Table Top Grill. With minor deficiencies, there is nothing major associated with it that can prevent you from thinking about getting this for your eating times in beautiful outdoors.

---
Conclusion:
The list mentioned above includes the top ranking grills that are considered as the best gas grills under $100. The comprehensively done research must do the choice.
The reviews can readily give the idea of which one can suit your needs. Before grabbing a grill, it is important to understand that what the manufacturer is offering despite the low rates.
The Best Gas Grill Under $200
Are you searching for the best gas grill under $200? Are you searching for the best gas grill at a low and economic price?
Then search no more because in this article you are going to know about the top 8 best gas grill under $200 that anyone can buy. For those who love to grill this rate is an economical rate that they can easily afford to enjoy a barbeque lunch and dinner at home.
These best gas grill under $200 have incredible features and beautiful designs that will make your cooking experience even more amazing. Every one of them differs in their physical design, so you can choose the one you like.
So, let's get down to our top 8 lists of the best gas grill under $200 and see what features they are providing that suits up your choice before you buy them.
Top 8 Best Gas Grills Under 200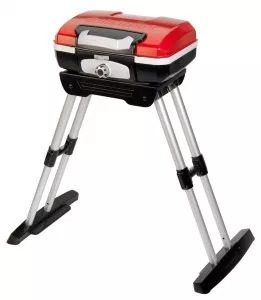 On top of our list, the best gas grills under your budget are Cuisinart CGG-180. The portable gas grill comes up with a variety of features. It is spacious because of its 145sq-inch grill area with verse stand that balances the grill for the easiness in cooking.
The height of the grill is ideal by which any individual can easily cook. The burner is made of stainless steel that is very powerful, and even easy to clean. The comfortable setting and handling of the grill make it more enjoyable to use.
The stainless-steel quality offers burn and nonstick food that you can serve to your guests. Buy it for enjoying a beautiful feast that is ready in minutes.
Pros
The setting of this griller will take a few minutes, so you don't need to spend hours working on it before your lunch and dinner.
It's easy to handle, and you can even pack it and take it anywhere. It is light in weight so you can take it for hiking.
If you are afraid that your children don't go near the grill, then you will be delighted to know that this griller comes up with a lid lock for your security.
Even in this small size, it is spacious that it can accommodate a food serving of 4 to 6 persons at a single time.
Cons
The grease catcher is small, so if it fills up, it can catch fire if not properly checked.
The absence of temperature gauge and the small space under the burner makes it difficult for the starters to use.

---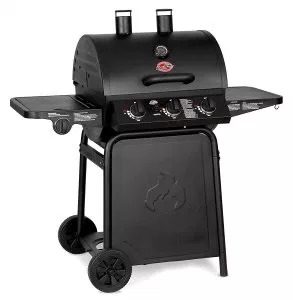 At the second we have the Char-griller 3001 Pro that offers a large grill with incredible performance. The size of the grill is 438sq inches, and it also has a warming rack of 192sq inch that together forms a significant place for grill lovers.
It is strong, reliable and durable with the perfect design everyone would like to have. Why choose it? The customers or the buyers of this Pro griller around the globe say that it is truly the best.
Through the even distribution of the heat throughout the griller the food tastes delicious and amazing.
Pros
It evenly distributes the heat to every food on it. It makes sure that the natural taste of the food doesn't get over by extreme heat.
The electric burners set the temperature well for every kind of food, even ribs, and steaks.
It provides a more easy and flexible experience for the grill lovers by its additional tools that make this grill the Pro among others.
It is a must option if you are going for camping because it is easy to carry to higher grounds.
Cons
The grates will start to get rusty after two years.
It is not durable because the grill from the inside catches rust after a few times use you will be able to see it.

---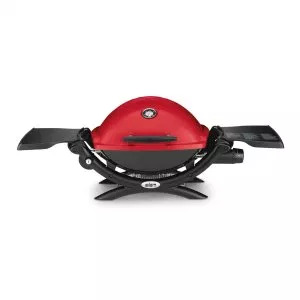 The Weber grill company is very famous around the world for its incredible manufacturing of grillers that comes up with so many features just to cater to the needs of grill lovers.
So, when we are talking about the best gas grill under your budget, Weber Stephen red griller/table cannot be missed.
Every primary desire of the grill lovers with extra features for their easiness that makes delicious and mouthwatering grilled food, all of them are the functions of this Weber griller.
It is known for its high-quality performance that is the reason why it should be in every house.
Pros
Simple and easy setup for the grill lover starters who can easily make plenty of grilled barbeque in minimum time.
The food is evenly cooked, and the natural juicy taste of the food stays the same even on this high heating.
It comes up with burners, grates and the best thing is the grease management system that is not available in every griller.
The system of this griller is efficient and useful for cooking ribs, steaks, sausages in minimum time.
Cons
Cleaning of the grill will be difficult.
Sometimes, the grill creates a lot of smoke which can ruin your lunch and dinner.
It requires a little modification to produce more heat than smoke.
The quality of the grates is not good.

---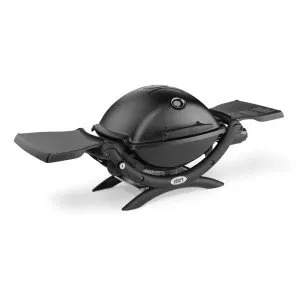 This stylish Weber grill black comes up with many features and benefits that one can enjoy for camping, fishing, hiking, lunch, and dinner. Even this black grill will help you to arrange a great big feast for your friends and family.
The newly designed Weber Liquid propane grill in black can make the food in minutes. The advanced technology used by the Weber company has transformed this griller to a new level of cooking experience.
The easiness of cooking, quick-cooking, and serving and much more comes in this box for the grill lovers. Enjoy eating grilled food in the new Weber Q1200 liquid propane black that will make your experience unforgetful.
Pros
Spacious for making food more quickly.
Its innovative and latest technology at such an economical price makes it more attractive.
It is durable and light-weight in use.
Cons
The grill is weak in holding the temperature.
It can create high-level smoke.

---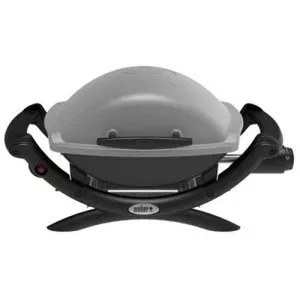 It is a remodeled grill from the Weber Q100 o Q1000 that comes up with the same performance and quality. It creates extra smoke for making the food delicious and unusual.
Even it has a pan that is removable under the burners that catch up the grease to minimize the dirt and oil inside the grill. It can be used for any weather situation.
If you want to give an extra smoke to your food, but the coverings of the grill on it for a minute and enjoy the amazing, delicious and mouthwatering food to cater to your food cravings.
Pros
Enjoy the amazing experience of breakfast, lunch, and dinner in this griller.
It is uniquely designed for grill lovers so they can eat grill food with an enjoyable cooking experience.
The Weber liquid propane grill is lightweight, yet durable and reliable for every occasion.
It comes with perfect size and shape that is for the easiness of everyone uses.
Cons
It needs more modification to give a better heating system to cook food quickly.
The smoker box doesn't work properly so the buyers must buy an extra smoker box.

---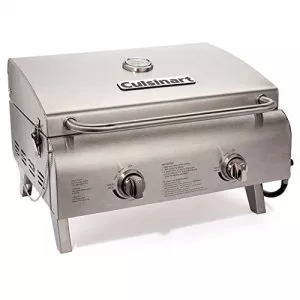 The Cuisinart chef style tabletop grill comes with so many extra benefits that can add extra spice and flavors to the food you love. This expert griller smokes up the food in minutes for the perfect taste for your taste buds.
The large grill evenly distributes the heat and produce the required temperature for every kind of food you want to grill.
So, if you are searching for the best gas grill under your budget, this grill is a masterpiece for serving large families and feasts because of its spacious and balanced cooking.
The evenly distributed heat makes the food more tender and juicy to eat.
Pros
It comes with an economical price that anyone can easily afford.
It is easy to use and can cook food in minutes.
Cooking more food in less time is spacious.
It works in an amazing way that you can't even imagine.
Cons
The quality of the grill is not that best like the other grillers.
The wheels can break easily when the weights get increased due to a high level of food.

---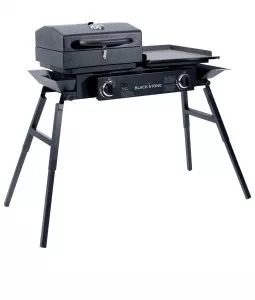 One of the best and spacious griller is Blackstone grills tailgater with portable gas grill. The best thing that it comes up with is the satisfaction guarantee.
What could be better to find a product that comes with a customer satisfaction guarantee? The company provides a warranty and if the client is not satisfied he/she can return it.
The grill is best for outdoor lunch and dinner. It controls the level of smoke around the surroundings and can be ready to use in seconds. The grill is best for outdoor use like camping, fishing, and hiking.
Even you can take for long route trips to enjoy a barbeque with your friends and families.
Pros
It is portable and ready to use in seconds.
One of the best grills for outdoor use.
There are different combinations one can enjoy by buying this grill.
It comes up with a satisfaction guarantee.
Cons
It can be difficult to clean.
You need to make sure of the temperature, again and again, to avoid the burn on the food because of its high temperature.

---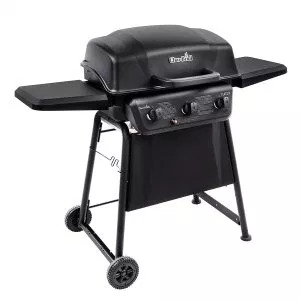 At last, but not least we have the Char-Broil classic gas griller that is known for its effective heating to cook every kind of meal for even large families.
The best thing that it comes up with is its three burners that provide a lot of space for cooking a large amount of food. The grill can be very helpful for large feasts and gatherings.
The heat is evenly divided for the three burners that prepare the food for the desired time. This balanced best grill under your budget will leave your taste buds mouthwatering.
Pros
It comes up with three burners which means more space for more food.
The grill provides a 30000 BTU heat at every burner for efficient cooking.
Its two legs make it balanced for the easiness of cooking.
It is made of high-quality steel that does not make the food sticky with the burners.
Cons
The burners are not durable because they catch up dirt and rust quickly.
Weather can influence temperature.

---
Conclusion:
So, this was the list of the top 8 best gas grill under $200 that comes with a variety of features and additional components to serve the needs of the grill loves.
Their new and latest designs even make them more attractive. However, the best gas grill under $200 is Blackstone Grills Tailgater – Portable Gas Grill. The reason to choose this grill to be the best is that it comes with the satisfaction guarantee.
However, the company gives you full assurance that the buyers will get satisfied with this product. Other than that, you can enjoy the amazing features of this product in many ways and have an enjoyable experience of eating grilled food that you never had before.
Buy these grillers now for having an incredible experience of cooking and enjoying large feasts. These grillers will provide the best experience ever with different warranties for your satisfaction.
The Best Gas Grill Under $300
We all love to make a scrumptious meal and try to make new grilling recipes that make our mouth water. Grilling has become an art and science for us. There are a plethora of options in the grilling that are convenient for quick cooking and make our food even more delicious.
A gas grill is one of them that has made our cooking easier and always proved to be our weeknight partner. As we love to make our guests mesmerized by the cooking of a grill that adds more flavor to our food with its burning flames.
Currently, many grills are available in the market ranging from few dollars to thousands of dollars. However, we should opt for the product that is affordable and efficient as well. We have tried to make a list of the best gas grill under $300 that has the potential to satisfy you with their performance.
Top 8 Best Gas Grills Under 300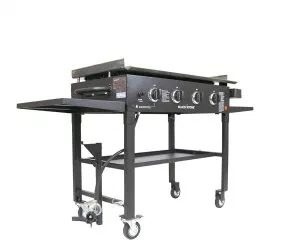 The product is an efficient choice and will give you a restaurant like cooking. It is super affordable having all the necessary character of a perfect gas grill. It is a 720sq inch of a grilling that has a flat top and has electrical ignition.
The product has one bottom shelf and two side shelves that can be used for either storing food or prepare it. It comes with four stainless steel burners that can be independently controlled and will provide you versatility in the cooking.
This gas grill is equally perfect from breakfast to dinner. The grill allows you to cook everything you want. It can cook the eggs and pancake to Teppanyaki style meals in lesser time and ensure you the better taste.
Pros
The product has a push button to start that is battery powered. That eliminates the need for matches, charcoal or anything else.
It has high portability as it has wheels and you can move it from the backyard to the campsite or anywhere else.
The grill is highly durable as it is made up of the black steel frames, whereas the burners with the high quality of stainless steel.
It can be easily cleaned and assembled.
Cons
It is a bit pricey.
The wheels may remove when you encounter them with high friction.
It is the worth buying item currently available in the market and can be called as the best gas grill under your budget due to its tremendous performance and useful features.

---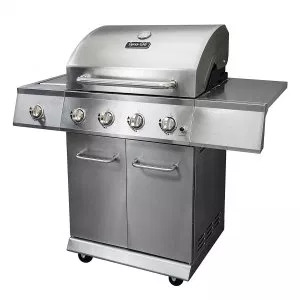 The product has cool designs with high storage options. It is durable and enhances the variety of your cooking by ensuring the quality and healthiness.
Moreover, the grill has straight tube burners, and one side burner made up of stainless steel. It has a total power of 52,000 BTU. In addition, the grill has an electronic ignition to ensure quick cooking.
Moreover, it has temperature gauges, and wheels to give it extra portability. It also includes the three pieces of high gauges with four stainless steel warming racks and four heat tents as well.
Dyna-Glo premium cover is a separate accessory that you can buy to give extra protection to your grill.
Pros
The product has a storage cart with two doors that are more convenient for the tank pull out tray.
It is a durable product with a metallic finished.
Moreover, it comes with an integrated temperature gauge inside that measures the grill zone temperature.
It got a fabulous and unique appearance the bronzed metallic finished enhances its look.
Cons
The product gets rusted after some usage.
The grill has substantial weight and difficulty in handling.
The product is great in its range and gives you great grilling experience, but it does come with some drawbacks. By investing more or opting for the other alternatives you might get a better product.

---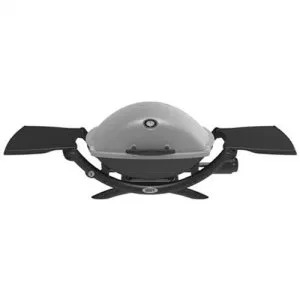 The product has sleek styling with high performance. It has some unique aesthetics that add both the fun and functions to it. The product comes with a larger handle with extra side handles.
Moreover, the knob system and front cradle. The one burner even provides 12,000 BTU-per-hour to gives the 280 square inch space for the cooking. The electronic ignition and burner value controller are some great features.
The product is a great combination of many useful features and equally beneficial for preparing the different types of food from breakfast to dinner. The product does not require any assembly it comes fully assembled.
Pros
The product is small and takes less space and therefore provides you with greater portability.
The cast and body are made up of aluminum that makes it more reliable.
It has each burner control temperature system that aids in versatility in cooking.
Due to its smaller size 12,000 BTU-per-hour heat quickly makes all your food items.
Cons
When Comparing It to its size, it's quite pricey.
It won't allow your food more room for cooking.
The product is a great deal to have due to its the phenomenal qualities. The product will surely not disappoint you with its feature and can nominate it as the best gas grill under your budget. Moreover, for sure it's worth purchasing.

---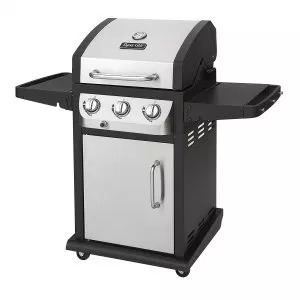 The product has a classic and precious style and will take less space. The product comes with handy features that are quite impressive and forces you to go for it. It has three burners that will be delivering 36,000 total BTUs to 503 square inch cooking area.
That is high and consistent heat to such a small area, and this is the reason your food becomes, even more, yummier and delicious. The product has constructed in such a way that it has two walls upper lid that does not let the heat escape and make your food to be cooked earlier Moreover keep it warm for a longer time if the burners are fully off. It has a push start button it means you do not require anything to start it.
Pros
It comes with the steel tent that is for the protection of the burners and the flavor of your food.
The grill has an infinite valve control system to promote flexibility in your cooking.
The product is remarkably economical.
The two walls lid will conserve the heat and make your food juicier and crispier.
Cons
The product gets rusted after some years or months.
It has an intricate assembly.
The grill has some good and bad aspects as well. However, it won't give you that bad experience will surely give you a great experience but investing more you might have a better option.

---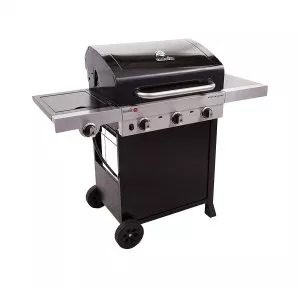 The grill is an amazing gift that wants a mid-range gas grill for their home or work. The product does come with some impressive features. It includes the top tube three burners that work for a long time and will always please you with the performance.
Furthermore, it has a temperature control system and 450 square inches area for cooking the food. It will have a 10,000 BTU side burner. It's a great way to fulfill your food needs fulfilled in quicker time as it has electronic ignition and will make all your food ready without taking more time and will add even more beauty to your cooking range.
Pros
A mid-range product makes all your cooking tasks done.
It has 150 square inch porcelain that is used to make your food warm.
Surefire electronic ignition is another feature that sparks every time you burn it.
It is affordable and of full features.
Cons
The product is not durable and has not constructed with high material.
The grill gives great value for your money when you compare it to the price. Moreover, it does have the potential to improve your cooking experience. Moreover, it is great in its price range, and you can add to the list of the best gas grill under your budget.

---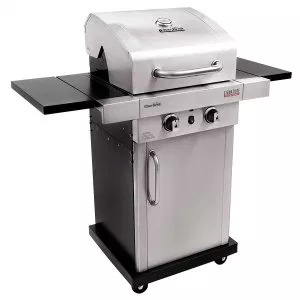 The gas burner possesses a novel design and comes with some beautiful and admirable features. It is for those that expect a high performing gas grill with premium functions but in impressive ways.
It has two gas burners while gates are made up of iron and burners with stainless steel. This beautiful gas grill comes with greater adjustability options according to the need of a cook and even satisfy the master griller with its performance.
It has a push start for doing your cooking jobs to get done. Moreover, this super-portable product will not require a larger space. It can be adjusted anywhere and will soon become your favorite item after you analyze its performance.
Pros
It was super smooth and small in size. That makes it more attractive and useful.
It comes with a lid-mounted temperature scale.
Though it has a small size still possesses a sufficient storage option.
The side shelves have folding options and infrared facility.
Cons
It only allows a small amount of food to cook.
Price is high upon comparing to its function.
The grill is worth having items providing all the premium duties of a gas grill with accelerated performance and high durability. We can declare it to the best gas grill under your budget.

---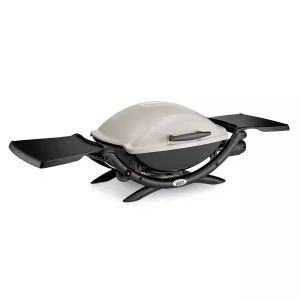 The grill has restyled with its previous version and has added more features and high performance. It may include many features that will surely satisfy your needs at the fullest level.
Moreover, the product has electronic ignition, temperature adjustability option to add more flexibility in your cooking. It further possesses a significantly large handle with two sides other controls as well.
The body is made up of aluminum and burners with stainless steel. The product may not require any assembly. It has already assembled when you open the box.
Hence it is great for its price and will surely make you every food item juicier and yummier. The small size gas grill is ideal for small families.
Pros
Split grates for a great combination of your cooking and higher performance.
The ultra-sleek design makes it more beautiful.
The product is affordable, and you can save some of your dollars.
The grill is highly portable due to its smaller size.
Cons
The product may have some durability issues.
The smaller size may not be equally beneficial for big families.
The ultra-portable product may never disappoint you with its features. Moreover, it will keep serving you for a longer run. Comparing the grill to its size and price, it's worth having and gives great value for your money.

---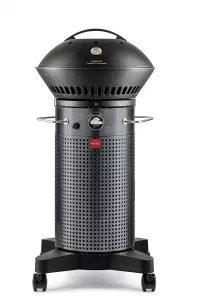 The grill has a unique style that was designed by the former Apple chief designer and also the winner of Vesta's Best Gas BBQ Moreover the Spark Design Award.
Furthermore, the product has an impressive appearance so it is its features. It includes electronic ignition. The product has a small and compact structure, and it has a hinged ranked storage option.
It has high mobility as it has super smooth fast wheels and you can easily clean whenever you want.
Moreover, it makes your food to cook earlier than ever before. The grill due to its innovative design and structure can be called as the best gas grill under your budget.
Pros
The superb and ultra-stylish design that makes your cooking experience more exciting.
You can heat it to up to 500F in just 5 minutes which means it's a super faster machine.
It comes with the 15 lb porcelain cast iron grate that is superb for providing your food massive heat.
The product has a small size, and you can easily move it from one place to another.
Cons
The product has a complex assembly.
Its size is smaller than its competitors.
If you to make an addition to your kitchen range with something new and innovative item, then you must go for this grill. It has many advanced options and a beautiful design. Moreover, it's surely worth purchasing.

---
Conclusion:
The article was written to help people in deciding the best gas grill under $300. So far we have tried to give an overview of the gas grill and discussed the most trending products currently available in the market.
A gas grill is now the essential accessory for our home, so we have selected some outstanding grills to help you people in making the right purchasing verdict. You can opt for any gas grill that you think is satisfying your needs to a greater extent.
The Best Gas Grill Under $400
Grilling food for daily meals or barbecues is one of the widest using methods to having food that tastes exceptional and cooks easily. You can choose to own an electric grill or gas grill. The difference you will find is that gas grills tend to enhance the flavor of your food by traditional cooking methods on the fire.
Even though you will have to arrange the gas, the food cooked will most likely remain juicy inside out. Gas grills can be expensive, however, if you search the market rightly, you can easily find the best gas grill under $400. The following gas grills are narrowed down for you to pick the best ones in your range of budget.
Top 8 Best Gas Grills Under 400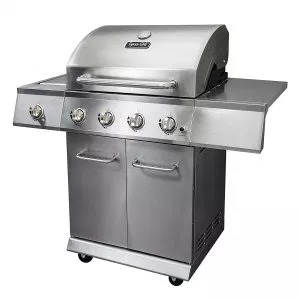 The Dyna-Glo gas burner works on propane gas which is readily available on the market. The body of the product is designed to be stainless so that you do not have to worry about the wearing down of the gas grill anytime soon.
Unlike many gas grills, you will find this one equipped with the option to turn the heat as per your liking. It comes with stainless steel cooking grates, warming rack, and heat tents which will additionally help you in your food experience.
You will no longer have to worry about the inconvenience of changing the gas cylinder with a smooth slide in and out a tray of this grill. With all the features, you will find yourself buying this product just about in your budget.
Pros
Available in four and five-tube burner options to choose.
The inbuilt temperature gauge is available to measure the temperature to cook it.
It comes with a cooling rack, cooking grates, and heat tents.
Inbuilt side tables to place food once the grill is complete.
Includes slide tray and double door for replacing the gas cylinder.
Cons
No fuel gauge makes it inconvenient to check the amount of gas left.
Propane gas burns more and can be expensive to replace often.
Overall this product seems to be useful in many aspects, especially if you are a fan of grilled food. However, it is not something you will want to use every day since the gas can be expensive. However, the product tries to be as convenient as possible.

---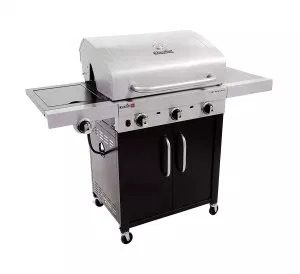 The char-broil grill works on infrared technology that allows you to enjoy a gas grill that using infrared that allows it to heat faster, safer, and more evenly around the whole rack.
You do not need new lighters since the electric ignition allows you to run the burner with one button only. The porcelain-coated grates allow you to cook your grill with as little oil as you would like.
The side racks are foldable. You can use a propane tank to go with it. Moreover, the grill has an inbuilt cabinet to store pots, pans, and other useful items.
Pros
Porcelain-coated grates allow you to cook non-stick.
Infrared technology allows the fire to be safer.
Electric ignition allows easy access to the burner.
The temperature control gauge allows you to monitor the temperature of your food.
Cons
The grill is not able to convert to natural gas.
It is not ideal for a massive gathering since it does not have multiple burners.
This gas stove is not only under budget, but it is small and holds some significant advantages! One of the key attractions is the infrared technology which makes this worth buying.

---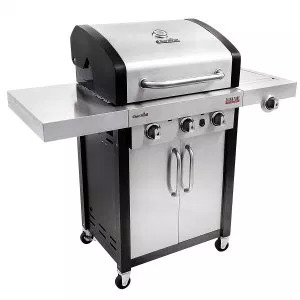 Another Char-broil burner makes its place in the list of the best gas grill under your budget because of its exceptional features. This gas burner not only allows you to grill, but it offers a side burner as well.
Igniting the fire with the electric machines and using infrared technology to maintain and manage the heating system makes this grill one of the most attractive buys.
You have the option to choose this is many different burner sizes and cook over its porcelain-coated iron grates. Attached side tables make it easier to use the grill as a cool-down tray as well.
You can fit your propane gas cylinder in the dual cabinet along with much more stuff that you will need for the perfect grilling. With the overloaded features, this grill has an affordable price range.
Pros
Side table available helping you save space for additional tables.
Infrared technology allows easy maintenance of fire.
Side burners enable you to cook extra food.
Dual door cabinet allows you to store propane gas cylinder.
Cons
Side tables are not foldable which can injure a person.
Iron gates take much time in cooling down and make it harder to clean.
One of the most attractive features of this grill is the side burner that goes with it. With this product, you can cook your steak while you boil your potatoes all at once place.

---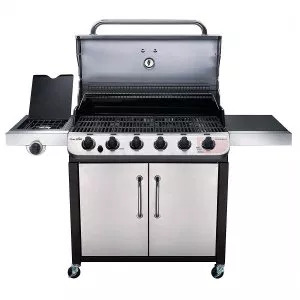 This Char-Broil gas grill is perfect for a huge gathering since it holds about six burners. You can cook many foods together on this one grill that is easily lit by an electric spark and requires propane gas.
This gas grill gives you an additional 280 square inches of space to cook your food king size. The large metal shelves allow you to cook while you serve to eliminate the need for other tables.
You will also find a dual-door cabinet where you can store all the essentials of the grill. With the grill, you will find a warming rack altogether.
The most surprising this is the affordability of this great product making it one of the best gas grills under your budget.
Pros
Holds six burners to help you hold a big gathering. Alternatively, you can organize a small group and cook all the food together.
The warming tray allows you to keep your food warm and fresh.
It allows you to ignite the fire with a simple electrical mechanism.
Side tables enable you to save space on additional tables.
Cons
Unless you hold big gatherings often, this grill may not be as good of use for you.
The grill burns more gas than regular grill making it a little more expensive to maintain.
If you are famous with your friends, family, and loved ones, then this grill seems perfect and under budget for you. Go ahead; cook much food at once without any hindrance.

---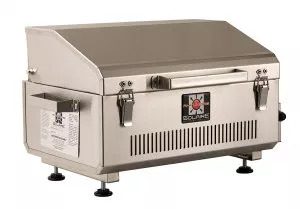 If you like grilling at picnics, then the Solaire gas grill is the perfect fit for you. It is small but packed with some features including the most attractive feature which is its portability. It has an outer body of stainless steel and runs on propane gas.
The design is made especially in a v-shape to ensure that while cooking your meat, you do not lose the natural juices. The grill is very lightweight and has a design to help you carry it without any nuisance. Unlike many other portable grills, you have the ability to control the fire in this grill.
Not only does this enhance safety, but it also allows you to cook your food well. However, you may find bigger standby grills that are cheaper than this product.
Pros
The small size and the lightweight allows you to carry this grill anywhere.
The design does not let the natural flavors to drain out.
Fire is easily controlled with a knob.
With easy adapter change, you can connect it to any sized gas cylinder.
Cons
Stainless steel is not very thick, and it may start to lose its look in a few months only.
Grates are not as heavy-duty to last for a longer time.
The best part about this gas burner is that you can get it under your budget and that it is portable. The cherry on top is the design which allows succulent meat all the time.

---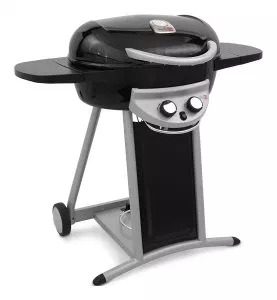 This grill makes its way successfully into the best gas grill under your budget for its patio friendly private design. The size is perfect to place on your patio and even move around with the wheels on the back.
Even though the size remains compact, you can still enjoy side tables on this gas grill. You can use LP gas on this gas grill and ensure a lot more money-saving than in propane gas grills.
However, you can still enjoy the electric fire started and the infrared technology that comes. Get this product at a highly affordable rate packed with extensive features.
Pros
Infrared control of heat allows you to enjoy succulent meat along with maintaining the gas temperature that is set to desire.
LP gas is not burned too much.
Not only does the wheel make the grill portable, but it also makes it stable with the front stand.
You can add wood chips directly to the grill.
Cons
No extra burner is available.
For a patio grill, the side tables seem a little less useful.
The patio design for this gas grill is perfect for you to set it on your patio, your balcony or anywhere you like. It can easily be shifted and comes as highly affordable.

---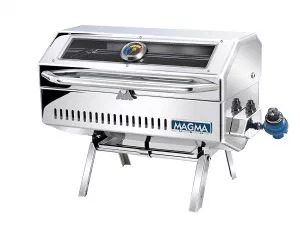 The magma gas grill runs on propane gas and is compact and portable loaded with features that are incomparable. It is a cabinet grill just like most grills;
however, it has a windowed cabinet that allows you to keep an eye on your food without having to open the cabinet repeatedly.
You can buy it in an affordable range; however, you can also save money since this grill runs on CNG or LPG. It also has infrared technology that allows you to enjoy food without overcooking it or losing its flavor.
You do not even have to carry match sticks or a lighter with this grill since it uses an electric ignition.
Pros
Infrared technology.
Compact and portable with foldable legs.
Uses electric fire-starting technology.
Can use LPG or even CNG as propane alternates.
Cons
Light stainless steel is used which may not last for very long.
It has no knob to control the temperature.
This gas grill is so small and attractive. The significant features of the infrared, glass cabinet and electric ignition make it a must-have for summer barbecues anywhere you like.

---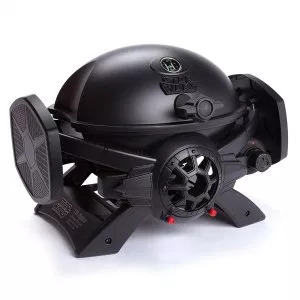 Are you a star wars fan that loves to grill? If you are, then you are in for a treat. This gas grill revolves around the star wars theme along with features that are almost incomparable at a price that highly affordable.
This rack is designed with official star wars licenses, and it stamps the logo into your every time to allow the force to be with you. It comes with a 25 years warranty.
Electric sparks light the iron grids along with propane gas. The gas grill is portable, however; it may not be the easiest task. It has side plates with style and convenience altogether.
With the themed thermostat, you can cook your meat at the perfect temperature with the logo every time.
Pros
Star war logo on every grill.
It comes with side tables that are foldable.
Iron grids are long-lasting.
Electric ignition increases convenience.
Cons
The design seems portable, yet it is cumbersome.
There is no knob to control the fire.
This grill focuses on its look, however; you will find a few aspects like its iron grids and electric spark worth enough to own it.

---
Conclusion:
The above product reviews may have helped you get a clear idea of what you will find in the market. These are our choices of the best grill under $400.
However, looking at the several features, each rack carries along with some disadvantages you will find that Magma portable grill is one of the safest bet. Not only does it land in the budget, but it also keeps your budget maintained by using cheaper gas.
Moreover, it allows you to see through the grill in the windiest days, and it manages the heat with its infrared technology.
The Best Gas Grill Under $500
Grilled meat is the dream of every meat lover. Whether it is a grilled burger with a juicy beef patty or a grilled steak topped with your favorite sauces and grilled veggies, a meat lover is always on a lookout for such foods.
Many restaurants offer grilled goodies, but nothing can match the experience of grilling meat in your backyard with your family and friends. Anyone who has participated in this activity knows how enjoyable the whole experience is.
So if you are one of those people who want to have a barbecue in their kitchen or backyard, you are in luck! This article has been prepared to help you buy the best gas grill under $500. Top products have been reviewed along with their salient and unique features.
We will help you to select a gas grill according to your exact needs, and it will also outline the things to look for while buying a gas grill. The following grills have been selected for detailed review:
Top 8 Best Gas Grills Under 500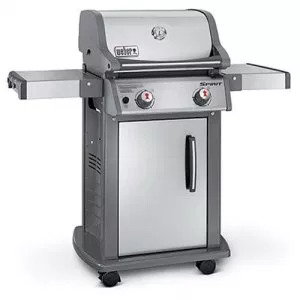 It is the best gas grill under your budget manufactured by the market leader of grills, Weber. It is made out of stainless steel, and the two burners provide 26500 BTU-per-hour. The dimensions of the assembled grill with the lid opened are 63-inch by 50-inch by 32-inch. It makes it quite large.
It runs on liquid propane. Moreover, it comes with an electronic ignition system that ignites the grill at a push of the button. It provides a cooking area of 450 square inches. The unique feature of this grill is the Flavorizer bars.
This mechanism collects the dripping juices and heats them, so the smoked flavor of the juices is added to the meat.
Pros
Made out of stainless steel to ensure strength and a good outlook.
The Flavourizer mechanism to enhance the flavor.
The grease management system ensures that the grill stays grease-free.
Electronic ignition system to light up the grill with a push of the button.
Sufficient cooking area.
Cons
Does not include a propane tank and a 20 lbs propane tank has to be purchased additionally.
A little pricey considering the features this grill offers.
A bit bulky in size, which means it cannot be moved around easily.
If you want a reliable grill and you can compromise on some features at this price, then go for it. It has been manufactured by one of the best manufacturers in the market. The design and outlook are very aesthetically pleasing. Overall, it is a good option.

---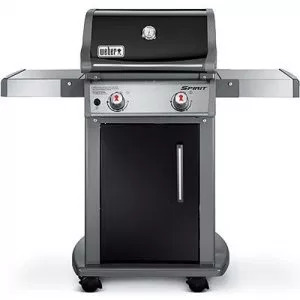 It is another best gas grill under your budget from the market leader, Weber. It is very similar to the product reviewed before. However, it includes some more features than the last product.
This liquid propane gas grill has two stainless steel burners which provide heat of 26500 BTU-per-hour, which is excellent for grilling. The total cooking area is 450 square inches, which is enough for a medium-sized gathering of family and friends.
This model includes a warranty as well, which means that you need not worry about spending money on repairs if a fault surfaces.
Pros
A crossover ignition system means that you only have to push a button and the apparatus will be ready for grilling.
Porcelain-enameled flavored bars ensure that the food you are cooking attains maximum flavor of the juices that drip down.
It includes a fuel gauge so that a slight glance will show you how much longer you can carry on with the barbecue party.
Cons
You will have to buy a separate propane tank as it does not come included with the grill.
The warranty is limited, which means the warranty might not cover some faults.
This model comes without an expert assembly.
If you can spending money is not a constraint for you, then you should go for this grill. You will get a good amount of features and frankly. These features are enough for mid-sized gatherings. It is a good product overall.

---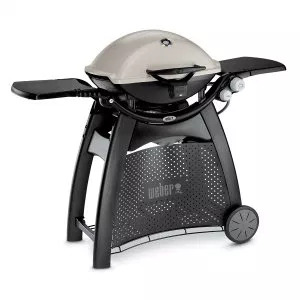 The design of this product is built keeping portability in mind. It has two wheels, and easy-grip handles to move it around with ease. The special feature of this product is the make. It is made out of aluminum, and the burners are made out of stainless steel.
The grates are enameled with porcelain which means that they are easier to clean. The handles of this grill include light to facilitate you if you plan to cook outside during the night at picnics or while camping. The easy electronic push start button makes this very convenient to start up.
Pros
A large cooking area of 462 square inches.
Very easy to move around and built keeping portability in mind.
The handles are ergonomically built which means they will not strain you when you move it around.
It comes with extras such as a built-in thermometer.
A shelf is included where the barbecue equipment can be placed.
Cons
The propane tank has to be purchased separately.
It is a bit pricey.
The design is a bit flawed as the lid is a bit large.
If you go out camping or picnics a lot, then this is the right choice for you. This grill is very easy to move about. However, a better option can be considered at this price if you want it only for domestic use.

---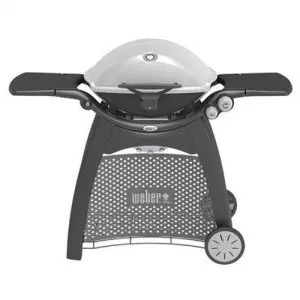 We have yet another best gas grill under your budget by Weber built for portability. It has a sleek and simple trolly like design the handles are ergonomically built so that they do not strain your joints while moving it around.
The body is made of aluminum, and the burners are made of stainless steel. The special feature of this grill is that it runs on natural gas. You will not have to buy a propane cylinder.
You just have to hook it up with the natural gas pipeline at your home. It has 393 square inches of cooking area and 21700 BTU-per-hour of output energy.
Pros
Easy to move about.
It has an infinite burner which means that you can control the amount of heat given out as required.
Easy start electronic ignition push button.
A handle light to facilitate the operation of this grill in dark​.
Cons
The cooking area is small.
It cannot be carried along on camping tours as it requires natural gas to work.
It comes without an expert assembly.
This product is great if you want to cook at your home and it is also portable, which means you can take it out in the backyard. However, you cannot take it along on picnics or camping as it cannot run with a propane cylinder.

---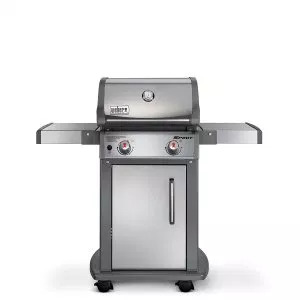 This grill by Weber is made to be fixed out on the terrace or on the lawn. It has a stainless steel design and the dimensions of 63-inch by 50-inch by 32-inch. The total cooking area is 450 square inches, which is large enough for normal domestic needs. A 3/8" connection is included to connect it to the main gas pipeline.
Pros
The grill is a very good option if you cannot afford the hassle of buying a separate propane tank.
It comes with electronic ignition.
It comes with Weber's trademark Flavourizer technology.
The cooking grates are porcelain-coated which makes it very easy to clean.
Cons
You need to have natural gas plumbing in the area where you wish for it to be set up.
This model does not include expert assembly.
The grill is a bit bulky.
If your priority is not portability and you have no issue of natural gas plumbing on your terrace or roof, then this is an excellent option for you. However, it is a bit pricey. You would expect at least a little portability at this price, which is not the case with this grill. Other than that, it is an excellent option if it fulfills your needs.

---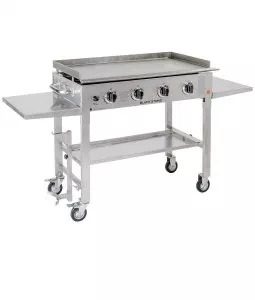 This beast of a grill from Blackstone provides a humungous cooking area of 720 square inches. It makes sure that you can cook absolutely anything you want to.
It is loaded with all the right features that are essential for a good grill. There are a bottom shelf and two side shelves to store all your equipment. Electronic ignition is also a handy feature.
A single push of a button and you are ready to start grilling. This grill can be dissembled easily, and the two wheels on the front and two back wheels mean that it can be moved around quickly.
It gives a huge heat output with four burners providing a total energy output of up to 60000 BTU-per-hour.
Pros
This grill is very portable and tops the list of the best gas grill under your budget.
The huge amount of output heat.
Four easily controllable burners.
A huge amount of cooking space.
Electronic ignition.
Cons
A bit bulky to transport easily.
It is an excellent product from Blackstone. This propane gas grill provides portability as well as a huge cooking space. It provides four burners and a large amount of output energy. On top of that, it is also not a very pricey option. It is one of the best options on this list.

---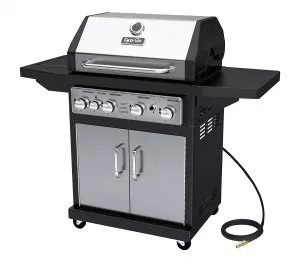 We can say it is the best option for you if you prefer a natural gas grill. This natural gas grill runs on domestic gas supply and provides four burners for cooking and an additional side burner.
Each burner gives out an energy output of 12000 BTUs, which means the total BTU's available for cooking is 48000. A 667 square inches of cooking space means that you have a large space available to grill as you wish.
There are two heavy-duty cooking grates, and it includes a cabinet style two-door shelf. The thermometer makes it easier for you to set the temperature as you wish.
Pros
Large cooking space.
Five huge stainless steel burners.
Sturdy build.
Sleek and durable design​.
It is an excellent option for you due to its output energy and huge cooking area. However, you might need to have plumbing done to set it up as it requires a natural gas connection.

---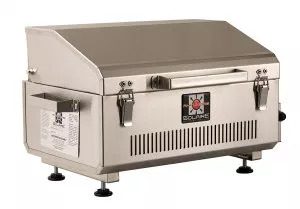 This infrared burner is a great option for you if you plan to carry it around with you on picnics and camping. The sleek and aesthetically pleasing design is the main feature of this grill. It is also not very pricey. It has 155 square inches of the BBQ area.
The grill is extremely lightweight and portable. It works using infrared technology. It provides 14000 BTU of energy per hour. The manufacturer has to use attractive stainless steel in manufacturing. The grill has a one year warranty.
Pros
Extremely portable.
Includes warranty.
Push start ignition.
Aesthetically pleasing​.
Cons
You cannot use it to grill for a longer time.
The propane bottles might not last long enough.
Pricey, considering the features.
If you plan to carry this grill around on picnics and camping tours, then this is the excellent choice for you. It is very lightweight, small in size and compact in shape. However, if you want to use this grill for parties, then this must not be your choice.

---
Conclusion:
To conclude this article, the best gas grill under $500 is the Blackstone Stainless Steel Outdoor Cooking Gas Grill. It provides all the necessary features and is worth the price as it is bound to fulfill all your needs.  This grill provides the highest amount of cooking area and the highest amount of output energy, which are the two features that are most crucial. It is the best option for you if you want a reliable grill that is also worth its price. Happy grilling!
The Best Gas Grill Under $1000
There are days when you do not have time to spend with your kids because you come tired from the office each day. However, on the weekend you might wish to be with them and cook some delicious food to be the best father or a mother.
That is how they can have fun and enjoy to the fullest. Moreover; it helps them to make good childhood memories too. In this regard, if you want to collect praises from your family then you must have two things: grilling recipes and one of the best gas grills under $1000.
Instead of feeding your little ones with junk food, take care of their health and prepare the food that is light and nutritious.
However, do not worry about how you can make healthy food because below there are some gas grills available for you to cook a wholesome meal for your beloved family.
Top 8 Best Gas Grills Under 1000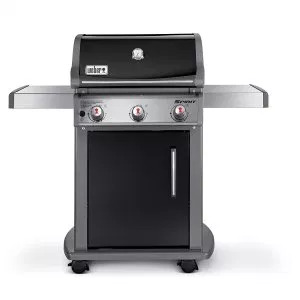 Weber has known to be the oldest company designed for cooking purposes. It contains three stainless steel burners along with enough space for grilling. Weber spirit can ignite all the three burners as it has built with the particular ignite system i.e. electric crossover.
Not only this, but it also lets you know about the quantity of fuel left in fuel gauge. For more flavors to the food, it possesses a porcelain-enameled angular favorite bar.
It features a mounted thermometer for controlling the temperature and a greased tray located in the front that helps to maintain cleanliness. As far as the price of this gas grill it is a bit pricey but has various benefits.
Pros
The size is appropriate for a family's grilling requirements.
The grill has a natural gas system in it.
Easily assembled. Even if you are not at good at techniques, you can join all the parts together, to begin with, the grilling.
User-friendly and everyone can use it easily as it starts quickly without putting much effort.
Cons
The Weber gas grill is of the core design, unlike other brands.
It can only use in homes because of their size.
If you are in search of a griller and your home has natural gas plumed then do not search more and buy the Weber Spirit gas grill now.

---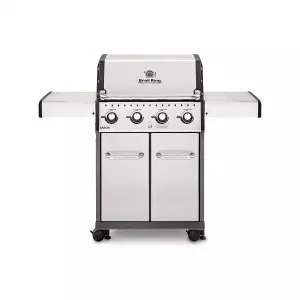 The baron is another name when it comes to the best gas grills under your budget. Many of the readers will be eager to know which feature makes it worth buying.
It has a total of 40,000 BTUs from four burners that are of stainless steel to distribute the heat evenly. The base of the broil king has enclosed with dual doors to ensure storage and contain valves that flow in a linear direction that allows heat to travel straight to the end.
Like other gas grills it thermometer to check the temperature and a catch pan that also helps you to get rid of germs. The price of the baron s420 is less than other gas grills.
Pros
Easy to handle. You can install and remove its tank on your own.
It has an additional side burner for indirect grilling.
The shelves of this product can fold, so it does not take much space.
It is a reversible and heavy-duty gas grill.
It comes with the detailed manual for your guidance.
Cons
Contains no gas gauge so you may not be aware of the fuel quantity.
It does not have the potential to heat evenly.
For people who want perfect gas grill in their budget but expect quality as well then so far it is not the bad option.

---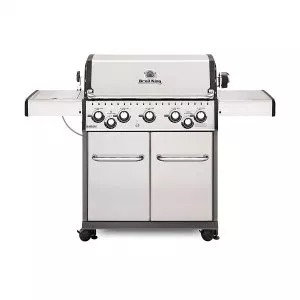 Since Baron Company makes series of the equipment for grilling purposes and among those Broil King s590 is the popular one. The entire gas grill includes four primary burners, and shockingly it can produce up to 50,000 BTUs.
It does not end here because it also has another burner of 10,000 BTUs on the sides so that you can prepare side dishes. It also has a rotisserie kit adding more versatility to it.
On top of it, this proffers 195 square inches of the rack for warming. For knowing your cooking progress, the broil king is built-in with the temperature gauge.
In addition to this, the electronic ignition system makes the grill ready within no time, unlike the charcoal grills. The price range of this product is nominal according to its unique features.
Pros
The baron s590 allows the food to cook well as it has dual-tube burners.
It has a natural gas option.
Can cook more quantity of food quickly.
Construction of this gas grill is stable to meet long term goals.
The cooking grates are of stains-less steel.
Cons
The side burners can take more power.
Not consistent with heating.
No doubt, it is different from various gas grills because of its features especially the rotisserie burner and enough space for grilling, so this is an excellent addition to your backyard.

---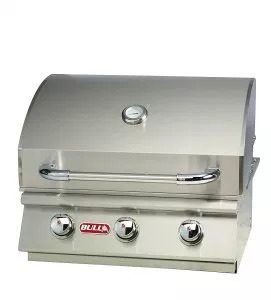 The 69009 is the smallest yet most affordable product of the Bull's brand. The steer premium burner is a three burner gas grill with a removable warming rack.
All of the stainless steel burners put out 10,000 BTUs individually. Unlike the electronic ignition system, it comprises of piezo ignition that is most reliable of all, and it is the key feature of bull's outdoor products.
The grill hoods of this type of gas grill is a single piece coated with a dual lining that helps you to grab the dish without getting hurt. Other than this, you can also find a heavy-duty thermometer in it to keep you updated.
Pros
It gives a high output of heat.
Provide a full 304 stainless steel configuration.
You can carry it for outdoor parties because it is handy.
The smoker box that it contains will make you a pro at grilling.
Maintain quickly.
Cons
The cast stainless steel does not allow heat to spread evenly.
It does not have a long lifespan.
The bull's products provide quality within reasonable price range so for outdoors it is one of the best gas grills under your budget.

---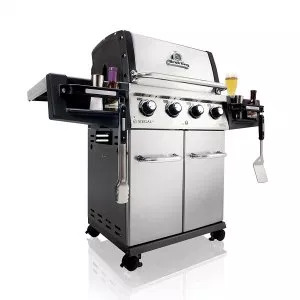 The regal series has got some more style and capability than that of others. That will never fail to impress your guests because of its specifications. Again this gas grill comprises four stainless steel and efficient burners that make up to 50,000 BTUs.
The overall weight of the s420 gas grill is 82 kg with a total cooking space of 4484 sq cm. It comprises of powerful electronic dual-electrode ignite system to make sure you enjoy a barbeque in every weather.
There are two robust grills above the Flav-R-wave cooking system to ensure a quality result. It can provide you Sensi-touch knob so that you can operate it well.
The locking swivel is heavy-duty, and you can set the level without any difficulty, but this is not affordable.
Pros
Its stainless steel cook box lined with cast aluminum for retention of heat.
The cooking grills are thick and durable.
It provides enough storage.
It is the most suitable grilling for a large family.
The gas grill quickly heats and maintenance free.
Cons
Price does not work well with this gas grill.
It does not have side burners.
The regal s420 can provide you with grill sear and roast so what else a person can ask. However, this product may not suit those who are in search of the low-range gas grill.

---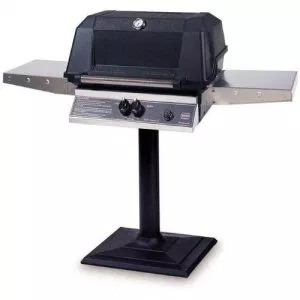 The Modern home product has been making the best gas grills under your budget. They are still in the game just because they never stop adding quality features each time. To begin with, the vital feature of the H-shaped burner, made up of stainless steel. It gives per hour input of about 40,000 BTUs.
With this, it covers 642 square inches of cooking area and briquette barrier of ceramic to provide more heat and for the better flavors. It differs from other products because its grill housing has made of cast aluminum.
The product comes along with the stainless sear magic cooking grates. On the bottom, there are stainless steel cups that push grease into it, so there is no chance of any mess. It is no doubt an excellent gas grill but asks you to pay more for it.
Pros
The flavor master briquettes make your barbeque tastier.
The burners provide consistent heat.
It does not take too much area, and you can fold its sides as well.
You have a choice to make it customized.
It knows the temperature after 10 minutes of pre-heat.
Cons
The style of the grill is not fascinating.
It is pricey.
According to the price range of the Mhp gas grill, it does not come with extraordinary features. So it might not fulfill the need of those individuals who want a gas grill that is easy to set up.

---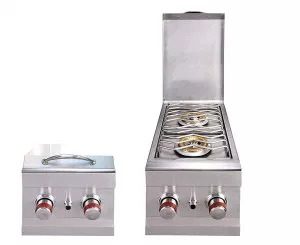 Among all other brands that manufacture gas grills the sunstone is well-known for its side burner gas grill. The top of the line is comprised of the two lamps that can you can use without any hardships.
It was crafted from the 304 stainless steel of commercial-grade quality, and it produces a heat output of approximately 30,000 BTUs. It offers control as there are 18 gauges for each burner cover and zinc alloy has used for its handles.
The Sunstone slide in double side burner has designed with an integrated burner skirt to ensure to run correctly. The entire product weighs 32 pounds that means it can accompany you at any place. It is not pricey at all.
Pros
It is dishwasher safe, so it is easy to clean and maintain.
The slide burner is simple to set up as you can connect it with the heating source.
Contain electronic ignition to start it quickly.
It is chrome plated so have a long life.
It proffers dependability.
Cons
It does not include the gas hose.
This side burner of the sunstone brand is not a bad choice because of the reason it is in range and makes your experience tasteful.

---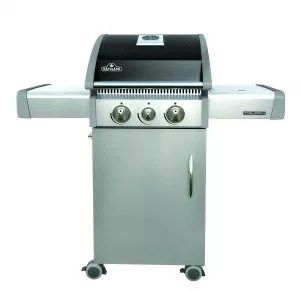 Who would mind to have such a gas grill that makes vegetables and meat at the same time? Obviously, no one would. So the Napoleon gas grill can be one of the best gas grills under your budget as it comes with the four burners and separate knobs.
The gas grill operates with the propane so that you may not depend on electricity to run the unit. Its heat input is extremely high and takes around 35,000 BTUs by the burners at the front, and side burners take a maximum of 8000 BTUs.
It covers 325 square inches of cooking space. The cooking grates have a coat of porcelain cast iron, and overall the construction is of enamel steel and stainless steel.
Pros
Food comes out completely cooked as heat distributes evenly.
The slide burner is simple to set up as you can connect it with the heating source.
It is portable.
Well-featured and small in size.
Cons
It is little bit heavy gas grill.
Napoleon Company is successful in making the gas grill that is efficient, easy on the pocket and can make a statement and one cannot say no to it.

---
Conclusion:
Before you step out of your home to get one of the best gas grills under $1000 you need to have a glance at the products mentioned above for guidance.
It does not bother whether you are a new buyer or seasoned gas grill buyer you need to check whether the product that you are getting has all the latest specifications or not because it is something that you can never ignore.
Another factor is the price of the commodity that everyone compares keenly, so the Napoleon triumph is the winner as it is reasonable plus it also possesses better features than others.