The Gurkhas: known for their dedication to victory and their famous Kukri Fighting Knife. The sound of "Ayo Gorkhali" freezes the blood of enemies and brings new hope to beleaguer defenders. That is the traditional battle cry heard in battles dating back to over 200 years of service to the British Empire. Gurkhas native to the Gorkha region of Nepal, short and diminutive of stature you would not think anything of one of these individuals out of uniform.
But, if you were to see them in action, where one of these small, powerful warriors can jump straight up the height of a 6′ man and deliver a kick to his face. The British troops tell of other stories where a formation Gurkhas, doff their weapons except their famed Kukri Knives and walk slowly toward their opponents, where the enemy is given, but two choices submit or die. Those who are smart lay down their arms and surrender. Those who do not…
Today, we are going to look a bit at the knives carried by these fearsome warriors who serve the Queen of England with such devotion. In fact, along with the K-Bar, the Fairbairn–Sykes, and the Bowie along with the Kukri are the 5 most famous knives in the world today.
There are many replicas, copies floating around of the Kukri. We are going to cut through the chase and show you 5 knives that are worthy of the name Kukri and then you can choose which of them you will use, keep as a collectible, and remember you have the most versatile knife ever made for all-around usage today.
5 Best Kukri Knives in 2021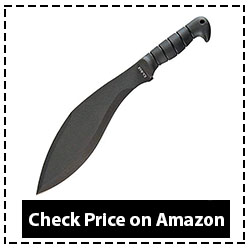 Ka-Bar, who makes the famous Marine fighting knife, was so impressed with the versatility of the Kukri that they made a large version to be used as a machete and all-purpose work knife.
The Kukri itself in Nepal is used in a similar fashion as not only soldiers but also farmers and laborers use it as well. However, a Gurkha soldier would never sully his prized ceremonial Kukri for mundane purposes.
You, however, can use the KA-Bar version for all the work needing to be done at your camp or in the wild.
The almost foot-long blade is heavy enough to cut through saplings and virtually any kind of brush, vines, or brambles you may encounter in your journeys and camping adventures.
Key Features:
100% Synthetic Handle and Sheath
Made from 1085 steel
Paracord sheath that mounts in a variety of ways on your gear
A Full-Tang with a blade that measures 11-1/2″
Pros
Cuts through just about anything.
Come out of the box sharp enough to shave with.
Great all-around Camping Tool that doesn't balk at saplings, small logs, and replaces an ax or hatchet with ease.
The grip fits in your hand and won't slip ever. I always wanted a modern Kukri knife, and now that I have one, I found it lives up to its name as I use it when I go camping, and it takes abuses that my case or buck wouldn't put up with.
Get you a Ka-BAR, and you never have to worry about it letting you down. This one is a workhorse and replaces a machete, hand-ax, and for chopping firewood, it has no equal for its size and weight.
Cons
Like all KA-BARs, you have to keep them oiled. If this one gets wet, you start to see rust forming almost as your watch.
The blade chipped when I chopped some wood. I called it in, and I got a replacement that seems to be holding up better than the last one.
Reviewer's Comments
This is a tribute by KA-Bar to the classical Gurkha fighting knife with newer manufacturing techniques and can take the place of a Ka-Bar combat knife for those who want a knife with the power and weight behind it that a Kukri offers.
You have the combination of a fighting knife made to cut through bone and flesh or do a silent kill as in from the days of the OSS Commandos in WWII with their needle tipped knives.
But, realistically you want a good all-around work knife that doubles as a machete and brush cleaning knife as well.
This entry into the KA-Bar inventory of excellent knives will do the job just fine, and you'll be proud to own one. Some have been delivered with blade issues. The QA on the tempering may be at fault.
So, check the one you receive as it shouldn't chip or fold if it does get it replaced, as there has been a problem with products in the Amazon supply chain that are Knockoffs, which also could account for this problem. Amazon is going through its stock now addressing this issue.
---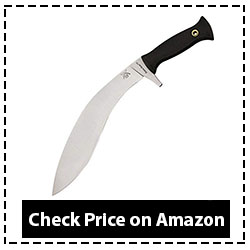 With a 5′ handle to go along with a 12″ blade, you have an excellent modern take on the Kukri. Synthetics replace the wood and leather used for the handles and sheaths of the originals, and with the newer materials, you have a much more rugged knife as a result.
Use it for working to clear a trail or brush to enlarge a campsite. The weight is at the tip that allows greater cutting power on the downstroke. You don't have to worry about the sheath getting mildew in the field, as it is resistant to both mildew and mold.
Remember to be careful with this or any other Cold Steel product as it is not a toy. When cutting vines or brush as this knife will take off a limb if used carelessly.
You have one of the most powerful hand-tools out there that can take care of all your camping needs from trimming branches to make a fish trap or cut down a sapling with one stroke of the blade to make yourself a fishing spear.
For trail work, hiking, and clearing brush you cannot do better than having Cold Steel in your hand.
Key Features:
12″ of the cutting blade, which you can take to a razor's sharpness
5/16″ thick 0-1 High Carbon steel blade
5″ Handle made from Kraton that wouldn't let the blade get away from you
A handguard on the Kukri protects your hand during use
Pros
This new version holds an edge better than earlier ones. 01 HCS seems to be the answer.
The Kukri has more power and strength than any Machete or hatchet out there. It cuts through brush and 2″ tree saplings with one swing of your arm. This saves wear and tear on your arms while clearing a camp of unwanted vegetation.
Sturdy and able to do any work in the wild that you'd like done. Better than many of those specialty knives, axes, and machetes you see advertised.
At the price for what you're getting this Kukri beats the rest hands down.
This knife would be a formidable weapon against wild animals though I wouldn't want to tangle with a bear or mountain lion. But for wild dogs and coyotes, this Kukri could save your life.
Cons
The blade is made in Taiwan instead of Japan as in the old days.
The 0-1 blade needs TLC, or it will rust.
Reviewer's Comments
Cold Steel never lets you down. No matter how many of their blades this reviewer looks at the quality is uniform throughout all of their products.
Their latest incarnation of the Kukri is along the lines of the Nepal Gurkha Style instead of the San Mai type of Kukri. That alone made this knife more attractive to the reviewer.
However, the handguard takes a little time to get used to. However, you can buy a version of this knife without it. Other than that, there are few negatives about this knife, and overall it is a rugged and useful addition to anyone's BOB or Prepper Kit.
For a first Responder, it is a versatile tool to hit the field when searching for people missing or lost in the wilderness. You do have to watch the blade as not only is it sharp and heavy it also needs to maintained to keep it in shape for the years of use you can expect from it.
---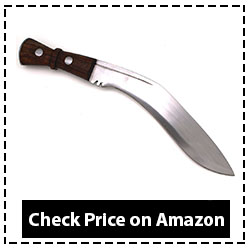 You are looking at the traditional Kukri that the people of Nepal have been using for centuries. This Kukri is slightly curved with a bulbous blade at the tip that brings the weight of the knife to the forepart that increases its effectiveness.
This knife also symbolizes the power of the Hindu Goddess Kali and is the easiest way to recognize a Gurkha soldier as it never leaves their side. Many legends have grown around this knife as to how it should be used, why if it is drawn it must drink blood before being re-sheathed and whoever a Kukri kills, their soul is a sacrifice to Kali.
The Kukri, it is also said to make a Gurkha invincible in battle. You can explore these legends on your own after purchasing a Kukri for your own use. This is the real deal made in Nepal and is identical to the military issue Kukri that each Gurkha soldier is issued.
It matches the Military Specs and weighs exactly. This the same Kukri, as the ones now being carried by Gurkhas in India and far-flung outposts that Great Britain maintains from Singapore to the Jungle training areas in South East Asian, Thailand, and still even in Myanmar where during World War II they fought the Japanese in the jungles along the Burma Road.
You get a sheath as well as the two traditional side knives as well. Once you have 12 inches of sharpened steel in your hand, you will see why the Gurkha is regarded as the fiercest soldier in the world.
Key Features:
12″ of High Carbon Steel that you can hone to razor Sharpness
The entire Kukri is 1/4″ thick
The Handle is made from tough Haldina Cordifolia Hardwood
The tradition Chakmak and Karda sharpening blades are sheathed inside pockets on the Kukri's simulate leather-covered wooden sheath
Pros
Heavy enough to go through a 2″ sapling in a single swipe of the blade.
Heavy blade with a so-so sharpness which is great as I got it to a razor's edge on my own.
Fantastic camp knife, heavy and sharp enough out of the box to make it useful as a machete.
The perfect blade to use as a canvas to create the perfect work knife, machete, and fighting knife.
Much thicker than you get with other brands of Kukri and heavy enough to break a brick with using just the back of the blade.
Cons
The Sheath cannot be worn on a belt, and I use it just for storage. You'll want to custom make one anyway to fit the use you are planning to use a Kukri for anyway.
The blade is a bit on the dull side. But that just means you can put the type of edge you want on it.
The Chakmak and Karda are little more than blanks, and if you want a real edge you need a real sharpener to do the job right.
Reviewer's Comments
There is nothing that says Kukri like one made in India. These are supplied to 6 remaining regiments that were left to India when India gained its Independence. The blade is plain, and if you were allowed to examine a Gurkha's personal Kukri, you would see that they would be identical.
A Gurkha owns two. One is his Working Blade and the second is used for ceremonial use. The one you get is a knife designed for heavy use not display.
You can buy a plethora of them, some with a Damascus Water Steel pattern blade for your collection. If you want a Kukri, you want that you can use and know you can depend on. Buy two of these and beat one to death in the field and you will appreciate the power of this knife.
Then take the second and touch it up to the sharpness you want and it will replace any "Tom Brown" or "Bear Grylls" knife out there. However, if you want to carry this knife in the field have a custom sheath made for it that attaches securely to your Load Bearing Vest or webbed belt as it is a heavy knife.
---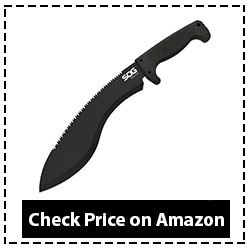 SOG has come out with their variation of the Kukri, and it takes on a survival knife motif. It has a serrated back to the normal smooth curved back of the traditional Kukri.
It is also flat black to fit in with tactical units and SWAT team use. With less curve in the blade than the Gurkha style Kukri, it melds in with today's tactical environment and with a Kraton handle gives you a secure grip even when used with gloves.
The Nylon sheath is water-resistant, and the 12″ HSC blade gives you the cutting power you need in a tactical situation or when clearing brush in your camp before pitch your tent or hammock.
When you want a low-cost working Kukri, this is one you should consider.
Key Features:
12″ cutting edge
Kraton non-slip handle
Nylon waterproof Sheath
Saw backed for cutting saplings and sawing through the cordage
Pros
Better than my Condor Machete and cuts faster as well.
The sawed back is useful for dealing with thicker saplings and small trees that you don't want to spend the day whacking through.
The handle has a striking tip that makes it useful to break a car windshield or a bus to get people out of them in an emergency.
Cut brush easily and do the work of a machete or a hand ax to cut sapling for shelter building. It is great for trailblazing as it saves you tiring your arm out as the weight of the blade does all the work.
Cons
The blade should be thicker to handle heavy use.
The sheath has way too much branding, and it might not last too long with a knife with a saw back rubbing against it on drawing and re-sheathing.
Reviewer's Comments
SOG is new to this reviewer, but the blade is of good quality, and it does most of the work need to make your camp livable. It's not an expensive item to add to you Go-Bag, and it matches most of the tactical clothing in use today and so doesn't draw attention to itself.
However, it is a working knife and not for show. The work, however, is medium to small.
The blade is not as robust as the Indian Kukri that has a heavier blade. So, this reviewer would say this is a good knife to add to a beginner's camping kit or for a First Responder that needs a knife that can be expended if necessary on a call out without fear of losing a ton of cash if it is damaged while in use.
---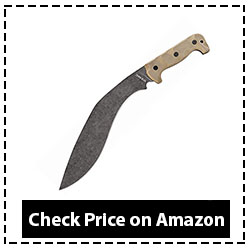 The USMC on this Kukri attracts people the most to it, and the desert tan makes it a good gift for a person serving abroad right now. It is a working Kukri made to help to get things done around the camp.
It is inexpensive so that you would have any qualms about using it for the mundane work in clearing brush and getting a camping area looking shipshape. The stainless steel blade makes the Kukri easy to care for and you have a knife that will serve you well in the field here or abroad.
Key Features:
3Cr13 steel makes for a durable blade and one that doesn't dull with use
The G10 handles ensure a good grip and would crack or melt in the heat of the desert
11-1/2 inch blade gives you the working edge you need to get almost any fieldwork done in a short amount of time
Endorse by the USMC and makes this a gift to give to those who give so much in our defense
Pros
Cuts brush and wood with just a few whacks of the blade.
Sharp enough to do all I want from it and I now carry it in my SUV replacing what I used to keep in my Car Survival Kit.
Perfect for the hand, not too long, and swings easily while in use.
Not a combat knife, but a decent chopper and work knife that makes short work of brush and scrub and the occasion sapling that you need removing.
A decent buy for the money and seems to be able to take abuse well.
Next, to my KA-BAR machete, I love this Kukri best, and it is easier to take with me camping.
Cons
Replace the sheath unless you are keeping the Kukri on the mantel. For fieldwork, it is too flimsy.
Got it as a gift but for a heavy-duty knife for the field, the blade is not as thick as I would like. For light to medium work, it is fine, however.
Reviewer's Comments
Great to see a Kukri finally accepted by the USMC, their working alongside the Gurkhas has rubbed off on them. To go along with the motto of Improvise Adapt and Overcome the Marines have learned the value of the Kukri and though it probably will never replace the KA-BAR, it is now a tool that has found itself wide acceptance both abroad and here as well.
The Desert Warrior is a medium-level entry to the world of work knives and is reasonably priced in the reach of everyone. You can use it without fear of damaging a more expensive piece of cutlery, and it will give you excellent service for whenever you need a tool for cutting and clearing land along with the multitude of other jobs that need doing in the field whether in the desert, forests and mountains anywhere you find yourself.
Final thoughts
Kukri is one of the most versatile knives in the world. It is one of the best combat knives in use today. It also is one of the most useful of tools for opening a path in the dense bush where the shorter length of a Kukri outperforms the longer machete, and the thicker blade of the Kukri does a better job of cutting in one stroke over the many required with the much thinner machetes.
But, of course, the mystique of the Kukri is another point in its favor, and many want to feel the power that one has wields this almost magic knife. However, in reality, the science of length, width, and balance is the real magic of the Kukri that lets it move with such precision and power.
For whatever reason you turn to the Kukri, you have seen 5 of the best Kukri Machetes available on the net today. True you could find others that are more collectible or pricey. However, our intent was to find you one that will get the job you need to be done efficiently and without putting any due hardship on your pocketbook.
That is why we highly recommend these 5 Best Kukri Knives to you. They are reviewed by our experts. You will find out why they are worth buying. Any questions, you can leave a comment to us, and our experts will give you an answer.