Imagine it is a beautiful sunny day and you are a die heart golfer. The first thought that will cross your mind would be to hold off all your commitments and work and drive to the golf course and have a long golf play.
Spending long hours out in the sun can harm your skin and ultimately you. You will not only get tan skin but you will be profusely sweating within only a few minutes of the game. Typically the one round of golf is about four hours long, which means being exposed to the Ultra Violet lights for four long hours.
It is best to have some protection against the heat and UV lights of the sun while you engage in the play. For this purpose, golf hats come with a solid fabric and design that keeps your face protected against the sun. Not just that, these hats absorb the sweat coming off your head thus keep your face clean. They also provide comfort and a nice appearance to your overall golf look.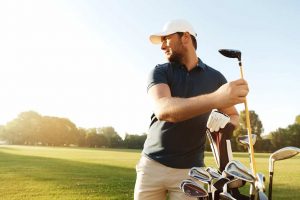 The Golf hats come in many different designs and styles, but each provides an equal amount of benefits. In this article, we will look at some of these designs in detail so keep reading to find out some more about these smart hats.
Bucket Hats
Nicely stitched bucket hats, giving off a classic look should be your first choice if you want to sport a stylish look as well as protection against the sun. these golf hats get their name, bucket, because of their resemblance with a bucket. They are symmetrical and made of a downward sloping brim that is typically about 2 or 3 inches wide.
The brim and the crown of the hat are completely round which gives it a nice compact look. These hats are easy to carry and fit properly due to their hard material, usually canvas or denim. One word that defines these Wide Brim Golf Hats, classy.
Ball caps
The most common types of caps that come with a projecting front brim followed by a rounded crown. They are made of soft material and mostly come with a sweatband. This cap may be the best choice as it has all the features to make you comfortable.
Visors
These hats are called visors because their prominent feature is the projecting front brim. The brim of the hat is followed by a hatband that is used to fasten the cap on the head. There is no hat crown so the cap remains open from the top. They are usually made of soft material just like ball caps.
They are typically picked by those who value style more than anything as visors look quite modish. Where they protect your eyes and face from the sun, they do not provide any protection to your scalp. If you are either bald or have less hair on the head then this hat might not be a good option for you.