A boning knife is primarily used to remove bones from fish, poultry, and meat. They come handy to sort out larger chunks of meat into tiny portions and separate the meat from bones efficiently. The Perkin boning knives accurately debone the meat and hence they are called the deboning knives. If you are passionate about cooking, the deboning knife is a good investment. It makes your kitchen chores convenient and helps you discover new dishes to serve your family. There are different versions of boning knives and choosing the best one is quite a bit of a challenge. Some of the common uses of boning knives have been listed below.
Best Uses of a Boning Knife
Separation of ribs
Deboning poultry
Making salmon fillets
Cutting lamb chops
Trimming fat
Removal of beef bone
Trimming of pork
Making quarters of chicken
The Selection Process – Flexibility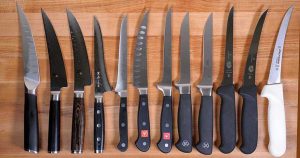 There is a wide range of flexibility levels wherein some are stiffer than others. It depends on your preference and the type of protein you wish to cut with it. Stiff boning knives are ideal to trim meat and make fish fillets like salmon. However, they are quite cumbersome on smaller fish. There are knives available specifically to make fillets. If you choose the flexible boning knife, it is perfect for smaller portions of meat. Small chickens or birds are the ideal examples. They are also suited to trim the fat and remove the skin. Some knives are semi-flexible for meat like pork, beef, and rib portion.
Handle & Blade
Handles are available in many varieties. The majority of them are made of G10 or plastic material. Some knives come with a wooden handle but are made of steel. As far as blades are concerned, the harder they are the better it is. Carbon steel is harder when compared to stainless steel. However, stainless steel has a lower tendency to get oxidized. A good boning knife needs regular washing and drying after use.
The Shape of the Blade
Choose a boning knife with a finger guard for safety purposes. This is indeed a significant feature as meat is mostly slippery. With the help of a finger guard, you can prevent slipping of the meat during the cutting process. There are curve boning knives designed in the market to make the lives simpler. There are boning knives with a wedge shape that are specifically designed to debone fish. These western knives are ideal for ribs, chicken and other meat with larger bones.
Thus, a boning knife is used to do a handful of kitchen tasks and is mostly to do with either removing bone from meat or meat from bones. Butchers use boning knives to pair down a larger portion of meat into small portions and remove beef from bones to prepare delicious hamburgers. In addition to the criteria listed above, it is also important to consider the budget. Several manufacturers are offering this product at distinct prices. Before you purchase a boning knife, consider the features and also go through the customer reviews to figure out the goodness of the knife.
To sum it up, the boning knives are not used as frequently as a pairing knife or a steak knife. However, boning knives are highly efficient when it comes to separating meat from the bone or vice versa. If you already have different types in your kitchen, you can add this as well as there is less wastage of meat. Also, it makes sense to use the right cutting knife in your kitchen to avoid injuries.