We are going to take an in-depth look at the Juiceman jm8000s and add this to the collection of our Juiceman juicer reviews. For those of you trying to find an orange juicer machine that can practically juice perfectly each and every time which allows you to with-hold the nutrients, the Juiceman juicer jm8000s is the juicer you are looking for. One of the primary reasons we let this machine get on our top 5 list is because it functions incredibly for its price range and its category and here is why!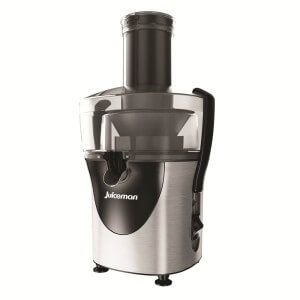 Juiceman jm8000s Review
When it comes to picking the right juicing machine you need to look at the benefits the machine can have not only on your health, but also in your home, your wallet, and your time.
For starters, the Juiceman juice extractor is one of the easiest and convenient all-purpose juicer machines we have run into. The machine in size is not that large and can fit nicely and conveniently in your kitchen where you would like, however, don't let this undermine the power that the juice man juicer can perform at.
The Juiceman jm8000s has a whopping 800 watts of power which can be adjusted at high and low-speed controls. The feeding mouth on the Juiceman jm8000s is approximately 3 inches wide which allows you to go through less hassle of pre-cutting fruits and veggies before juicing them. Besides the large feeding tube, this is similar to the Juiceman citrus juicer in the fact that it has a large integrated pulp container which allows you to juice more at once without having to worry about clean-up.
One of the greatest features of the Juiceman jm8000s is the citrus juicer attachment. Since we are all about orange juicer machines and citrus fruits and that is where our reviews primarily focus on this guy can handle small to large citrus fruits at ease. Unlike other juicers, the Juiceman jm800s includes two juicing cones with automatic juicing action which pretty much does all the citrus and all-purpose juicing for you.
If you are into citrus juicing and not a fan of manual or industrial orange juice machines this Juiceman juicer might be a good option for you. Along with the juice man juicer comes a convenient juice pitcher which serves as a guide to how much you should be juicing at once before adding more fruits and vegetables. How does a fresh cup of green juice or orange juice in the morning sound in under 30 seconds? Yeah, this guy can do that!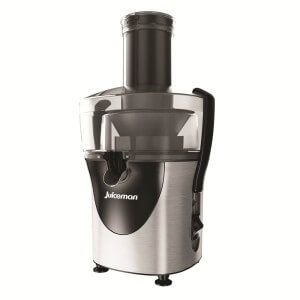 Features
If you are one of those people that like a fresh cup of nutritious juice in the morning before you start your day, this juice man juicer can do that and more. Let's look at some of the primary features of the Juiceman juicer jm8000s in this review which makes this juicer out perform many of the other orange juice machines and all-purpose juicers we have tested. Keep in mind that this specific Juiceman unit is multi-purpose and not only for citrus fruits, however, but we also had a very good experience with the citrus function so we had to include this in our top 5 orange juicer machine list.
Highlights:
The juice man juicer has 800 watts of high power
High and low-speed controls for effective juicing
3-inch wide mouth feed in order to control effectively how much you put into the juicer.
Custom juice pitcher for accurate measuring
Extra-large pulp container which is integrated into the juicer
Additional Details
Like any of the orange juicers and all-purpose juicers out there, this juicer is not a hundred percent perfect, and we have highlighted some cons we ran into when using this machine. These were not as dramatic as to performance but were little aspects of the juiceman juice extractor that we felt the need to highlight.
Cons:
When juicing apples and carrots we noticed the Juiceman juicer had to be stopped and continuously cleaned to continue operation.
On larger harder vegetables such as carrots, there was extra pulp leftover.
The Juiceman jm8000s juicer is quite a noisy machine.
When we test out any juicer the primary functions we look at are how the juicer performs when juicing citrus fruits. We focus primarily on orange juicer machines and see how the juicer we are testing performs when it comes to orange juice in specific.
As for the Juiceman jm8000s we recommend this juicer to those of you who focus on citrus fruits as the results were outstanding. With the two cones and automatic citrus juicing function it cannot get any easier for someone who is new to using a citrus juicer. In comparison to other orange juice machines out there, this one is friendly for new juicers. However, with that in mind, we do not recommend the juice man juicer jm8000s for those of you who do conventional juicing. When it came to carrots and apples we ran into some issues, for other vegetables and fruits it did fine. However, for people who are looking to do more conventional juicing, we reviewed the Breville model below which in our opinion performs better in that aspect.
Conclusion: Review Juiceman Juicer Jm8000s
For us, this is an affordable and well-performing citrus juicer. With the compact design and stainless steel finish, it also would look nice in any of your kitchens. When it comes to citrus juicing the Juiceman jm8000s performs extremely well and can get you a cup of fresh orange juice in under 30 seconds first thing in the morning. We highly recommend this Juiceman juicer jm8000s to anyone getting into orange juicing machines or citrus juicer. For the price and ease of use for citrus juicing it is definitely one of our top 5 orange juicer machines.
READ BUYER REVIEWS HERE
The competitor to the Juiceman jm800s
If you know us then you know we got to do a few product comparisons in order to let you know exactly what you are getting yourself into when picking up a juicer like the jm800s citrus juicer by Juiceman. One of the hard-hitting contenders to this orange juicer machine was the Breville BJE200XL Compact Juice Fountain 700-Watt Juice Extractor, prices a little higher but let's see how it compares to the Juiceman juicer.
One of the things you got to know about the Breville juicer when compared to Juiceman is that it is really powerful. We compared this to the Jack LaLanne juicer as well and it was definitely more powerful than that juicer as well. In terms of design, it was a very high end and top-notch. From the plug which is a molded loop to the basket design that basically doesn't need any addition in order to get everything into place.
The Breville fountain combines efficiency with high-end technology to give you a great juicing experience. It is very simple to operate and doesn't need any additional intervention in order to push ingredients down the chute due to blockage. This is one problem we did have with the Juiceman jm8000s where we would sometimes run into a hiccup and have to force the contents down the shoot. It has enough power and pristine blades in order to process the fruits and vegetables into extremely small tidbits to produce the smoothest juice.
We could go on for days about the design of the Breville bje200xl but then we would most likely bore you! It is a breeze to assemble and take apart and it juices quickly and efficiently which is one of the main deciding factors we look for when choosing a good juicer. Cleaning the machine is very simple too, barely takes more than two or three minutes to clean this guy down. Along with the juicer, Breville includes with it a brush for cleaning the juicer's mesh interior screen which makes the cleanup process much more easier. Besides that, most of the parts of the juicer are completely dishwasher safe and don't have any issues when cleaning up.
Product Benefits and Specifications:
The pulp is very dry after juicing which is not commonly found in other juicers.
The design is a heavy-duty compact design that has a centered knife blade assembly which makes it extremely powerful and strong during the juicing phase.
Operates at a 14,000 RPM with a 700-watt power behind it.
The feed tube is extra large which allows for easy prep for juicing.
The juice that comes out is extremely thin and smooth which makes it a lot easier for you to drink and consumer.
Great at juicing hard fruits and vegetables
Long-lasting
More Details
Cons:
When it comes to juicing the machine can get a bit loud.
Sometimes has issues with pulp when it comes to apples and celery.
Bottom Line
In our honest opinion, we would have to say the Breville bje200XL is on par if not better than the Juiceman jm8000s. One arena the Breville performed better was in continuous juicing. While the Juiceman did have issues, where we ran into hiccups and choking the Breville, didn't seem to have this problem. Also the Breville according to buyer reviews on Amazon is meant to last over 3 years and still function as brand new. If you have the budget we would definitely recommend this over the Juiceman.