There is nothing better than having construction materials that allow efficient photosynthesis and control heat. Polygal is such material that is suitable for the construction of a new greenhouse or upgrade of an old one. With the occurrence of unpredictable weather conditions, you need to have multi-wall polycarbonate plastic panels because they allow adequate light to pass through and are durable. To have a clear picture of Polygal, below are its features and benefits.
Features of Polygal
The multi-wall structure of polycarbonate means that it provides excellent insulation in your greenhouse. These plastic sheets come in various thicknesses, but all of them ensure that you eliminate hot spots. The appearance of a polycarbonate plastic sheet looks similar to a piece of a cardboard box. A polycarbonate sheet features a rib that goes between the 2 plastic sheets, but it's not wavy as it is in a cardboard box. This rib prevents you from having a clear view of the inside.
The good part is that you can still see the color of your plants in your greenhouse, and photosynthesis is not affected at all. Photosynthesis is important for the well-being of your plants. However, if you want to be able to have a clear view of a plant, then you can choose polycarbonate plastic sheets with the glass sidewalls. This choice is ideal if you want to have clarity of glass while also enjoying the full benefits of a polycarbonate greenhouse.
The Benefits of Polycarbonate Plastic Sheets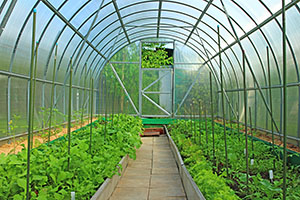 If you want to construct a greenhouse, polycarbonate plastic sheets will meet your expectations. They have great light transmission and thermal insulation properties. The best thing is that they don't affect the photosynthesis on your plants. You can even get the sheets with an anti-fog surface treatment to improve the amount of light transmitted through even in bad weather conditions. This anti-fog surface treatment also prevents condensation and dripping. In this way, you can optimize the growth of produce and production while reducing the expenses.
Many large scale industrial greenhouses also use multi-wall polycarbonate plastic sheets. This is because they are lightweight, have selective wavelength pigment, and have excellent strength and durability. The plastic sheets are also aesthetically pleasing to look at, easy to install and repair since they don't require any extra structural support.
Types of Multi-wall Polycarbonate Plastic Sheets
The polycarbonate plastic sheets come in a variety of colors and thicknesses to meet every project's specifications. For professional growers who desire to grow their plants from seeds, then consider getting polymatte polygal. This plastic sheet allows excellent light diffusion. However, if you want your plants to have natural solar light for smooth photosynthesis, your best option is Polygal. This plastic sheet maximizes the growing conditions of your plants while keeping the heat out.
Another great choice is BlockOut. This polygal is the latest addition in the market and is ideal for artificial lit greenhouses. Many people like it because it prevents any light transmission while offering great thermal insulation.
No matter the type of multi-wall polycarbonate you might need for your project Greenhouse Panels at Regal Plastics can offer one that meets your needs. We offer multi-wall polycarbonate to help your plants to have a more consistent growing environment. We take pride in producing standard polygal and many other types of polygal suitable for residential and commercial greenhouses.