During various wars, service people have had to survive in jungles all over the world. One of the items that have made it livable is the rain Poncho. When worn it keeps a person dry and protects from the wind that causes loss of body heat.
The poncho can also be fashioned into a personal shelter; it also serves as a ground cloth as well. Another feature was that it helped break up a soldier's silhouette and made them difficult to see in the jungle or bush country.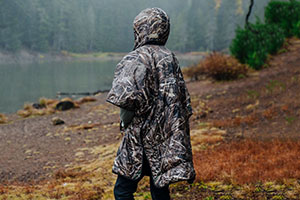 Today, the rain Poncho has taken on new popularity with campers, hunters, survivalists, and even urban city dwellers for some if not all of the above benefits. The new ponchos fold into compact bundles that can fit into a purse, side-pack, and backpack.
They are easy to carry and will keep you dry and even act as a sunshade if the sun gets too hot. We have brought you 5 Rain Ponchos and review them for you. They are useful for all the right reasons and one is even fashionable as well.
You will never be caught wet in a sudden rainstorm with the aid of one of them if you have it with you when the heavens open and it starts to pour.
Best Rain Ponchos in 2021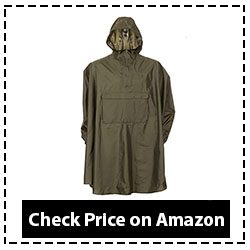 When you are out alone in the wilderness and night is falling, the temperature can drop to dangerous levels almost immediately. That's where a poncho can save your life. Modeled after the military version you have protection from the wind, rain, and snow.
Keeping dry is the key and this versatile garment provides this in a number of ways. Aside from being a rain shield, that covers not only you but your backpack as well. It also features a watertight flapped Velcro pocket that holds maps, a compass, or your portable GPS unit.
So, you can navigate and travel even in bad weather to reach safety and warmth. In addition, when you want to stop for the night you can transform your poncho from a garment to a survival shelter or Bivy.
This mini-tent then keeps you snug and dry so you can eat and sleep until daylight comes and you can continue on your hike or excursion into the wild.
You don't have to be loaded down with a heavy tent that takes energy and time to set up and tear down Made from lightweight Paratex Dry it is 100% waterproof and has a wide hood that has adjustable thumb loops.
You now have the ultimate in survival gear that goes anywhere in the world and will protect you from harsh weather and the elements.
---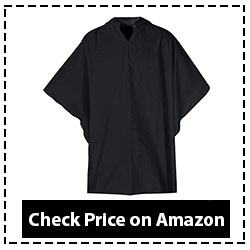 The Aerolite Poncho comes in a variety of designer colors and folds into a small package that fits into a briefcase, daypack, and a woman's tote. The perfect "Just In Case" item is superior to an umbrella as it protects you and your clothing from the salt spray, rain, and wind all at the same time.
In Chicago snow flies, the winds howl, and this tough outer shell over your coat stops the wind and keeps the snow off you when you have to go out in it to get to work.
It is just the right size to protect you from the elements and yet not hamper your movements in any way.
So, now when it is stormy outside you can smile and look forward to a nice walk in the rain while other people are scurrying and hunched over to avoid the weather. You can walk calm and relaxed and enjoy the spectacle that mother nature is putting on for you and maybe you'll start looking forward to rainy days as you can enjoy them snug and dry with your Aerolite Rain Poncho.
---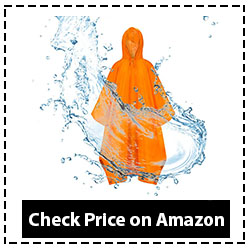 A piece of rain gear that weighs only 300 grams and folds into a 9 X 3″ size and yet expands into a 55 X 90 1/2″ size. It is multifunctional as a rain poncho primarily.
However, if you are caught away from your camping party and it begins to rain or snow it becomes a survival shelter that can keep you warm and dry until you can make your way back or until help arrives. No Prepper, outdoorsman, and camper should be without this one item. Next to a good hunting knife, a rain poncho is a must-have item for when you go hiking and trekking through woods, mountains, and deserts.
Bright orange for visibility can be laid out on the ground if you become lost and is easily seen from the air. It also can become a comfortable sleeping mat to keep you from sleeping on the hard ground when the weather is fair. Ponchos proved their worth in the jungles of South East Asia and today are part of service member's basic loadout, a First Responder's Go Bag, a Prepper's Bug Out Bag.
Hikers and campers who travel the world over carrying ponchos. Now you can have one too at an economical price for something that can save your life.
---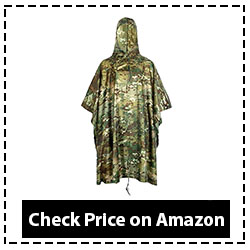 When you are hiking or walking the streets in cities like Bangkok or even Hong Kong rain can catch you off guard. That's where you need a rain poncho as it can not only cover you but your daypack or backpack as well.
The beauty of this poncho can also be used as an awning for a tent to block the rays of the sun or as a ground mat to lay on the beaches of the Thai island of Phuket for fun in the sun on a tropical paradise as well.
If you are a hunter or woodsman, you can move through the forest under the tree canopy and remain unseen as you stalk your prey. With its camouflage patterning that breaks up your outline you, don't frighten the wildlife. For the nature photographer, it allows you to get closer than you ever imagined to birds and other animals to get some of the best pictures you have ever taken.
Made from lightweight materials it folds into a compact pouch that fits into your camera bag, backpack, and tote.
Stay dry, block the sun, and remain unseen with Lmeison Camouflage Rain Poncho.
---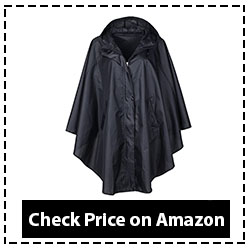 For the woman who wants to protect her clothes from today's acid rain that is falling over many metropolitan areas these days and yet maintain a bit of her fashion sense while you head out from your office for a meeting, luncheon engagement, and of course shopping.
QZUnique gives you a selection of Now colors that go with your clothing and it is ready to leap into action at the first hint of rain. The material is light, its batwing design covers your arms well, and it hangs down to your knees.
The material is ultra water-resistant and is made from an Eco-Friendly Pongee.
For the young woman, it goes with your current fun attire and lets you move freely and with no annoying swish or crinkly sound. It even can be used in the snow when you are hiking, trekking, and a quiet walk in the park. Now you can stay dry, keep off the wind, and make a fashion statement all with one accessory.
---
Final Thoughts
Now you can get out in the wild and hunt, fish, and go cross-country like the frontiersmen of old when you have the right gear it easy. The three basics are fire, a good knife, and shelter. Today you have seen that a poncho can fill the third of these needs and we have offered up 5 ponchos that keep you dry, protect you from the elements and in an emergency, some can become a Bivouac shelter or Bivvi for short that can keep you alive during cold and harsh weather.
But, they can also be a fashion statement and let you enjoy the rain and walk in it unfetter in your movement. This freedom of movement is what draws many people to the Poncho over other forms of outdoor gear. The many designer colors that they come in allow you to mix and match with your wardrobe with ease.
For the outdoorsman, you can blend in with the environment and get close to wildlife for picture taking. Therefore, you see the poncho is one of the most versatile pieces of gear that you can have when you decide to go hiking, traveling around the world, and camping out in the wild.