With summer comes there is a great desire to take to the great outdoors, especially if you have managed to survive a nasty winter. Camping is a popular choice for families as it allows them to spend quality time together in the fresh air. Combine that with a beach tent location and it can be an exciting time for all and whether you decide to surf, swim or just sunbathe, you can enjoy the sound of the lapping waves and some lovely scenery. When you do decide to camp at the beach, there are considerations that you must take into account before doing so.
Permission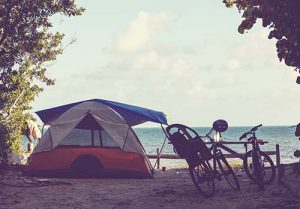 You must, first of all, find out if your preferred site allows camping and overnight stop, not all beach areas will allow you to do that and if you do not seek permission, you could find yourself facing a heavy fine. People assume that they can camp almost anywhere and such is not the case. It may be worthwhile to look for a purpose-built campsite alongside the beach.
Facilities
You will need some facilities, you will need to be able to wash, to go to the toilet and it may be nice to have something close by where you can purchase a hot drink or some breakfast. Going to a purpose-built campsite may incur a cost but it will allow you to have access to facilities.
Setting up Camp
You need to remember that the sea has a tide and when you arrive, it may be that the tide is out. If you have not been to that location before, you have no way of knowing that. It is always advisable to look at where others have set up camp and follow suit, there is often a reason for their choice. If you can, ask, locals will be aware of where the tide line is as will any attendant, do not assume.
Watch out for Trees
Trees can be a great source of shade but not all trees are safe to be around. Branches can fall from the trees and you have no way of knowing whether a tree is healthy or not, so it is best not to camp too close to large trees.
Type of Land
Look for a flat piece of land, void of lumps and bumps, remember, you want to be able to have a comfortable night's sleep. It is worth smoothing the area over before positioning your tent.
Safe Bathing
If you are with your family and especially if your family group includes children, the safety of the environment will be of prime concern. The water should be shallow at the shore and have no sudden dips which could put young children quickly out of their depth. Large stones and boulders can be very uncomfortable underfloor and if possible choose a sandy area. Young children can wander off, become distracted and carried away with the fun of the moment.
Camping can be fun but it has to be planned. You need the right equipment for your comfort and safety.