For many of us, before we got into juicing our to-go spot was Jamba juice. I remember every time I and my wife would head over to Jamba juice we would always wonder what is the Jamba Juice juicer that they use to produce such fresh and tasty juice? After realizing we were spending way too much of our hard-earned money over at Jamba juice for just a 16oz cup of fresh juice we decided it is time to get into our own juicing scheme to save money. The first juicer we got was the black and decker juicer extractor and before we knew it we were purchasing manual orange juice press machines just for the heck of it! After doing a bit of research on the juicer's in the market we came across the Jamba Juice Citrus Juicer which guesses what? This is one of the machines Jamba juice actually uses in their operations to produce the juice that they charge ten times more money for that if you made it yourself with this exact same machine! For this reason, we had to simply buy this and take for a spin, or shall we say a review!
The first and most obvious trait we picked up on this orange juicer machine was the fact that it has a heavy-duty metal construction. I know we bring this up a lot in our orange squeezer machine reviews, but guess what, to us having a press that has a heavy-duty build is very important.
This not only gives you better aesthetics for the kitchen but also a longer-lasting machine that will produce your juice, we hope for a lifetime. The acid-resistant finish on the outside of the juicer allows for the maximum yield of juice without having to worry about erosion and other such things which will bring down the durability of your manual juice press or commercial juicer. The completely ergonomic design requires no electricity what so ever during juicing and the handle is designed in such a way that anyone can juice without putting much effort into the juicing process.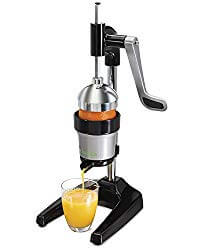 As you can see from the design above there definitely is a unique design in the Jamba Juice Juicer just by the way the handle is shaped. The easy-grip handle allows for you to get the maximum amount of orange juice out of the machine without much of a hassle, in comparison to other levers which may just be a parallel push. Despite having such a solid heavy-duty design the size of the Jamba juice citrus juicer is quite ideal, you are looking 9.1 inches by 8.8 inches by 17.8 inches. This makes for a commercial orange juice maker which is not too large yet not too small in order to handle the job right.
Aside from that, you have a stainless steel reamer that is able to effectively and efficiently filter out all the extra fluff such as seeds and orange peels or anything else that may get in the way of a fresh cup of orange juice. The drip spout on the Jamba juice juicer is something we really can vouch for the design of the drip spout allows for a neat and clean pour into the glass as if the liquid is coming out from a fountain machine at a fast-food spot. The drip spout only adds to the professionalism of the orange squeezer machine just by the fact that it gives a clean design as well as a very easy pour once you are done juicing.
We also want to heavily emphasize that the Jamba Juice Citrus Juicer is not only for squeezing oranges but rather it's very versatile in squeezing all other citrus fruits. In fact, this was one of the few juicers where we had no issues in squeezing grapefruits due to the size of the actual press.
Let's take a quick look at some of the Pros and the Cons of the machine and then we will go ahead and dive a bit into our personal experience with this orange juice machine.
Pros
Heavy-duty construction out of metal with acid-resistant coating for maximum durability and lifetime.
The handle has an ergonomic design that goes along with the easy-grip handle for complete ease of use while juicing.
Easy clean up as the parts of the machine is easy to take apart and clean.
The stainless steel reamer on the juicer can hold any citrus fruit securely without having to worry about the fruit moving out of place while juicing.
Great filtering availability as well as being BPA free
A 5 year limited warranty when purchased.
Cons
The price of the unit is higher than the other machines.
Check Availability and Pricing
Bottom Line
When really look into the Jamba juice juicer in depth we can realize that this juicer takes an entirely different approach in comparison to many conventional commercial orange juice presses. It is basically like playing with a slot machine when you are juicing. You simply load up half an orange into the machine and pull the lever like your in a casino playing the slot machines. After you are done with this the cleaning process is extremely easy and can be done without any hassle which makes it very easy to use and to carry out. Also when it comes to the price of the machine we are not surprised at all at the price of the machine being on the higher side as it really functions efficiently as a professional machine. It literally squeezes every drop of juice out of your fresh fruit to give you the maximum amount of juice from each fruit you use. From juicing to cleaning we would have to say the Jamba Appliances Citrus Juicer exceeded our expectations and we recommend this unit to anyone who is looking for a professional style juicer at home.