Hunting mountain goats are always in peruse of a true hunter who is yet to get the experience, this should be a trophy of honor to win. Those who already have some experiences, can't still give up the thrill as it is always fun and challenging.
Mountain goats belong to the family named antelope and by nature and other properties, they aren't somewhat like the general goats. Hunting mountain goats require hefty time, energy, and most importantly, patience. They do not come easy and they are well-known for their unforgiving and harsh nature. However, hunting these goats can be easier if you come across the things you should know before you are out for hunting purposes. Let's acknowledge the points.
Where to Find the Mountain Goats
Mountain goats are found mainly in the rocky areas of North America and Canada. In the central part of Idaho, you will find most of them roaming around. In Sawtooths, Bitterroot mountains, Seven Devils, and White Clouds of Idaho, the goats are found. The range of mountain goats is also stretched in Montana, Washington, Alberta, British Columbia, and also in Alaska and Yukon.
However, these hunting goats are likely to have habitats on higher mountain areas and above the tree line. At the elevations of the mountains of 4000-meters or higher, these goats are found. They are also considered one of the largest mammals.
How Do You Recognize the Mountain Goat?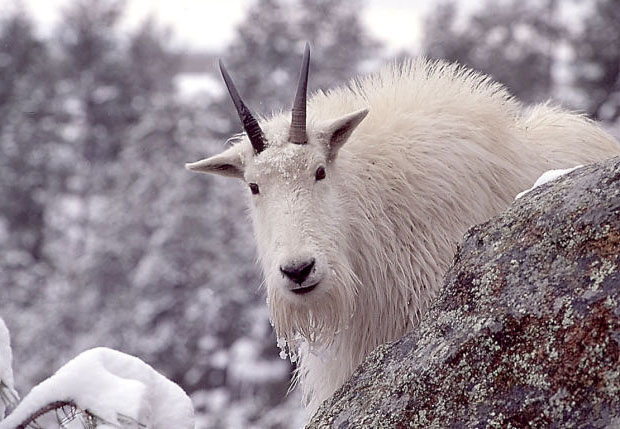 Well, the mountain goats come with a very distinctive appearance, nature, and other characteristics. You better not compare them with a normal goat you might have grown up seeing. Most of the mountain goats come with a weight from 150 to 220 pounds. They also come with a height from 3 to 3.5 feet.
However, the male goats are known as billies whereas the females are recognized as nannies. Though they have different names, yet it is quite tough to differentiate between the male and female ones. But if you observe them keenly you may find out the differences. The billies are likely to roam around alone whereas the female ones stay with their kids.
Both the male and female goats have their distinctive black slender horns with annual rings to understand their age. They also have powerful shoulders and their body is coated with two layers of white fur. Again, with the age, they start growing bears on their chins.
Best Time for Hunting Mountain Goats
Hunting mountain goats are pretty tough and challenging. Hence, you get to know the best time for your hunting convenience. The best time for hunting the mountain goats is in winter. From the month of September to December, the hunting gets easier. Within these months the goats move from the mountains to the wintering grounds.
As in the winter, the goats stay near to the mountain bottom, it is easier for a non-experienced hunter to bag a mountain goat. Again, in this season the mountain goats are covered with long hair. However, you can go to the late-season hunts as well. But, in this case, it will be a physical hunt as you have to climb the mountain for some hours. Fly-ins are also good options for the month of August and September.
Why Mountain Goats to Hunt?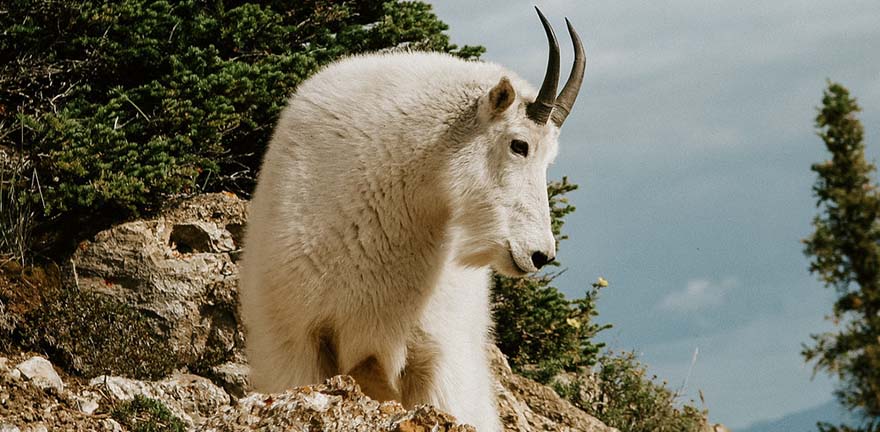 Mountain goat hunting is one of the most challenging hunting games ever! The trophy goats bring great honor to the hunter. The skin of the goats is very impressive as they are undercoated with fine, frequent, and dense wool. Also, they have an overcoat of hollow and longer hair. However, many enthusiast hunters want to achieve the trophy risking it all.
But it is highly suggested to go alone for this challenging hunt. This hunt takes place in the hard terrain and sometimes the hunting takes place in the arctic mountains far from the spike tent camps. If you take the risk alone then you better know a single small mistake can lead you to a slow and the most painful death.
However, many hunters go out to achieve a mountain goat trophy but only a few can finally boast the goat trophy. It is because hunting is not every hunter's cup of tea. It takes a lot of money and courage to hunt a mountain goat but, the goat and its skin or horns are not worth the money. What makes it worth is the experience. The experience of mountain goat hunting is undoubtedly priceless.
Methods of Hunting Mountain Goats
Hunting a mountain goat is not that much of an easy task. The method may seem easy but, the hunting is quite tough. However, the only method of hunting them is to detect, stalk, and finally hunt. The goats often come down the alpine meadow altitude which is an advantage. Nonetheless, you have to spot the goat and this task is not so difficult because of their distinctive snow-white fur.
They are easily seen through the meadows and rocks even from a long distance. When you see it then you have to stalk the goat. However, stalking a mountain goat is a problem as they are one of the warmest and most alert animals. If anyhow they sense your presence they will not take time to vanish.
Weapon for Hunting Goat
It is not unheard of that mountain goats are the most difficult game animal for hunting. Getting even any closer to the goat is a great joy and if you somehow manage to own it then it will be a lifetime achievement for sure. However, to hunt the mountain goats you have to be very selective in choosing a weapon for it.
It has to be lightweight enough so that you can carry it up the mountains without any trouble. It should be capable enough to hit the animal hard so that it cannot run off the cliff. For hunting purposes, bolt gun weapons are very famous. The guns are reliable and deliver all the required traits.
However, many other cartridges are also specially made to hunt the mountain goats like the Kimber Mountain Ascent in .270 WSM, Remington Model 7in. 260 Remington, Browning X-Bolt in .325 WSM, and all. Hitting and anchoring of the goat become easier with these rifles or cartridges.
Be properly equipped
It needs no mention that you need to be well-equipped with hunting gear on every occasion. Most of the time, your arrangements decide your success in the big games. Apart from the dresses and regular gears, you have to especially think about communication as mountainous reasons will easily tear apart your large team into smalls. That's why you need to carry the proper walkie-talkies for mountains.
Cost of the Hunting
Mountain goat hunting is comparatively expensive hunting. You have to count a large amount of pennies for this purpose. As the animals are rare and found in the wilderness mountain areas, the travel part takes a great amount. You might have to count from 4000USD to 10000USD for it.
Again, though many agencies, you can have a great deal of hunting the mountain goats along with other species which is also a better idea.
Conclusion
Long story short, hunting mountain goat is the most thrilling and adventurous hunting ever! Enthusiast people out there actually appreciate this hunting game only for its recognition as the trophy hunt. The goats have no use of sustenance. Their meat is not palatable at all.
But these good climbers are real fun to catch for a true hunter. Because of the rubbery pads in their hooves, they climb swiftly to the mountains and stalking them, and then catching them makes the whole experience way terrific and dreadful!