If you think the gas and electric cooktops are the only ways to cook, think it again. After knowing about the best induction cookware and induction cooktops, surely you will keen to have them.
Eco-friendly highly efficient Induction cook technology has already popular in Europe, but sadly it's almost unknown in the U.S.A.
Some popular myths are the reason behind this, like the high price tag, extra bill, extra care, time-consuming, etc. Latterly you will see, I break these myths step by step.
Now a day, it seems falling prices, growing consumer awareness finally help this superior technology to embrace the Americans.
I show you the features, benefits of several best induction cookware & obviously the best induction cooktops all in one.
It took several month's researches on the induction technology to me and now you get the fruit in a couple of minutes.

Induction cookware & cooktops are the masters of the new era cooking system, capable enough to melt butter and chocolate smoothly and also powerful enough to bring six cups of water to a boil in just three minutes.
Now I like to take you one of my engineering degree classes, from where I learned,
What is Induction Cooking System?
---
The actual working principle of the induction cooktop is quite simple. Once the power is on the ac current passes through the copper coil under the ceramic plate of an induction cooktop, thus it produces a magnetic field.
The bottom of the induction cookware will be induced and produces an eddy current, which directly heats up the cookware, and ultimately heats the food.
Don't get it, pretty hard?
Well, you don't need to understand this. Basically, I try to say, the induction cooktop only heats up the induction cookware, simply no heat or energy loss at all like gas tops.
---
You can see no energy loss; the induction cooktop only heats up the induction cooker.
Efficiencies of Various Cooktops
US Department of Energy did some boiling water tests to find the efficiency of various types of cook-tops (Source:
US DOE
)
| | Gas | Electric | Induction |
| --- | --- | --- | --- |
| Efficiency | 40% | 74% | 84% |
Now you can understand how much energy-efficient induction cooking is. Initially, you might pay more than another cooktop for an induction one but you will get the benefit in the long term.

If you don't have induction cookware, yet you think to buy an induction cooktop.
Don't worry,
You don't need to buy a new cookware set, I have a solution for that.

Now let me introduce A to Z of induction cookware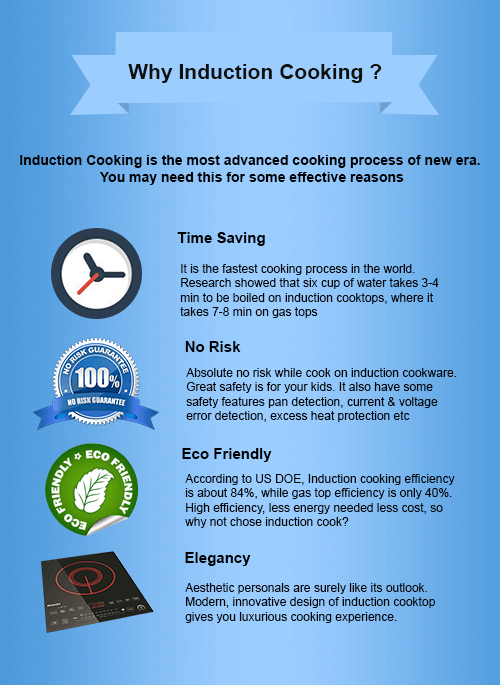 Now, I like to introduce some of the best inducting cookware so far including some basic ideas like its construction, specialties, etc.

Best Induction Cookware
When you are willing to buy induction cookware, the first thing you have to consider its construction material.
It is an important fact to choose induction cookware because different material-built cookware gives you a variety of cooking experiences as well as the price also differs.
Sometimes you need to change your culinary techniques. So, it's better to have some knowledge of induction cookware materials.
Later I show an info-graphics about How to choose induction cookware. I hope, it is convenient for you to choose the best induction cookware that fits you.
After the market analysis, I figure out, there are several types of induction cookware constructional materials. For more, you can visit cookwareinsider.com.
Here you get the full descriptions over it along with some best-selling induction cookware on Amazon.
Stainless Steel Cookware Sets
Nonstick Hard Anodized Cookware Sets
Cast Iron Cookware Sets
Ceramic Nonstick Cookware Sets
Granite Ware
Stainless steel induction cookware grabs the first choice of professional chefs and also it is popular with home cooks for little pricey and durability.
Other induction cookware sets also have appeal for several benefits as artistic design, non-stick cook surface, efficiency & lightweight.
But it's wise to learn more before buying cookware because you are not willing to replace it two, three, or five years even more.
It's great to have a precise choice of what you need first. Your perfect decision can turn out as significant savings in the future.

Stainless Steel Induction Cookware
Earlier I said, stainless steel induction cookware is the first choice, professional chefs. It works great on induction cooktops.
Basically, the induction cookware base has to be made of a stainless steel base. In accordance with the induction cooking mechanism, 18/0 (18% Chromium, 0% Nickel) stainless steel cookware base is perfect as it is attracted by a magnet.
Stainless steel cookware is mainly popular for heavy-duty although you may suffer on cleaning. You should season your pan before cook, thus, the surface becomes nonstick and easier cleaning process.
Do you know, there are two series of stainless steel on the market.
300 series stainless steel is better for induction cookware.
Stainless steel cookware I stamped like 18/8 or 18/10, which actually indicates how much chromium and nickel the alloy it has. The first number of sequences refers to % of chromium (Cr), and the second refers to the % of nickel.
Most of the stainless cookware body is 18/10 grade which means 18% Chromium & 10% nickel. And base is 18/0 grade which means 18% Chromium & 0% nickel. Because the cookware base has to be magnetic to work on an induction cooktop.
Best Selling Stainless Steel Induction Cookware Sets Reviews 2021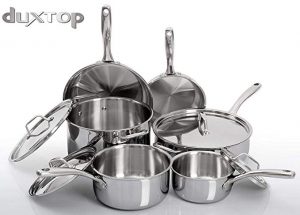 At the moment, you prepare a family dinner or a party meal, along with your culinary skills you also need a high-performance cookware set that has all the ability to make you, the family's favorite chef.
I recommend
that's the popular choice of top-class chefs all over the USA.
Features: ★★★★★
Design: ★★★★☆
Our Rating: ★★★★☆
It comes with Tri-Ply construction, grade 18/10 stainless steel, shatter-resistant tempered glass, compatibility with any type of cookstove, and lots more convenient features.
Best Features
Cookware Set Includes: It is packed with 8-Inch & 10-Inch fry pan, 3-Quart Saute Pan with Lid, 1.6 Quart, and 3-Quart covered saucepan, 6-1/2 Quart saucepot with cover
Stainless-steel Quality: Mirror polished a high-grade 18/10 stainless steel, the bottom is 18/0 stainless steel. As a 300 series stainless steel cookware, it has better rust resistivity
Specialty: Tri-layered the capsulated bottom with 

Aluminum

 to distribute heat evenly and prevents hotspot
Oven Safety: Oven-safe to 550 degrees F
Metal Utensil Capability: Complete Metal utensil safe
Lids: Durable Metal Lids
Freezer-safe: Freezer-safe for food storage
Dishwasher Capability: Dishwasher safe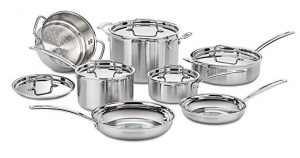 The US-made Cuisinart brand is well known for its quality & performance.
basically made for professional chefs for heavy-duty. It is the best seller for a couple of years.
Features: ★★★★★
Design: ★★★★★
Our Rating: ★★★★★
This Cuisinart MCP-12N Multi-Clad Pro Stainless Steel 12-Piece Cookware Set was last updated in 2012 along with the exciting construction, mirror polished modern and comfortable handle design.
Unique Tri-ply construction with a brushed stainless steel exterior and a stainless steel interior, a pure aluminum core inside on it like a sandwich it provides even heat distribution to ensure ultimate performance.
Best Features
Cookware Set Includes: It comes with 3-1/2 and 3-quart covered saucepans, 8-inch & 10-inch open skillets, 8-quart covered stockpot and a 1/2-quart covered saute pan. This cookware set has a special part Steamer insert with a lid and it also fits on both the 1-1/2-quart and 3-quart saucepans.
Stainless-steel Quality: 18/10 stainless steel, the bottom is 18/0 stainless steel. 300 series stainless steel cookware, excellent rust resistivity.
Specialty: Tri-layered capsulated bottom with Aluminum; distributes heat evenly and prevents hotspot.
Oven Safety: Safety up to 500 degrees F
Metal Utensil Capability: Metal utensil safe
Lids: Durable Metal Lids
Freezer-safe: Freezer-safe for food storage
Dishwasher Capability: Dishwasher safe
One thing that needs to be clear, not all of the stainless steel cookware works well or equally in induction cooktops. Cheap stainless steel products don't have a core at all.
Best stainless steel cookware has copper or aluminum or both cores that are sandwiched between the layers of stainless steel inside and outside.
This construction ensures better heat conduction than the stainless steel itself. Most importantly, it provides the evenest heat for cooking.
Now it's better to know some stainless steel cookware cooking tips.
Stainless Steel Cooking Tips:
Season your stainless steel pan before cook to experience a nonstick cooking surface. You may need more oil but it doesn't matter when the food is tasty.
Heat the pan: Heat your stainless steel pan for about 1 to 2 minutes over medium-high heat.
Oil the pan: Once the pan gets hot, add a tablespoon of oil to the cooking surface, spread the oil on the surface.
Heat oil: Continue to heat the oil until begins to smoke. As far as the pan heats, the oil will be embedded into the pan, thereby you will get a coating on the pan like non-stick cookware.
Turn off the heat: Once the oil begins to smoke, turn off the heat and cool down the oil completely. Once the oil cools down, the cooking surface becomes reflective as a mirror, now your stainless steel pan is seasoned.
Pour off the oil: After seasoning, pour the oil from the pan into a jar/cup.
Maintain the non-stick surface: As long as you don't wash your pan. The nonstick surface may last a few times. You need to use some extra oil than usual, to prevent the surface oil from burning.
When the cooking surface of the pan starts to turn brown or yellow, you need to re-season the pan to get the nonstick surface back again.

Nonstick Hard-Anodized Induction Cookware
Nonstick cookware is a popular choice for households, because of its easy cleaning process.
Many American women fetch up with cooking regular meals, feel discomfort cook new items because of fearing the long cookware clean-up.
Those days, women spend most of their time in the kitchen, is for washing cookware, are over. No need to rub too hard.
Nonstick cookware needs less oil for cooking and can be easily cleaned by kitchen tissues. But again the money matters, high-quality nonstick cookware lasts long and performs well.
When pans and pots are coated with an electrochemically-hardened aluminum layer, it forms hard anodized aluminum.
Be careful, in the market, not all nonstick hard anodized cookware is induction-ready cookware. Most of them are aluminum made and it is not compatible with induction cooktops.
Only stainless steel base hard anodized is compatible with an induction cooktop. You need to be vigilant because they don't mention clearly that it is not induction ready.
Hard Anodized Cookware Benefits
It has some specialty over stainless steel cookware and rests.
It heats up fast and spreads heat on the surface evenly
Prevents from producing hot spots; those hot spots may burn your food
Hard-anodized aluminum sets usually more durable because of their material properties as compared to non-anodized one
It consumes less energy and shortens your cooking time
Nonstick Hard Anodized Induction Cookware Sets Reviews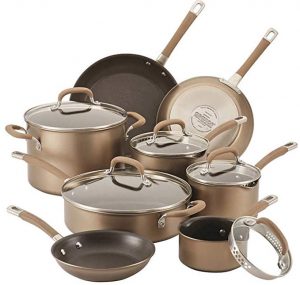 There is some high-quality hard anodized cookware on the market, we find out the best nonstick hard anodized cookware is the creator of hard anodized nonstick induction cookware in 1985. Since then they are the number 1 nonstick hard anodized cookware brand.
Features: ★★★★☆
Design: ★★★★★
Our Rating: ★★★★☆
This Circulon Premier Professional 13-Piece Hard Anodized Cookware Set their flagship cookware set and it also their most selling product. It features the TOTAL Food Release System, a unique groove pattern cooking surface that makes it absolute nonstick.
Best Features
Cookware Set Includes: This cookware set is packed with,1Qt and 3 Qt. Covered Saucepan, 5 Qt. Covered Saute4 Qt and 8 Qt Covered Stockpot. 8.5″, 10″ and 12″ French Skillet
Hard-Anodized Aluminum: This cookware set is perfectly hard-anodized aluminum
Nonstick Coating: It also has a highly advanced nonstick coating from DuPont™
Cooktop Compatibility: Stainless steel base, so it is compatible with any type
Oven Safety: It is Oven-safe to 400 degrees F
Metal Utensil Capability: Complete Metal utensil safe
Lids: Shatter-resistant tempered glass lids
Dishwasher Capability: Dishwasher safe
Tips for Non-stick Cookware
Better avoid using metal spatula & spoon. Metal spoon & spatula can scratch on the cooking surface, thus the cooking surface gets stickier.
Convenient to use the plastic scrubber with dishwasher, the liquid dishwasher is preferable to dishwasher detergent.
Cast Iron Made Induction Cookware
Cast Iron Made Cookware may seem old-fashioned but extremely durable. It can give you the same performance year after year.
The cooking and cleaning process is almost like stainless steel cookware. You need to season your pan before cooking. It's a little weight than other cookware.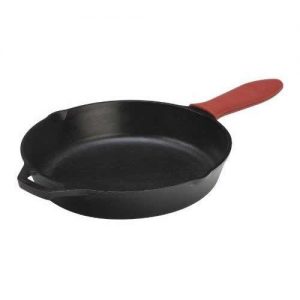 This is a popular choice. It is made of a mixture of iron ore and recycled former cast iron cookware, and it is made in the USA.
Features: ★★★★☆
Design: ★★★★☆
Our Rating: ★★★★☆
But it has one defect that it can be reacted with acetic foods, so it's better to choose Enameled Cast Iron Cookware.
Enameled Cast Iron Induction Cookware
When you prepare acetic food like bacon, pork, beef meat, or tomato ketchup, the acids suck off seasoned oil leaving the bare metal surface.
Thus, it makes your food oilier and unhealthy also the chances of building a hotspot raises and it may burn your cook.
So the best tool to cook acidic food is enameled cast iron cookware. It is coated with a porcelain finish. It also provides you nonstick surface.
But I like Enameled Cast Iron Cookware for another reason. When I look at it, I can't blink. It's so beautiful.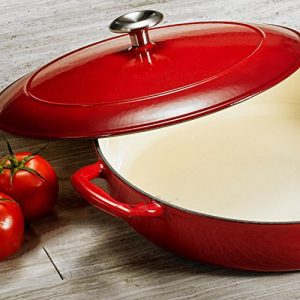 This is a very popular choice for a gift.
Features: ★★★★☆
Design: ★★★★☆
Our Rating: ★★★★★
Best Features
Material: It is solid cast-iron made, offers superior and even heating
Specialty: Self-basting condensation ridges on the lid that uniformly collect and direct vapors to the food, producing moist and savory dishes.
Cooktop Compatibility: Compatible with all cooktops
Oven Safety: Oven-safe up to 450 Degree
It is not dishwasher safe hand wash only
Thermolon Ceramic Nonstick Cookware
Ceramic cookware is just great; it is natural nonstick cookware, very easy to clean up and you can use a metal utensil.
The only defect is it needs extra care while cooking and assemble them after the cook. You can use it year after year, and its color doesn't fade away.
The popular ceramic non-stick induction cookware is from GreenPan. It comes with an excellent outlook with superior performance.
The aluminum base ensures even heating and the ceramic interior is natural non-sticky.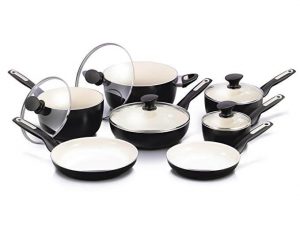 Features: ★★★★☆
Design: ★★★★☆
Our Rating: ★★★★☆
Best Features
Forged body: Aluminum base works fast and even heat distribution
Nonstick Surface: It uses less oil and very easy to clean
Stay-cool handles: Phenolic made, handles are the safe and secure grip.
Glass lid: Complete tempered glass lid better shatter resistance and easy to check out the cooking progress
Drip-free edge: It is easy for pouring
Cooktop Compatibility: Induction friendly & works perfectly with other cooktops
Dishwasher safe
And now it's time to meet the economic one.

Graniteware Induction Cookware
Graniteware is the cheapest induction range cookware on the market. The average price of this cookware is below 10$ and a whole new set can cost you the highest at $50.
Besides being very cheap Graniteware Cookware has something, you may like it
Graniteware has a speckled. Imagine the hot juicy turkey to emerge from the oven in that dark, speckled oval roaster
The light gauge of steel, you can use on any type of cooktop
Porcelain coating makes it is somehow nonstick cookware
Easy to clean and stack up
Honestly saying, do not expect too much. As always money matters, the thin metal flexes with use and the coating starts to flake off.
But sometimes you need this Graniteware, It is best for occasional or party meal cook while you need a huge semi-disposable stockpot or for the roaster.
When actually you set your mind to have new cookware, you might face a clash between your Choices, Budget & Brand.
Now it's high time to know about some induction cooktop. You can afford it easily.
As I said earlier if you don't have induction cookware, no need to worry about buying new cookware. The solution is CONCORD Induction Cooktop Converter.
It's the cheapest possible way you can use your previous non-induction cookware on your induction cooktop. And it works great.
Best Features
Set includes 3 converter disks. Each of the 3 disks is made with Stainless Steel that ensures even heat distribution.
Place any kind of non-induction cookware on top and makes it ready to work on induction stovetops.
Heavy grade high-quality builds.
No worry handles, heat does not transfer onto handles.
Best Induction Cooktop
If you decide to have an induction cooktop, honestly it's the right decision. Because the price of cylinder gas is unpredictable and the electric stove is not efficient enough.
Your initial paying more will be beneficial in the long term. I think you are eager to know some best induction cooktops in America.
NuWave Precision Induction Cooktop Portable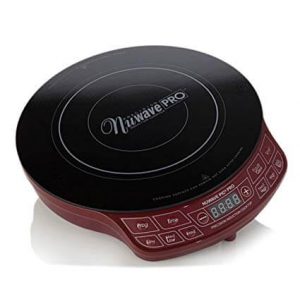 If you want to get rid of your old low-performance gas stove and embraces an excellent high-performance induction cooktop.
This is for you. It is light weighted, portable, cooks very fast more than you expect.
Features: ★★★★★
Design: ★★★★☆
Our Rating: ★★★★☆
Best Features
Induction burner: Fast, energy-efficient cooking.1800-Watt total heating power

Cooking Surface:

It has12 a" cooking surface, large pots, and pans easily fit on it

Specialty:

You can easily change the temperature from 100 to 575 degrees. 6 different pre-programmed temperature settings for a variety of cooking tasks, automatically switch off after the cook

User's Manual with Recipes:

It comes with the user's manual more than 60 recipes, It teaches you how to prepare meals for breakfast to dessert and everything in-between.

Carrying Case:

It is portable, light-weighted, you can carry it
Double Burner Induction Cooktop
For heavy use, cooking different meals at a time, you need a double burner instead of the single burner induction cooktop.
Comparable prices aren't so high for the single burner to dual burner. So it's better to have a larger one.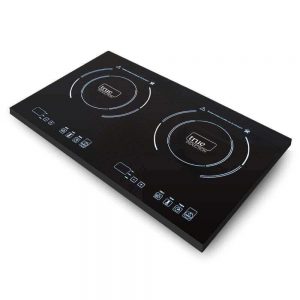 Aesthetic design, bold black outlook, easy user interface, durable construction, 1800w full power-sharing technology make it popular.
Best Features
Power Sharing Technology:

 its innovative power-sharing technology allows you to use full 1800 watts of cooking power. Most of the dual burner cooktops use two 900 watt individual burners. In this case, True Induction's Power-Sharing Technology utilizes full 1800 watts on the individual burner and shares the power between both burners as you need.

EZ Touch Controls:

It has an intuitive EZ Touch Control system; they are simple to use and different controls for the different burners.

Elegant Appearance:

The scratch resistive ceramic glass made glossy cooking surface seems royal & elegant. Aside from this, it is very easy to clean up and looks the same as the new one new after a couple of years.
Congratulation
You just have finished graduation on induction cook technology, just kidding.
Basically, I try to represent an overview concept on induction cook with the best induction cookware and induction cooktop on the market.
I also research on induction cooking system, I figure out that's almost the same as the gas top but you need to do the cooking process fast, as induction cooking is highly efficient, some cooking tips and tricks are important for stainless steel, as you see earlier.
Finally, I like to say, induction cooking technology comes with high efficiency, safe cooking & lower cooking time in fast-moving American life.