Most homeowners believe that they must spend a lot of cash to give their kitchens a new look, but this is just not always the case. Sure, changing the countertops and purchasing new kitchen appliances can give your home a modern look. But you can also accomplish this by doing several inexpensive things like repainting the cabinets or even changing the faucets.
Installing a new kitchen faucet is one of the simplest and most affordable ways to remodel a kitchen. A well-designed faucet can add character to your space while helping you clean your dishes. In fact, most designers and homeowners prefer stylish and fashionable faucets that blend with the room in a subtle way. So, instead of just purchasing any faucet, please look for something that will give your sink a new look. Here are some kitchen faucet ideas that can improve your home.
10 Kitchen Faucet Ideas for a Modern Kitchen
1. Breaking the Tradition
Instead of installing the traditional tubular faucets in your kitchen, you can purchase a rectangular or flat-looking faucet. This design goes against traditional tubular faucets that we have used for years. The flat-looking faucet is a unique contemporary faucet that blends perfectly with the entire room without standing out. This type of faucet is available in several colors and metals, including stainless steel.
2. Industrial Bridge Kitchen Faucets
Transitional designs are unique blends of contemporary and traditional kitchen design styles. For a transitional kitchen design to be successful there has to be a balance between two styles in the kitchen. The best faucet for a transitional design is the industrial bridge-style faucet. Bridge faucets are not new and in most contemporary kitchens they tend to look out of place. However, when perfectly matched with the size and shape of the sink, a bridge faucet can blend perfectly with the room.
3. Simple Kitchen Sink Faucets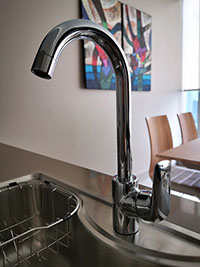 Whether it's a 2-handle faucet or a high arched faucet, you can find a simple sink faucet that will cater to your needs while improving your kitchen's style. An attractive, simple faucet can easily blend with a white or black sink. Therefore make sure you select the right color and material that will blend with your space.
4. Practical Kitchen Faucets
Are you searching for unique faucets that can be quite useful when washing huge pans and pots? If so, then you should try contemporary design faucets such as the pull out faucet. Pull out faucets resemble deck-mounted faucets. These faucets give your kitchen a traditional look. The pull out faucet is a perfect choice for someone who is excited by the idea of having an ultra-modern faucet in his/her kitchen. These faucets take up less room, and they are perfect for a kitchen with cabinets installed above the sink. Pull out kitchen faucets come in various styles, and they are ideal for cleaning huge pans and pots.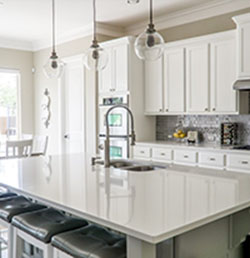 Another practical faucet that you can purchase is the pull down faucet. Pull down faucets, also referred to as gooseneck faucets because of their high-arc shapes, can improve any kitchen's look. A huge percentage of the pull down faucets combines rustic or industrial details in their designs. With a pull down faucet, you can literally pull down its spout and use it as a hand sprayer. The hand sprayer of this faucet can be quite comfortable to hold and easy to use. It is an excellent faucet for rinsing particles of food down the drain or cleaning soapy dishes.
5. Wheels on Deck
The faucet's handle is something we all interact with daily. So instead of getting a faucet with a simple spoke or lever handle, you can make a statement with a unique industrial wheel handle. The wheel handles are turned just like wheels, and they can add a layer of satisfaction to your kitchen's style and also the user.
6. Bronze Kitchen Faucets
Having a shiny bronze faucet will make your sink and kitchen look fancy. Bronze faucets can easily blend with most sinks and can give any kitchen a warm atmosphere, just like most wooden materials. You can install two faucets, a big one for washing dishes and a small one for washing your hands. Just make sure you wipe the bronze faucet daily to get rid of water spots and maintain its shiny and classy look.
7. Black Kitchen Faucets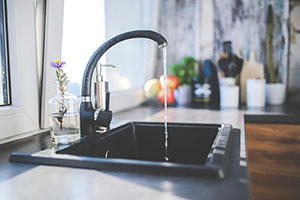 Instead of purchasing a gold or brass faucet, you can go for a black one, if you want something different. Brass and gold faucet are still quite common, and they give your kitchen a flashy look. However, if you want something that will give your kitchen an edgy and classy impression, you should install a black faucet. There are several beautiful designs of black faucets in the market that can give your kitchen a significant makeover. Black faucets blend perfectly with dark and light-colored themed kitchens. Plus, they are quite easy to clean.
8. Vintage Kitchen Faucets
A faucet should never be an afterthought since it plays a crucial role in your kitchen. Other than keeping your dishes clean, vintage faucets can also improve your kitchen. These faucets can give your space the dreamy look. These faucets have stylish designs and soft curves that will add class to your kitchen. Vintage faucets come with cross or lever handles.
9. Faucet With Brass Finishes
Faucets with softer and warmer finishes bring a unique feel into your space. Faucets with brass finishes bring more charm into your home than the ones with steel finishes. And when paired with a natural-styled kitchen, it can give the room an organic appearance.
10. Modern Kitchen Faucets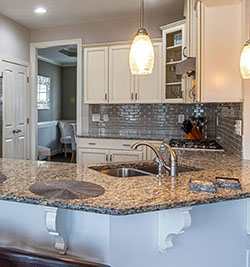 Most contemporary designed faucets need to stand out, especially when all the angles and lines in the kitchen are alike. If this is what you need, then you should purchase a simple faucet that looks modern and simple at the same time. Some contemporary faucets have a unique style that can grab anyone's attention without necessarily stealing the show.
Bio
Bob is the founder of bobsop.com. You will always find him looking for stylish and new equipment and appliances that can help people remodel their kitchens and make their lives easier. He loves writing about kitchen appliances and teaching people new kitchen remodel ideas.